Hampshire hotelier awarded honorary degree
Robin Hutson has been awarded an honorary degree of Doctor of Business from Solent University, in recognition of his contribution to the hospitality industry.
16th November 2015
Business and finance
Business
Travel and tourism
Hotelier Robin Hutson has been awarded an honorary degree of Doctor of Business from Solent University, in recognition of his contribution to the hospitality industry.
Chief Executive Officer and Chairman of Lime Wood Group and Hotels Ltd, Robin is an innovative and entrepreneurial hotelier with 40 years' experience in some of the world's most famous hotels.
On receiving his award, Robin said: "It's a great privilege and great honour to be here today. I am surprised, proud and delighted in equal measures."
A food and beverage-led hotelier, Robin's most recent venture includes The Pig,which has established a reputation for re-inventing the country house hotel sector and has been endorsed by another Catey for Independent Hotel of the Year.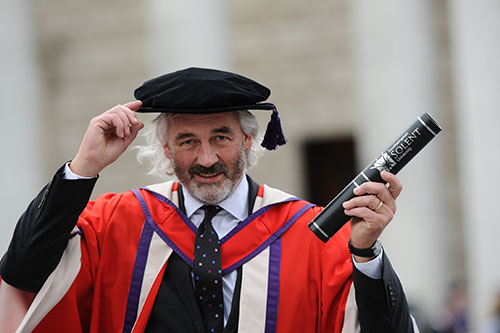 With two hotels in Hampshire – The Pig in Brockenhurst and The Pig in the Wall in Southampton – Robin has cultivated his entrepreneurial approach and extended the kitchen-garden themed pig litter to include hotels in Dorset, Somerset and Devon.
Talking at today's graduation ceremony, Robin went on to congratulate those receiving their awards and continued: "It's great to be in the mix of the next generation of business leaders and entrepreneurs. My life in business has been 40 years of on the job learning, never really having had the benefit of understanding the theory of what I was doing. Luckily I had the privilege of working for and alongside some truly inspirational and creative individuals; it's been their patience and generosity of time and mentoring that has formed my learning curriculum.
"Having created and sold a couple of previous hotel groups over the years I have employed literally thousands of people. Our current hotel company turns over in around £25 million and employs over 500, many of them quite young in the early stages of their careers, like you. Some are graduates some are not; some are committed to hospitality careers, others are just passing through. I can honestly say that the element of my job that I find the most rewarding, possibly drawing from the early stages of my career, is the mentoring and development of these clever passionate hard working youngsters.
He went on to add:  "I have always believed that the barriers to business success are not the often given reasons of market conditions, EU regulations a lack of funding even, it's much more likely to be the inability to build the right team around you. By investing our time and money in our young team we are ensuring that we are have the depth of squad of home grown talent to fuel our ambitious business growth plans for years to come."
Robin is also the recipient of several industry accolades including Hotelier of the Year and Outstanding Contribution in The Cateys – the equivalent of the Oscars for the hospitality industry – and received a Lifetime Achievement award at The AA Hospitality Awards 2015.
In giving advice to new graduates, Robin says: "I don't know who said find a job you love and you'll never do a day's work in your life but that pretty much describes how I feel about my life in hospitality and business.  To all of you graduating today, you are starting your business journey having been very well prepared by the lecturers and staff here at Southampton Solent University.  I sincerely hope you'll go on from here to find the job you love and perhaps equally important mentors who will continue to inspire you."
Robin first trained with The Savoy group in London and Hotel de Crillon in Paris. During his career he also spent time at Elbow Beach Hotel in Bermuda and then ran Chewton Glen in Hampshire's renowned New Forest.
In the nineties, Robin co-founded the influential Hotel du Vin group, which was at the forefront of the boutique hotel movement in the UK and sold for £66 million in 2004. He has also worked alongside entrepreneur Nick Jones as Executive Chairman at Soho House Group, until the group was sold in 2008 for £105 million.