Large-scale mural celebrating Southampton reggae band nears completion
Solent University's Showcase Gallery is delighted to be creating a mural in partnership with The Marlands shopping centre, founder of Black History Month in Southampton Don John, and Go!Southampton.
7th March 2022
Art and design
Homepage - News - Standard
A public unveiling of the work will take place at 12pm on Saturday 12 March, at Ogle Rd, Above Bar Southampton, please see image below.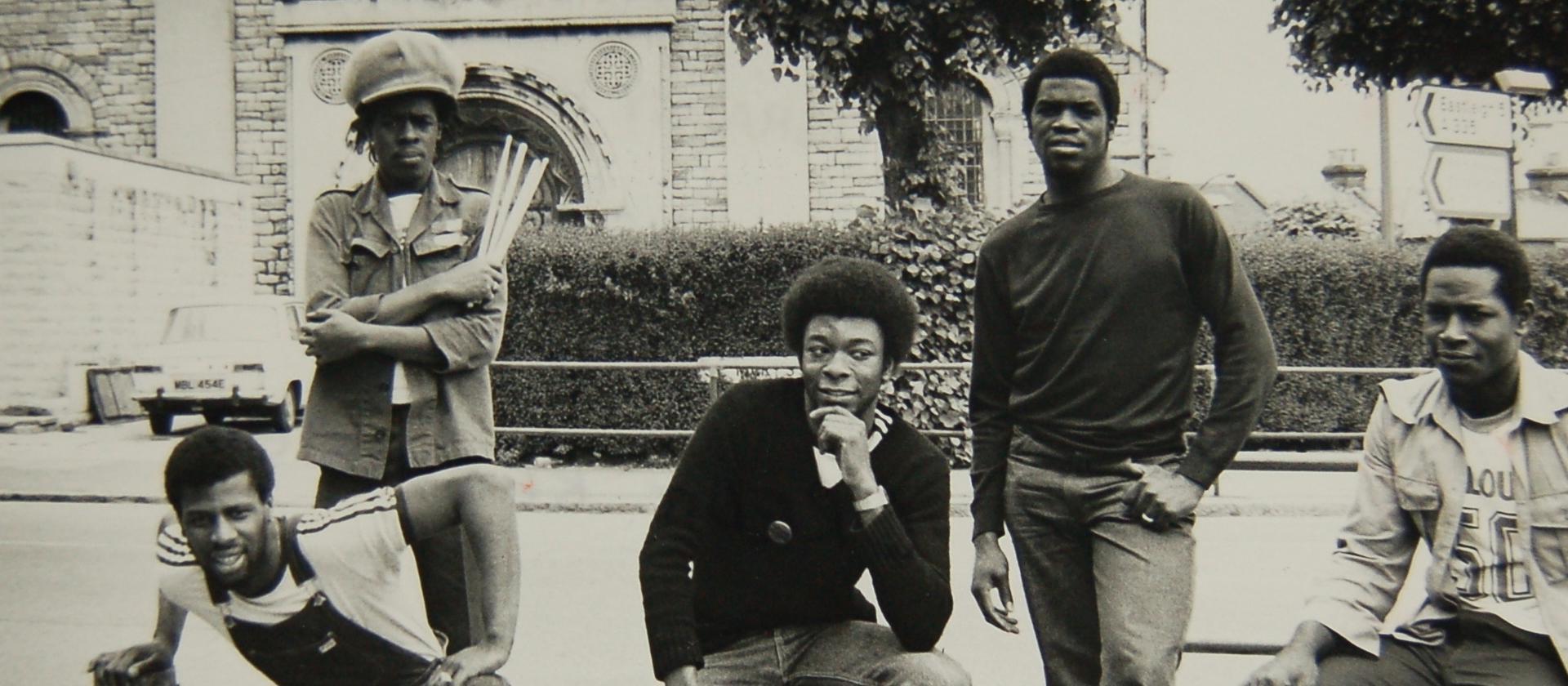 The mural is part of 'What is our Place?' a programme of off-site, community-based work aiming to strengthen local partnerships and explore how creativity can contribute to the wider city. And has been created by Southampton-based artist Slam Daniels, Neil Edward and Flash1, looking to acknowledge the cultural impact that the band Ebony Rockers (pictured above), had on the city. The visually dramatic work of art supports Southampton's bid for City of Culture 2025, reinforcing Southampton's diverse social and cultural identity and sense of civic pride.
In 1979 Ebony Rockers burst onto the South's music scene - bringing reggae out of the heart of inner-city Southampton. The late 70s and early 80s were politically and socially vibrant times for African-Caribbean youth across the country and it was against this background that eight teenagers from around the Newtown and Nicholson areas of Southampton began playing music - inspired by the reggae artists of the day and reflecting their own lives, conditions, and aspirations. The original members, in their late teens when they got together, consisted of - Duncan Carberry, George David, Ivan Dellimore, David Ellis (Eggy), Versell Gordon (Scratch), Rose Jones Bing Lewis and Neville Virgin - all living in the city's close-knit African-Caribbean community.
Kate Maple, Curator of the Solent Showcase Gallery, said: "In 2019 Solent Showcase co-created an exhibition with Don John, entitled Rebel Music which explored and celebrated the story of Africa-Caribbean music in the city of Southampton. The exhibition featured a large-scale image of local reggae band Ebony Rockers who were a fundamental of the city's black music scene in the 1980s, and musician Craig David. The impact of that window display on the local community has led to the development of this more permanent mural which seeks to acknowledge the importance of this band to the City."
Tim Keeping, General Manager the Marlands said: "The landlord of the Marlands Shopping Centre was keen to support this exciting piece of public art as it helps reinforce the centre as very much being the heart of community shopping in Southampton. The Ebony Rockers deserve much more prominence in the history of contemporary music in Southampton, and in this we are pleased to be able to play our part."
Giles Semper, Executive Director at GO! Southampton, said: "I believe we've achieved the perfect combination of artist and subject for this mural. Slam is a world-famous street artist but has never painted in the city centre. Ebony Rockers are a seminal band in Southampton's musical history. The mural will be a great example of the kind of thing that can enliven the City Centre."