Solent reflects on Holocaust Memorial Day 2022
We learn more about the past, we empathise with others today, and we take action for a better future
28th January 2022
Solent University was proud to be able to once again host the commemorative Holocaust Memorial Day which remembers all people murdered in genocide and the liberation of Auschwitz Concentration Camp on Wednesday 26 January 2022.
Organised by the Parkes Institute for Study of Jewish/non-Jewish Relations, University of Southampton and Solent University, this year's theme represented a collective hope that 'One Day' there will be no genocide.
Opened by Councillor Alex Houghton, Mayor of Southampton, the evenings virtual programme featured an insightful talk by Professor Donald Bloxham on 'Britain and the Armenian Genocide' (1915-1916) where approximately 1.5 million Armenians were murdered by Ottoman Turks during the First World War.
This was followed by a theatrical rehearsal reading of a radio play 'No Luggage, no return' by Norman Collins by Acting and Performance degree students from Solent University. Set in June 1943, this play is a moving and thought-provoking piece that focuses on two station workers tasked with overseeing the transportation of Jews from Germany to the extermination camp of Treblinka.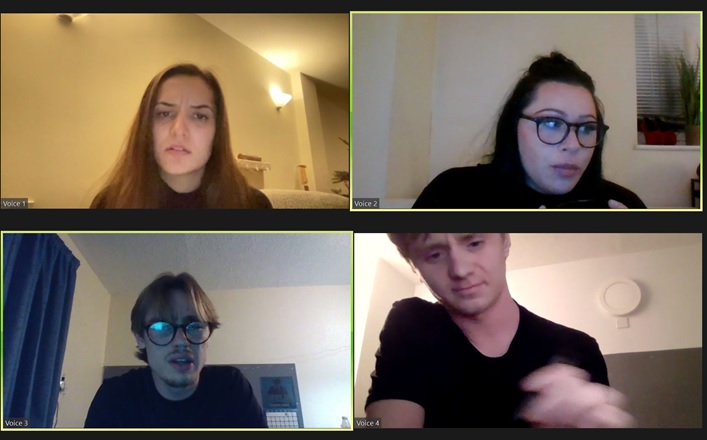 Solent University was also represented later that week in a ceremony marking national Holocaust Day where The Association of Jewish Refugees' is presenting an Oak Tree to the City of Southampton to reflect, remember and mark this key moment in history. Each of the 80 trees planted across the UK, acts as a platform for telling the story of Britain's Jewish refugees and celebrating the remarkable contribution that they have made to every walk of British life.
Nona McDuff OBE, Pro Vice-Chancellor Students & Teaching at Solent was present at both events and explains why Solent took part.
"As a civic University it is important that Solent commemorates these moments in history, enabling our communities to reflect and learn from them. When we hear of stories about how families escaped from persecution and the wonderful people who helped them along the way, it reminds us why it is important to continue to listen, learn and act. I am proud that Solent is committed to providing a welcoming and inclusive environment for all and our recent work in launching a University of Sanctuary Scholarship and supporting the local Afghanistan resettlement programme are just some of the ways we are playing our part in this global endeavour. We were delighted to have the opportunity to work with partners in delivering this year's activity and I look forward to the year ahead as we continue to grow our public engagement activity."