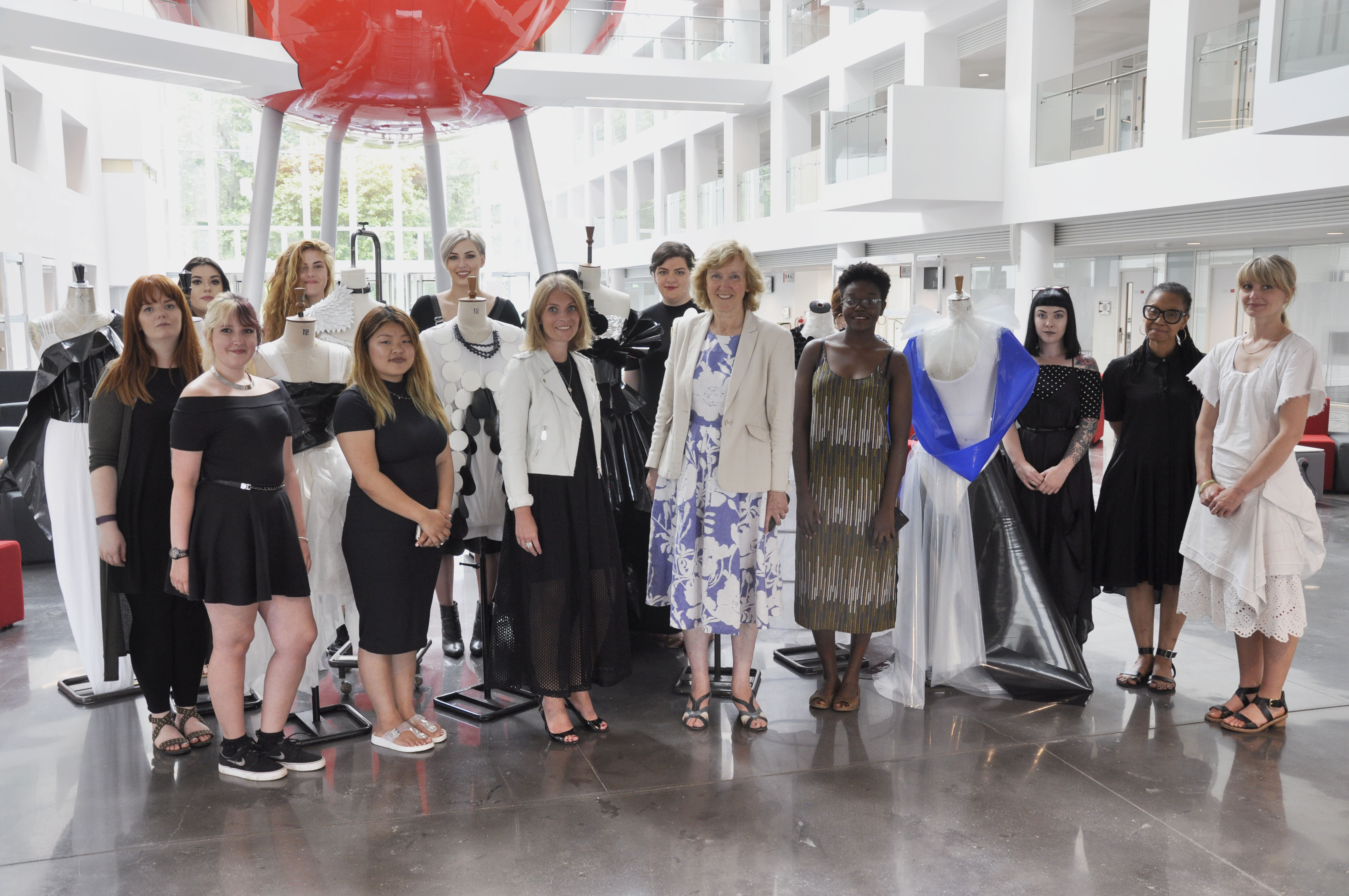 Students get fashion fantastic with plastic
Students create fashionable garments with a twist
29th September 2016
An exciting project with DOW, one of the world leaders in the plastic market, will see a selection of our students get the chance to showcase their work at a leading event in Dusseldorf this October.
Under the theme 'FaceOfInnovation', which will focus on showcasing trends and innovation in the plastic industry, a number of students have been challenged to think outside of the box and create stylish, wearable fashion garments by reusing plastic materials.
We caught up with Charlotte and Lily, both approaching their final year at Solent, studying make-up and hair design, to hear more about the designs they are creating.
Tell us a bit about your idea?
Lily: "We both have a passion for nature and wanted this to inspire our chosen design. In our first workshop, we started looking at natural forms and animals, playing around and making scales.
"The initial challenge was working out which plastics would be best suited to our creative design. Once we had done this, our idea developed and as it did, we ended up with a lizard/bird/manmade skin looking texture that has been amalgamated and developed into the finished look."
Lily continued:  "Using the off cuts, any leftover materials will also be used to make a second garment – which fits with the ethos of the whole project to ensure nothing goes to waste."
Have you enjoyed the project?
Charlotte: "It's been brilliant! We have been challenged and this has opened doors to our critical and creative thinking that we didn't even know existed.
"Usually, we would be working on someone's face or body with products that are familiar, so to be given a piece of plastic, rather than some make-up, has expanded our skillset enormously. More importantly, it has opened our eyes to the hard work that goes into making fashion garments. We now know how important it is to style and create clothing that is wearable and comfortable. These skills are transferable and can also be applied to makeup and hair."
Lily: "At first it was very daunting. We expected to just participate in the make-up element, so to get the chance to create clothing, has been great. We have been impressed by what we are capable of and now feel we have a real chance to get ahead in this competition."
What do you love about the Solent and the course that you are doing?
Charlotte: "Studying at Solent is opening up so many opportunities. When I started my course, I had no background in make-up at all.  I came to do a make-up course but I didn't really know what I was doing.
"Being offered the chance to be involved in the 'FaceOfInnovation' event with DOW is a great opportunity to showcase the University and what we as students have to offer."
Lily:  "Our skills have now come on leaps and bounds. We were given a free rein and have full control to create what we wanted with our ideas. Studying at Solent and attending the make-up course is not just about putting mascara on someone, it's so much more than that and this event is one way to highlight this."
Charlotte adds: "When you look at the top make-up artists we aspire to, you often don't reach your peak or get the opportunity to be involved in competitions until you are more established in your career, so we feel very lucky to have had such an amazing opportunity. There aren't many second year students who can say they are a part of an international fashion show in their early 20s!"
Do you have anything to add?
Charlotte: "Please take us to Germany!"
Lily: "Yes, that would be great!"
The 'FaceOfInnovation' event is set to change the perception and demonstrate how plastic can be reused to serve other purposes. With sustainability at the heart of the idea, students have the opportunity to highlight through fashion, how plastic materials such as packaging, tape or consumer goods, can be transformed in to high value material that is appropriate for fashion.
Virginie Wengler, Communications Manager at DOW, is already impressed with what the students have achieved. She says: "The items on show are very inspiring, creative and innovative; I am overwhelmed with what has been presented by the lecturers and especially by the students. We can see the passion and real creativity that is behind the designs, which is why we chose Solent. The facilities at Solent are amazing – I would love to be a student again!"
Ten students will now be shortlisted and invited to attend the five day event in Dusseldorf by DOW during the annual K2016 plastic and rubber exhibition this October, to showcase their work within the fashion show. The students involved will also get to work with Creative Director for the fashion show, Clementine O'Hara, to develop the catwalk event and visual promotion support.
Find out more about the 'FaceOfInnovation' event and the fashion courses offered at Solent here.