Solent University, Southampton has offered students looking to progress into careers in business, the perfect opportunity to gain an insight into the skills employers are looking for now and in the future.
21st June 2022
As part of the University's Industry Engagement programme, students were given the opportunity to engage with experienced business guests and create networking opportunities across industries to drive forward their career aspirations.
Andrëa Faustino, Course Leader in Post Graduate Business and Management said of the event: "One of the great things about Solent University is the networks that students gain access to through attending events like Time to Shine. It's also the diversity of our cohorts – 79 countries of origin in the Business School alone. Time to Shine was a fabulous opportunity to hear inspirational stories and hints and tips from the speakers. Students were able to network with employers from across the city about job opportunities and discuss what the future might look like across industries. The vibe throughout the day was exhilarating as students, staff and employers celebrated the successes that have taken place across the Business School including those at our partner organisation BCAS in Sri Lanka (who joined in remotely via teams)."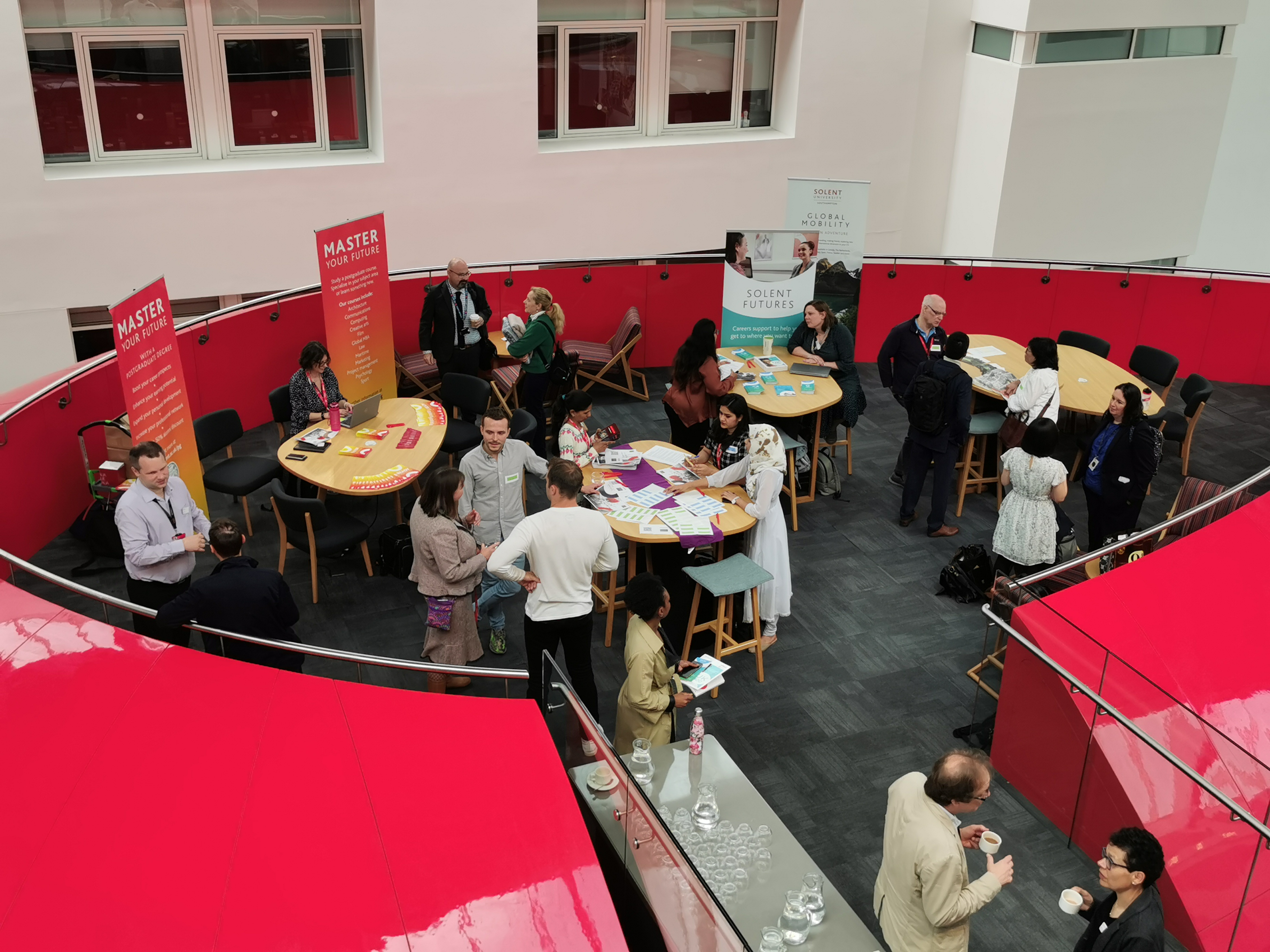 Students were offered the chance to be inspired by keynote speakers, at the recent employability event the who included:
Sajid Butt, Strategic Skills Manager at Southampton City Council, Hannah Ngakane - Hannah is a Strategic Partnership Manager at Pinterest looking after influencers, TV networks and Global Media companies like Vogue, Glamour and GQ. Recently making Forbes 30 under 30 Europe in Media & Marketing and Ad Week Europe's Future Is Female Award, Alex Collins - Alex is an Account Director at TIPi Group, an award-winning independent ad agency, Helen Khan - Helen is Managing Director of Many - the creative agency for retail brands such as John Lewis, Boots, Jimmy's Iced Coffee and Flowerbx, and George Knight - Director of Marketing Technology at Trustpilot managing the Global Marketing Tech Stack for the B2B and B2C elements of the Trustpilot business.
Student Bhumika Jeshabhai Vasra said: "The Time to Shine event was overall an extremely enlightening to us students. We got to learn the importance of networking, career paths and opportunities after the course. Coming from an international student, all the speakers were humble, helpful, and motivating."
To aid their future career prospects, students were also given the opportunity to improve their LinkedIn profile, with professional headshots and advice to stand out in a competitive market.