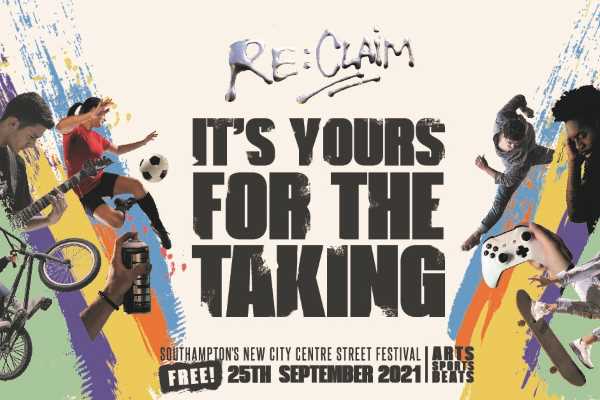 University's artists to showcase art at Street Jam Live
Solent Showcase Gallery returns to the heart of Southampton for a fifth time to celebrate diverse street art talent.
15th September 2021
Event: STREET JAM 2021
Date: SATURDAY 25 SEPTEMBER, 10:00-18:00
Venue: SOUTHAMPTON GUILDHALL SQUARE AND WESTQUAY
This year, as part of the city's new festival: Re:Claim, Solent Showcase Gallery will return to present Street Jam 2021 in Guildhall Square; a celebration of all forms of street art for the city's residents and visitors to enjoy for free.
Students and graduates from Solent University are amongst the 20 international graffiti artists, street artists and illustrators, including JXC, Carleen De Sozer and Jane Mutiny who will exhibit their work at the event.
Extending the recognition of talent this year, the Westquay Street Art Activation will also be launching, including work from the university's artists My Dog Sighs, Samo White, Elnoart and Ricky Also.
Solent University Gallery Curator, Kate Maple, says: "It's great to be back in the city centre after lockdown and really celebrate some talented artists. We hope this festival will be the start of a truly collaborative, annual event with some of the best local and national organisations coming together to create something really special for the city."
Being welcomed to the event for the first time is The WOM Collective and South Coast Graff.
The WOM Collective, a female street art collective that puts great emphasis on empowering Women & Connecting and inspiring communities through art.
South Coast Graff will be taking over the square and building their own unique large-scale temporary walls. As Graffiti writers/artists, they formed way back in early 80s and they will be back showing of their old school skills.
Bringing the city to life, Southampton Hip Hop Heritage will be in residence with a stage, hosting performances from local hip-hop artists and rhymers and breakers.
Re:Claim Festival is set to take over the city with music, sports, arts, gaming and more and involves collaboration with many local organisations such as Soco Music, Skate Southampton and Zoie Logic alongside Solent Showcase Gallery. Within the vibrant programme will be activities for everyone to enjoy, including graffiti workshops, skateboarding lessons and live performances. The street festival will aim to support Southampton's bid to be named UK City of Culture 2025.