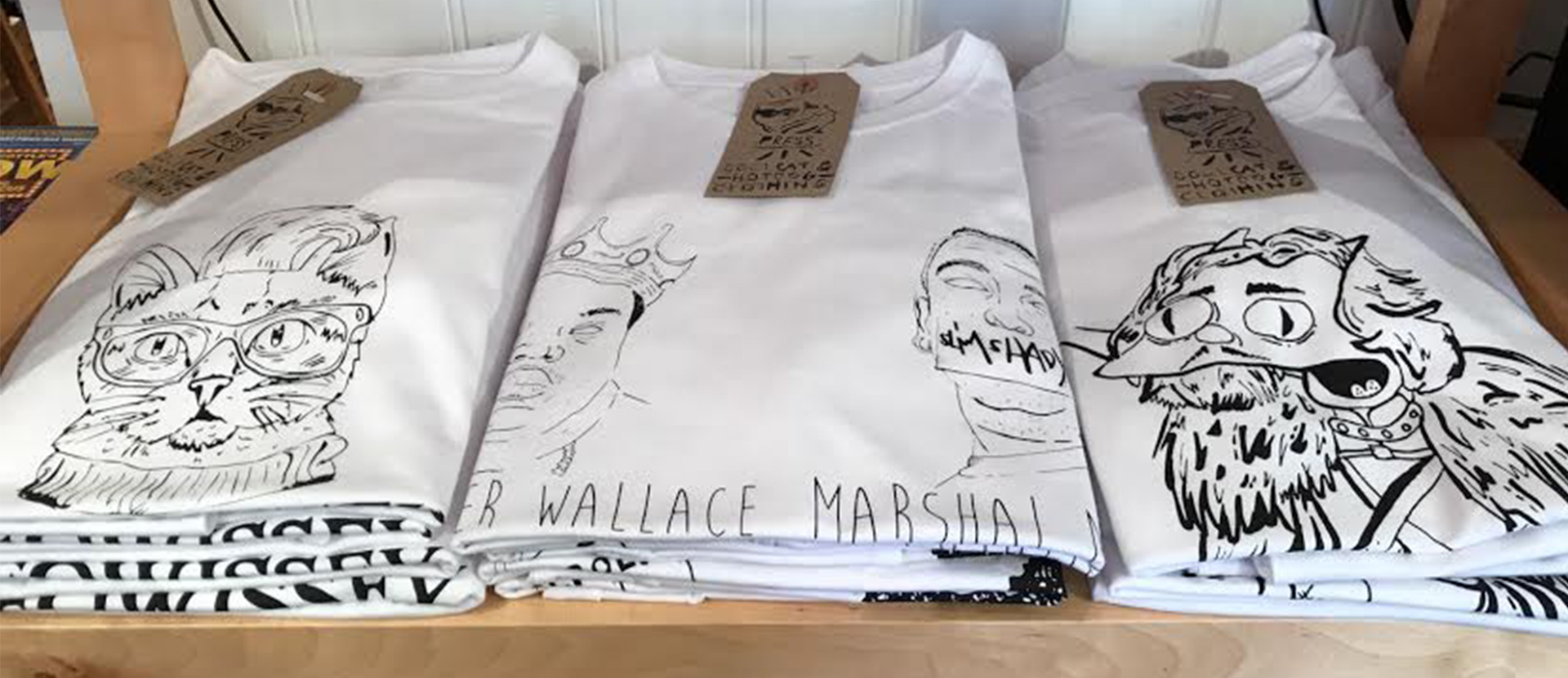 Printing up a storm
31st May 2017
Art and design
Applied art
You're most likely to see Fern Cleary's illustrations walking down the street! Since graduating in 2015, the Illustration alumnus has been screen-printing her drawings onto clothing that is being worn by people wanting something different from the mass-produced items in larger chains.
We caught up with Fern to find out more about her designs, working for herself and the future of screen printing.
Tell us about your most recent success?
I've just handed over three of my t-shirt designs to Boy Parker, an illustrated t-shirt shop in Brighton's North Laines.
What is the inspiration for your designs on the shirts?
Two are based on a crossover of interests. People who like Morrissey from The Smiths also seem to love cats, so Meowissey was born; and Jon Snowball II was created because I'm a lover of both The Simpsons and Game of Thrones.
My other designs feature four rappers with their real names underneath called 'rappers that sound cool until you find out their real names'. So you could say my inspiration stems from me just having a bit of fun and cross referencing things I like.

How do you make the t-shirts?
I hand screen-print each one in my printing studio.
How did your degree at Solent help you?
I had never screen printed before university, Solent really helped me nurture my love for using print as a medium in my work and since then I have never looked back. 
What was your highlight at uni?
While I was still at Solent, I started my own T-shirt company called Cool Cat and Hotdog Clothing/Press; this is when I started the first of many of my rapper design t-shirts and was lucky enough to get some of my stock into Re:So -  the University's retail outlet.
What advice would you give to current students?
Make the most of the facilities - you might not have a print studio a stones' throw away after uni.
Why would you recommend your course to others?
The print studio for one, which is where I spent all of my time when I was at university, and the print staff who are all talented printers in their own ways, as are the illustration tutors!
What do you love about your career?
I like the freedom of it all. I'm like a one-woman-band - I design everything myself, I print it all, I market it all and so on, it's great fun!
What's your biggest career highlight?
So far it has to be having my t-shirts in Boy Parker. It's a shop I have admired for years and to now have my own work in store is amazing.
What are the biggest challenges you are facing in your industry?
Some people seem to think that screen print is on the way out and that digital will take over.
How do you see your industry developing in the future? 
To carry on from the last question, people seem to think that screen printing is on its way out but I whole heartedly disagree there's more of a demand for bespoke, small batch and handmade items than ever. People aren't after a t-shirt that's been churned out, I believe people are willing to pay a little more for something a bit different. Take Etsy for example, that wouldn't be so successful if people weren't after handmade goods.
What's next?
I hope to get my t-shirts stocked in a few more similar shops around the UK as well as printing them and selling them on my website, I also plan to do a few illustration fairs too.
You can follow Fern's progress on her Instagram, @fernclearyillustration