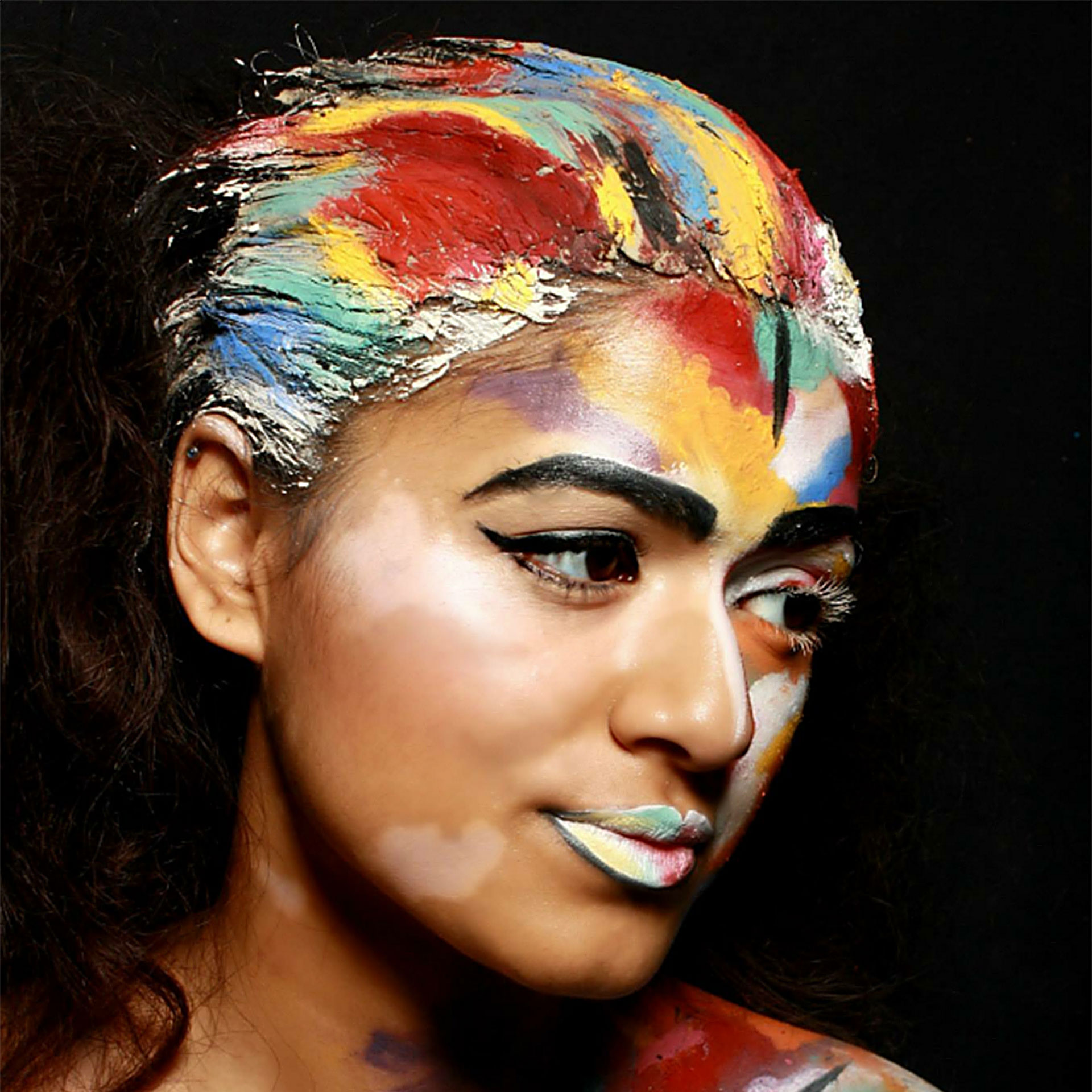 Skin condition Vitiligo has become big news in the fashion industry. BA (Hons) Make-Up and Hair Design student Zaina Ishaq shares not only the same condition, but the same positive outlook and acceptance of it.
15th March 2016
Fashion
Fashion styling and image making
Skin condition Vitiligo has become big news in the fashion industry due, in no small part, to America's Next Top Model's Chantelle Brown-Young (or Winnie Harlow as she is now known). Following a successful run on the hit American TV show, the 19 year-old has become the first model with Vitiligo, which causes cells responsible for skin pigmentation to die and become white.
BA (Hons) Make-Up and Hair Design student Zaina Ishaq shares not only the same condition, but the same positive outlook and acceptance of it. She made headlines herself recently when her short YouTube film, illustrating how she uses make-up to minimise the appearance of the condition, was featured on Buzzfeed, and has received over 39,000 views.
We caught up with the 21-year-old student from Croydon to find out more about the condition, what it means to her, and the impact it has had on both her attitude and career choices.
When did you first notice the condition?
I was ten years old when I first noticed a small white patch on my face, but it wasn't until I was about fourteen that it started spreading across my face and body.
What impact did it have on you?
My mum was more affected by it at first; she was concerned about how it would affect me. She researched every possible remedy going and spent loads of money on everything from Chinese medicine to expensive creams – but I drew the line when it came to a Cuban cure involving placenta!
It started having more of an effect on me during my teens, but I think that's when all girls start over scrutinising their looks and magnifying any imperfections that they think they might have.
Girls can be pretty brutal at that age and I went to an all-girls school, but my family and friends really supported me and I began to accept it as part of me, not something that defined me.
Did your love of make-up come from having the condition?
Absolutely. Especially during my teens; I wanted to know that a guy was checking me out because he liked me not because of the marks on my face, so I looked at ways of disguising it. Then I started working on the beauty counters of a department store and decided that a career in make-up was what I wanted.
Why did you decide to come to university?
I knew I wanted to have a career in make-up but my mum wanted me to go to university first. After speaking to the careers people at sixth form I found out that only two places had degrees in make-up and hair design – the London School of Fashion and Solent. I got into Solent and made my way to Southampton.
How are your studies going?
I'm in my final year now so it's pretty stressful but I'm loving it. I'm right in the middle of my Final Major Project, which I'm doing on body art – using a variety of models including those with disabilities and skin conditions. I've also started work on my final dissertation, which is titled Will the more diverse ideals of beauty eventually surpass the ideals constructed by society?
What do you love about the course?
Whatever your background you all start on the same level so there is a big opportunity to learn from everyone's individual skillsets. The technical sessions are really good and you also learn from each other. My Vitiligo caused a few problems at first as my fellow students were worried about the challenges of working on me when we had to be each other's models during technical sessions.
This knocked my confidence and I stopped attending classes. I went home that summer not knowing if I wanted to continue. But after much soul searching and support from the University I decided to re-do the year and give it another go. I'm so glad I did. The group I am with now are much more interested in working with my Vitiligo and see it as an opportunity to learn new skills and techniques. People are now wanting to work with me because of the condition and I've worked on student shoots where they've wanted to enhance my Vitiligo, not disguise it.
What's it like to have your YouTube film appear on Buzzfeed?
Amazing! I didn't even know about it, a friend pointed it out to me. The film was one of three I made for the freelance business unit of my course – where you have to design a website, make three YouTube films and business cards; everything. I've had loads more views, some great comments and been approached for some possible modelling for a skin camouflage make-up brand…watch this space!
Where do you stand on the 'enhance or disguise' debate?
It's so difficult. And not just for people with skin conditions. I think people should do what makes them feel good about themselves, what makes them feel confident, but I also think people should accept themselves for who they are, without the make-up.
I'm happy not wearing make-up but I also enjoy getting made-up to go out. Like a lot of people, make-up gives me an extra layer of confidence. I also have a boyfriend who is always telling that I am beautiful just the way I am.
Vitiligo is part of me. It has made me who I am – a confident person who appreciates things more, with a positive outlook on life and a positive perception of other people.
Watch Zaina's YouTube channel here
Image courtesy of Meghann Stevens, BA Hons Make-Up and Hair design who graduated in 2015.