Why study a shipping operations master's degree at Solent University
Take your maritime career to the next level on this distance learning programme designed specifically for seagoing maritime professionals looking to move into shore-based management positions.
0

th

UK uni for sustained employment (Longitudinal Educational Outcomes, 2022)
This two-year distance learning programme is ideal for seafarers, who can access the course anywhere in the world.

You can tailor your studies to suit your interests - explore specialist topics such as safety management, legal process, accident investigation, and more.

You'll put your studies into practice with a final applied project. This gives you the chance to research, investigate, and generate useful solutions that can be applied to your workplace.

You'll study in Solent's comprehensive learning environment, Solent Online Learning (SOL) - an active, interactive environment where your directed learning will take place.

Shipping industry experts are involved in mentoring work-based projects, allowing you to build a professional skills-based portfolio.

Benefit from free maritime career consultation for life. Our careers advice service, Solent Futures is available to all Solent students and graduates helping you to progress in your current career or discuss options for a change in career.

This course is eligible for the Postgraduate Master's student loan. The loan is from Student Finance England and can be used to cover costs (ie, accommodation, tuition fees) associated with postgraduate studies (it was up to £12,167 for 2023 entry).
Course overview
Is it time to take your maritime career to the next level? This two-year distance learning programme is ideally suited to maritime professionals who are hoping to move into shore-based management positions. You'll learn specialist skills in ship safety management and shipping operations, solving complex problems during challenging workplace assignments.
This postgraduate programme is delivered online using Solent University's virtual learning environment, a web based platform that is accessible from anywhere in the world.
Students learn as part of an online community of tutors, fellow students and student support services - just as they would if they went to the University itself. Each student has their own dedicated academic tutor and study partner, and studying online is made interesting, interactive, and engaging by forums, wikis, reflective journals and video presentations. Shipping industry experts are involved in the mentoring of work-based projects, further enhancing the value of student learning.
Course features
Apply direct

You can apply direct to Solent University for this course

Part-time option

You can study this course part-time

Distance learning

You can study this course anywhere in the world. The course will be delivered through online study
This course is for
This master's degree is aimed at maritime professionals who wish to move into shore-based management roles.
The distance learning delivery of the course also makes it ideal for currently serving seafarers to study wherever they are in the world and whenever they are able to.
What this course leads to
Recent graduates have pursued careers in a number of different roles across the sector.
Marine superintendent

Designated person ashore

Fleet manager

Port operations manager

Crewing manager

Ship manager

Maritime administration manager

Competence assurance manager

Maritime lecturer

Shore-based ship operations manager

Marine surveyor
Meet the team
Teaching staff have extensive professional experience and backgrounds in the industry. Their wide-ranging expertise includes: maritime safety, maritime human factors, applied psychology, marine engineering, maritime legal process, maritime operations, maritime human resource management, and educational technology.
The University cannot guarantee any particular members of staff will teach specific aspects of the course in the future, but will endeavour to ensure the teaching team maintains their balance of experience and qualifications.
Year one modules
Core modules
International Maritime Context
This module is particularly designed to engage students in developing their skills of critical evaluation and evidenced argument (complementing work in the parallel study skills module) by starting from the student's own experience and encouraging consideration and questioning of that experience from different perspectives.
Postgraduate and Self-managed Study
This module is specifically designed for working professionals who, while perhaps very senior and experienced in their own fields, have little familiarity with the demands and expectations of higher education (at postgraduate level in particular) and may be returning to education after a long gap.
Business Research Skills
The module is intended to deliver a fuller understanding of the skills and attributes of postgraduate study.
Risk and Safety Management
This module is one of the four comprising the Risk and Safety Management optional strand within the MSc Shipping Operations. The principal intention of the module is to consider and critically evaluate a range of theories and methodologies of risk and safety management and their implications for the management of shipping operations.
Legal Process
As part of the risk and safety management strand, this module is concerned with the legal aspects of safety processes and how these impact upon individuals and organisations within the international maritime industries, including issues of jurisdiction and individual and corporate liability.
Professional Skills and Practice Portfolio
This module provides the opportunity to create an evidence-based portfolio that illustrates how a student's existing professional skills and their prior experiential learning shape practice and allow them to operate effectively in their present role.
Year two modules
Core modules
Safety Culture
As part of the risk and safety optional strand, this module critically explores the concept of a safety culture within the context of maritime sector requirements.
Accident Investigation and Organisational Learning
As part of the risk and safety management optional strand, this module critically explores accident investigation and organisational learning within the context of maritime sector requirements.
Project
The Project is the culmination of studies for the MSc and enables students to draw together their learning from other elements of the course, including their specialised option strand, and to apply this to in-depth research and investigation of a self-generated topic within their workplace.
Learning resources
The course is taught online using Solent's virtual learning environment and study is made interesting, interactive and engaging through forums, wikis, reflective journals and video presentations.
You'll have a dedicated academic tutor, study partner and project supervisor.
You'll complete much of the coursework and project as part of a real live brief within your workplace. You'll work with an industry mentor, who will guide your work-based project and help you create a professional practice portfolio. This will ensure that you develop skills that are relevant to your work.
Learn transferable skills
You'll develop a range of transferable skills, encompassing analysis, problem-solving, influencing, decision-making, communication, presentation, report writing, time management, debating, and career management.
Tuition fees
The tuition fees for the 2024/25 academic year are not yet available. For guidance, the 2023/24 fees were:
UK and Channel Island part-time fees: £4,500 per year

International part-time fees: £7,650 per year
For further information, please visit our tuition fees page.
Extra course costs
While most course costs are covered by your tuition fees, some essential resources and optional extras may need to be paid for separately. For advice on budgeting and managing your money, please contact student.funding@solent.ac.uk.
Alumni discount
Solent alumni are eligible for a 20% reduction of tuition fees if returning to study a postgraduate course.
Find out more
Bursaries, scholarships and financial support
Solent University offers a range of bursaries and scholarships that provide financial assistance or waive fees for tuition or accommodation. Each bursary or scholarship has specific eligibility criteria. Check out our bursaries and scholarships pages to find out more.
Graduation costs
There is no charge to attend graduation, but you will be required to pay for the rental of your academic gown (approximately £45 per graduate, depending on your award). You may also wish to purchase official photography packages, which range in price from £15 to £200+. Graduation is not compulsory, so if you prefer to have your award sent to you, there is no cost. Extra guest tickets will go on sale after results publication and will be sold on a first-come-first-served basis. The cost per ticket is currently £15. Please note, we do not guarantee there will be any extra tickets available to purchase.
Entry requirements
Please select an option below:
Key entry requirements
Applicants must hold one of the following:
An honours degree (2:2 or higher) in maritime studies, shipping, business or law, or another appropriate subject and relevant professional qualifications/experience.
A certificate of competence as a Master or Chief Engineer; Class 1 Master Mariner; Class 1 Engineer; STCW management-level qualifications, or equivalent; plus management-level experience in the sea transport industry (as a Master, Chief Officer, Chief Engineer, First Engineer, or equivalent).
An HND or foundation degree via officer cadet route in an appropriate discipline, plus relevant professional qualifications and management experience.
Additionally, to apply to undertake the MSc in Shipping Operations, you must be employed in or have recently been employed in, the maritime or shipping industry and have professional experience to management level.
For further information about UK qualifications, please contact admissions.
Key entry requirements
If you are applying from outside the UK, find information about entry requirements, visas and agents for your country here.
For further information about UK, EU and international qualifications, please contact admissions.
Key entry requirements
If you are applying from outside the UK, find information about entry requirements, visas and agents for your country here.
For further information about UK, EU and international qualifications, please contact admissions.
Note to all international students requiring a visa
All international applicants need to be aware that the English language requirements to attend Solent University, and the English language requirements to obtain a visa from the Home Office, may be different. This means that if you meet the Solent University language requirement to gain a place on the course, you may still have to meet additional requirements to be granted with a visa by the Home Office.
We strongly advise all applicants to visit the Home Office website which outlines all the requirements for a successful visa application and to take a look at our 2023 course entry statement document.
Your application checklist
Applications for postgraduate courses can be made at any time prior to the start of the course. However, we strongly recommend you apply at your earliest convenience.
Please ensure you upload the following mandatory documents with your application:
Two academic references.

Certified transcripts of qualifications, including English language proficiency if non-UK student.

Copy of passport.

Copy of current visa (if applicable).

A personal statement.

Employer sponsor form, where appropriate.
Language requirements
Applicants who do not have English as their first language will be required to demonstrate an approved level of proficiency in the use of the English language. The agreed minimum requirements for this course are:
IELTS minimum 6.5 overall with no component score below 5.5
TOEFL IBT 92 with a minimum of 22 in writing and a minimum of 20 in reading, listening and speaking
Duolingo English Language Test - 115 overall with minimum of 100 in each component or equivalent.
Qualifications are checked before enrolment, and international students must bring their original certificates or certified copies when coming to study at the University.
Pre-Sessional English programme
The University also offers a pre-sessional English programme for international students who wish to improve their level of English before starting a degree course.
Warsash Maritime School
Warsash Maritime School is the home of seafarer training and maritime studies, building on the history and tradition of the world-renowned Warsash Maritime Academy.
The School provides high-quality education and training for the maritime and offshore industries to meet the international demand for crew, officers and captains who are trained to the highest professional standards.
Navigation, marine engineer and marine electro-technical officers benefit from our internationally recognised certification programmes, from initial entry as an officer cadet to Master and Chief Engineer.
Our STCW safety training is delivered by technical specialists with many years' experience in their field.
Facilities
Solent's virtual learning environment gives students 24-hour access to course materials, discussions, learning support and assignments.
You will need a personal computer or laptop and access to a broadband internet connection.
Alumni network
As part of our global alumni community, you can take advantage of a range of benefits.
Whether it's been days or decades since you left us, or you're soon to don your cap and gown, things are constantly changing at Solent. We're always innovating, but we're also immensely proud of our heritage. And that means you.
Research and knowledge exchange
Research doesn't just live in publications and journals - the effects of groundbreaking research can be found everywhere you look. That's why research at Solent has always been firmly rooted in industry needs and real-world application.
Solent University prides itself on carrying out not only pioneering research, but also research that addresses real world problems. We offer opportunities to study for a Master of Philosophy (MPhil) or Doctor of Philosophy (PhD) degree in a number of areas.
At Solent, we want to help you achieve your best and discover new insights. Whether you're thinking about applying for a PhD, or already underway with your research studies, you'll find useful guidance and information in our research pages.
Find out more
Support at Solent
All students at Solent University have access to a range of specialist support services. Whether you are having financial difficulty, need additional help with academic skills or want advice on setting up your own business you'll find that help is always on hand.
Most of our specialist support services are based around the Student Hub, a central space where you can access all of the information and support you may need during your time at University. The Student Hub is the first point of contact if you have any queries relating to your course, including questions about your timetable, options, and assessments and extenuating circumstances.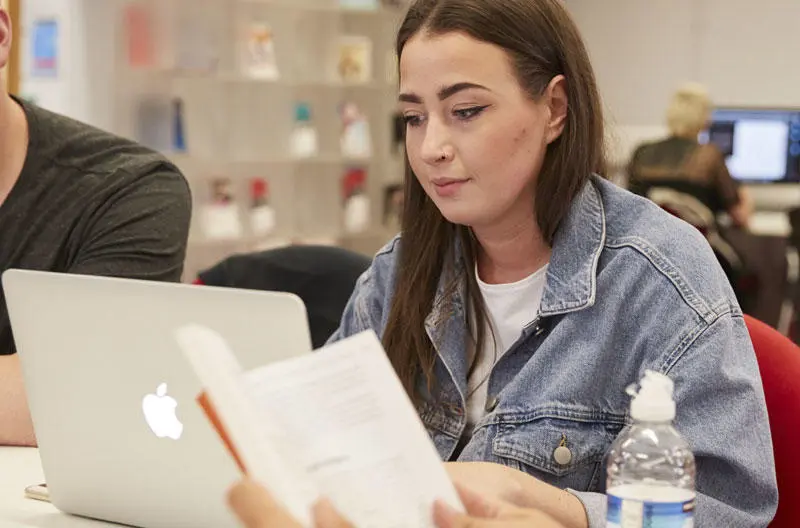 Solent's learning technologies team are on hand to offer help and guidance with the University's online learning platform, Solent Online Learning (SOL). You can contact the team either by email or via their virtual helpdesk, which is open 10am-4pm on weekdays.
Find out more