A colourful makeover for Bedford Place
Solent Showcase Gallery gets involved with the transformation of the popular Bedford Place to encourage visitors now that lockdown is beginning to ease.
16th April 2021
As lockdown restrictions ease and outdoor hospitality and dining becomes a common sight across our communities, Solent's Showcase Gallery has been working with partners to inject a new lease of colour and creativity and enhance the city centre experience.
Located just a short walk from our East Park Terrace campus, Bedford Place is home to a range of independent bars, restaurants and retail outlets. Working with a range of partners including GO! Southampton and Southampton City Council, Solent's Showcase Gallery commissioned local artists to animate the Bedford Place/Carlton Place road closure pilot scheme. Artists include academics from Solent's Faculty of Creative Industries, Architecture and Engineering Jonny Hannah and Nathan Evans, as well as Solent alumni Kev Munday and Stanley Cush.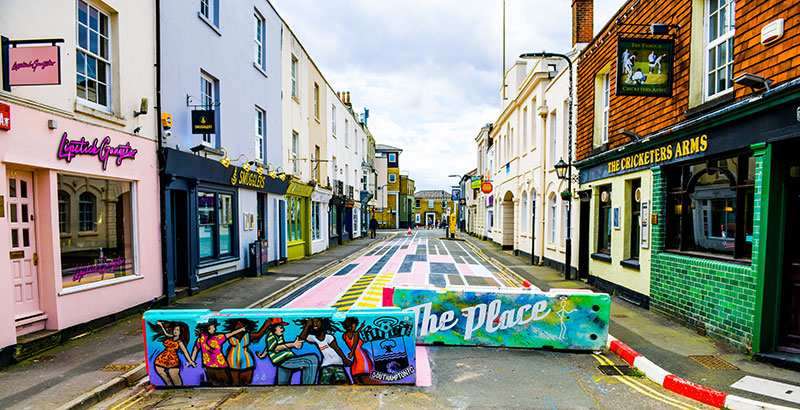 The aim of the project was to inject a creative feel to the local environment, enhancing its appeal to residents and visitors while enabling businesses to maximise the use of outdoor space as lockdown restrictions are lifted.
Commenting on the works and Solent's involvement, Giles Semper, Executive Director at GO! Southampton said: "We continue to work closely with local traders and partners to revitalise the city centre ahead of lockdown restrictions lifting. We want to make visitors feel safe, while also encouraging them to spend time in the city shopping and dining out. We were delighted to once again work with the team at Solent, accessing their creative talent and expertise both within the University and through their broader network".
Solent Showcase Gallery's involvement in the project forms part of the Gallery's 'What is our Place?' programme, offering offsite, community-based work to strengthen local partnerships while exploring how creativity can contribute to the wider city. Community artists will be invited to help complete a unique piece of public space artwork designed to welcome people back to Southampton as the long Covid-19 lockdown eases.
The project is just one example of how Solent is working to building a cultural cohesive community through its Civic Charter. Discover more about the work of the Solent Showcase Gallery and Solent's Civic Charter.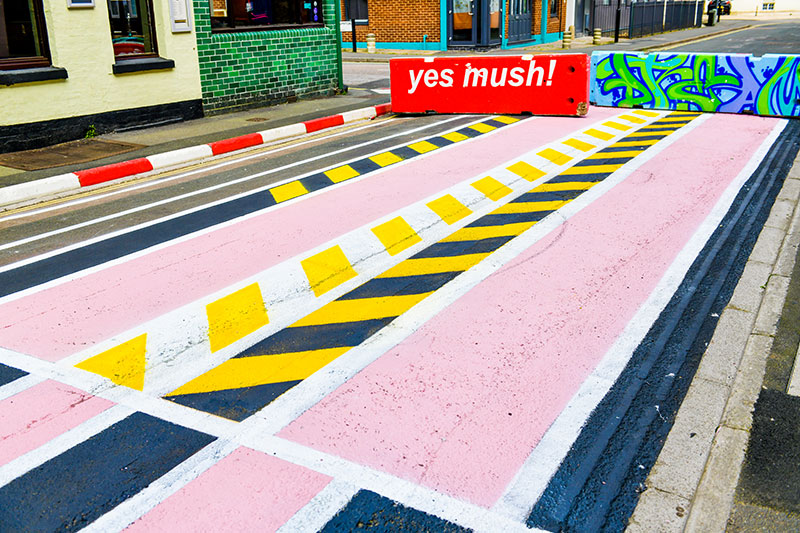 Photos: Katie Hatch Photography