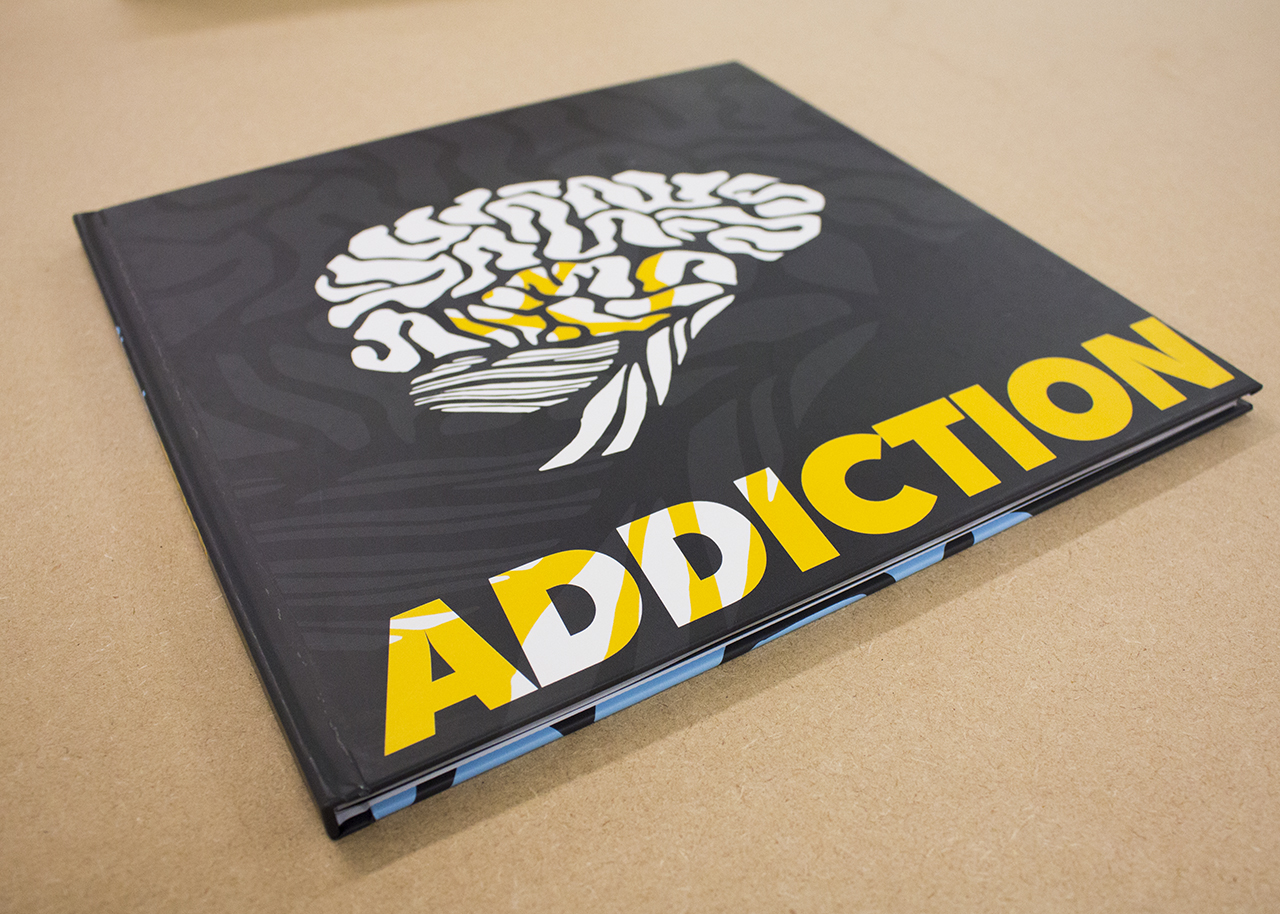 Obsession wins top prize
15th August 2016
Self-confessed soft drink junkie Ken McCarthy, 24, reaped the rewards of trying to kick the habit when his addiction themed final major project helped him get a 2:1 in his degree and win the Total Identity prize for Graphic Design.
The Dublin-born BA (Hons) Graphic Design student, who graduated this July, talks to us about his project, how to deal with stress and why he decided that uni was for him.
Tell us about your final major project?
It's collection of short stories about people's addictions and obsessions. I created a double sided book which I displayed in a wooden box filled with objects representing these stories.
I've focussed on addictions and obsessions, like coffee or soap operas, not hard ones, like drugs or gambling. The visual language aims to highlight similarities and differences between the two.
What was your inspiration for the project?
I was trying to kick my personal Diet Coke addiction at the time, and it made me wonder what other everyday things people get addicted to or obsessed with. I wanted to shed light on these everyday stories, and inject a sense of humour and humanity, rather than shame and guilt.
My visual language was inspired by two of my favourite design studios, Non­format and Buro Destruct.
What's next for you?
Actually, I have signed up for the MA in Visual Communication here at Solent. So I'm looking forward to that, along with creating a stronger online presence and visual identity for myself.
What made you decide to go to uni in the first place?
When I finished school, I wasn't entirely sure what to do, only that my strongest subject was art and design. I did a short course on developing a portfolio for Art College, only it was more fine art-based and that wasn't for me at all. What I did learn though was I had an interest in photography, which I went on to study at Griffith College Dublin for a couple of years.
For the next few years I worked a few jobs but I never felt satisfied and decided I would give uni one more shot. In my spare time, I had been practicing graphic design tutorials, and found I really enjoyed the subject. Interestingly, my career guidance counsellor once told 15-year-old me that I should be a graphic designer and I completely shunned the advice at the time!
I enrolled at Bray Institute of Further Education, got a HDIP in Graphic Design, and used that to apply to UCAS and then to Solent.
Why Solent?
It appeared to be a bright, vibrant, lively university, and it seemed to really value its students.
What have you enjoyed most about your time at university?
Solent has a lovely open plan design studio littered with past pieces of work, inspirational designbooks and places to just relax. On top of this, it has facilities I've never got to experience until now, such as custom book binding, and a 3D workshop with a laser cutter. Most importantly though, Solent has excellent lecturers freely dispensing great advice and tutorial direction.
What would be your top tip for current students or those about to start their studies here?
Don't stress. Stress will cloud your mind and stifle creation. Getting over it is a personal journey, and different for everyone, but once you learn how to stop stressing, the fog clears.
Also, for the creatives who lack motivation, just start. Do something. Put pen to paper, put hands on clay, put mouse clicks to computer screens. The hardest thing to do is start; I found that out myself this year. But you can begin anywhere, and once you do, that's half the battle.