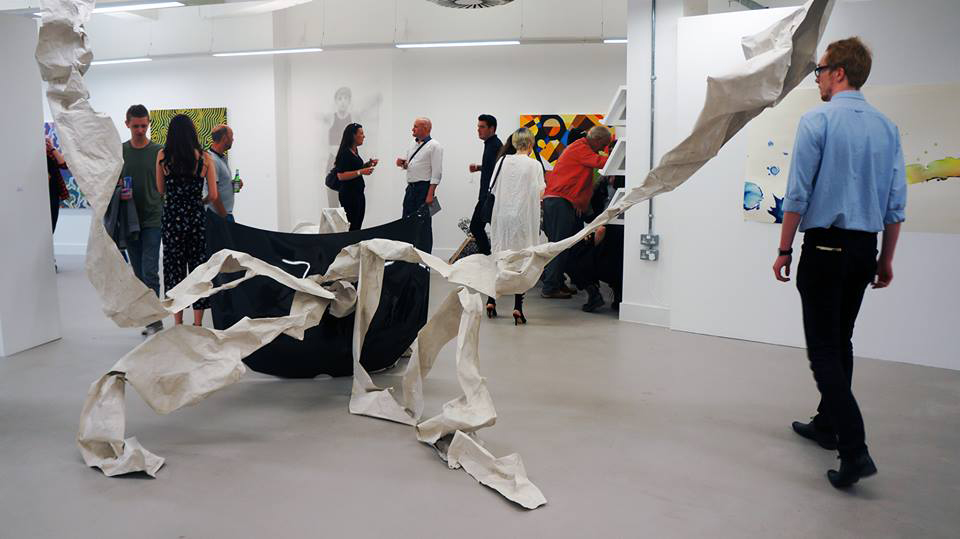 A rhizomatic approach to art
First-class flowing forms
6th September 2016
Cameron Fahey's fascination with organic life forms, flowing freedom and imagined-worlds is first-class. We talked to the BA (Hons) Fine Art student - who graduated with first class honours in July - about his stunning final-year project; what inspires him; and what the future holds.
Tell us a bit about your final project
My practice asks a question - what does it mean to be rhizomatic? My installation emulates this state of being, conveying a physical and perceptive embodiment of an endless creation. The work is site-specific; like organic life forms, it grows attached and then latches onto its surroundings as if proximal surfaces are its permanent homes.  It becomes monstrous and is marked by its overwhelming dominance, with the size and space commanding the attention of the viewer.
My builds rely on the materials' capabilities. I work mainly with papier-mâché forms, swallowing and co-operating with other miscellaneous everyday objects. 
What was the inspiration behind your project?
I draw inspiration from everything around me, from analysing forms and examining images that I have taken, to imagining worlds around me.  I then isolate selected aspects and mutate them into new forms or ideas.
Jean Tinguely's drawings inspire me; the way in which they show freedom as flowing, loose and full of energy. They influence me to produce flowing forms with an ore of jouissance that I then pour out into the space of an installation.  
Where did your love of art come from?
I found interest in my surroundings and liked to recreate them. I have always been competitive and tried to put as much effort into everything I do. At primary school I had a teacher who told my mum I wasn't very good at art, which only made me try harder. I also have three older siblings that have skills in art and design, so while growing up I watched them doing artwork which drew my interest. 
What have you enjoyed most about your time at Solent?
Meeting tons of fantastic, diverse, open-minded people and making loads of new friends and memories that I will never forget. 
What's next for you?
Looking into lots of different art-based jobs and applying for sculptural Commissions. I'm also planning on traveling around different parts of the world before possibly going on to do an MA in Sculpture.  
What advice to you have for current and potential students?
Going to university helped me understand more about myself, gain independence and a higher level of responsibility. The more work and effort you put in the more you get out of it and it is just an unforgettable experience.  
You can see more of Cameron's stunning work on his website and Instagram account