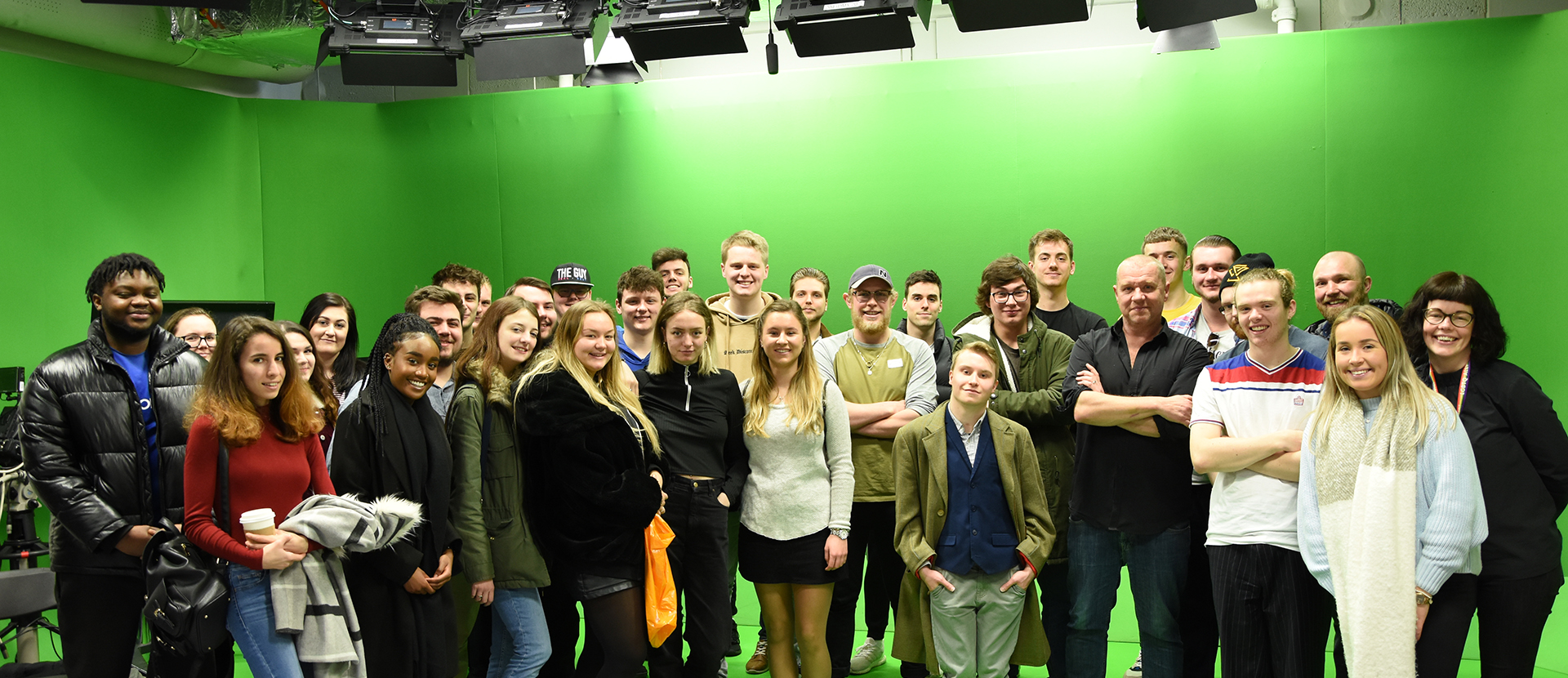 Actor Shane Attwooll visits Solent
By Cait Dearlove, third year BA (Hons) Film and Television student
20th March 2019
TV, film, media production and technology
Media arts and technology students recently had the fantastic opportunity to meet actor Shane Attwooll. During his visit Shane answered questions about his roles and collaborations and shared advice for filmmakers working with actors. His visit was packed with eye opening advice, laughter and a sigh of relief as students took on board everything he had to say about the ins and outs of the film industry.
Having grown up in Gwent, Wales Shane knew by the age of 11 that he wanted to run away and join a drama school. His theatre background taught him the values of respect and unity, and he told students the best work comes from everyone being a part of the creative process and not ranking people's importance: "The best projects felt like a family". Shane discussed the value of a project feeling like a family rather than being part of a hierarchy, "The cast and crew eat together… are on time and respect each other… the best work is about unity… we are all a part of the creative process" he shared.  
For Shane this is a job. He said he is a "grafter" and worked hard to get where he is, but has no interest in the fame. He takes a very realistic approach towards the job and appreciates there will be times where you will work for two months then be out of work for ten, and you must learn how to cope with that. He loves being a part of the work and the creative process of a production, which is why he has been open to working with filmmakers producing short films as they allow for "little moments to be condensed" and have "no boundaries". Shane loves the idea of eradicating actors being the star - everyone is involved and should be equally celebrated and we shouldn't worry about offending the actors.
He offered advice to aspiring screenwriters saying: "a good script will jump off the page", and actors will always look for their lines and want to see "meat on the bones". In addition he expressed the importance of not needing to over write - sometimes just a look is enough to convey what a writer is trying to get across.
Shane acknowledges this is a business where you are judged, for the way you look, your class, your teeth. Rejection is a major part of the industry and when this happens you must find a way to get on with it. He advised that when you send something off, be it an audition tape or a script, you should move on and forget about it - you are no longer in control so don't dwell on waiting for a response.
Shane continuously made the very relevant point to "take care of yourself and your mind". With mental health being at the forefront of so many topical issues, it was refreshing to have someone be so honest about the issues that creatives, and everyone in fact, can face in such a cut-throat industry. All of that aside , he emphasised the truly rewarding nature of the theatrical world.
The visit ended with a character-building workshop where students were in the hot seat, taking on quick fire questions to establish a 'when', 'where' and 'why' procedure to help flesh out a character. 
Oliver Johnson, BA (Hons) Film and Television Production student said of the experience "It was really interesting having the perspective from a professional actor's point of view on their best experiences of working in film, so that we as film makers know the best way of making our actors feel comfortable, and can get the best performance out of them as possible".
Biography
Born in Newport, South Wales, Shane studied at Rose Bruford and then LAMDA before landing his first role in a feature in Andrew Kotting's This Filthy Earth in 2001. He has acted alongside Tom Hardy in Legend (Brian Helgeland 2015) and has been directed by Clio Barnard in Dark River (2017), which won the Toronto International Film Festival Platform Prize. He received two Best Actor nominations for his performances in the acclaimed short The Ballad of a Haunted Man (2018). His recent credits include the short film Farside (directed by Solent lecturer Ash Morris) and Wonder Woman 1984 (2020).