At the end of 2021, Vanessa Victoire completed her training at Solent's Warsash Maritime School ­– and became Mauritius' first female marine engineer in the process! We caught up with Vanessa about training, life as a working engineer, and what got her interested in engineering in the first place.
22nd June 2022
What first got you interested in engineering?
I love machines. When I was younger, I would play Lego with my brother Vivian and would take all broken apparatus to see what was in them. Looking back, we were starting to develop skills required by engineers: Planning, preparing the tools, discussing how we would proceed…
I think this passion for engines come from my dad, who is a mechanic; he would detail his daily routines to my brother Vivian and I. He has one old book from the days he was doing his mechanic course and I came across it and it was so interesting: the drawings, tools, the explicit way of describing the maintenance of the engine, the 'why's and 'how's… I loved it so much that I chose to do Mechanical Engineering at the University of Mauritius, and developed an interest in maintenance.
Dad called his friends who had workshops and some Fridays, I dismantled pumps, forklift engines, tested injectors and dad would talk to his boss for me to work with him some days during university holidays. Later he gave me that book…It was his way of encouraging me to become an engineer. My mum also trusted my career choices. She always motivates and supports me.
Why marine engineering? Why did you decide to go to sea?
I did my industrial training at a local shipyard where I covered mechanics, electricity, ship hull preparation (sand blasting) and painting, welding; I even did some fire fighting training with the firemen there. I was lucky at that time to be respected by my colleagues and some men generously shared their experience and knowledge with me.
And when I saw seafarers onboard and saw what their job was about, I thought 'why not?' It looked cool to be able to be part of the operation of a ship. So I decided to go for my certificate of competency (CoC), did some research and started saving for my studies.
I remember while I was doing that initial research I came across Warsash Maritime School website and was very impressed! I dreamt of becoming a student there one day, but knew I wouldn't be able to due to finances.
So how did you end up at Warsash Maritime School?
There were plenty of complications along the way to getting my CoC! I initially wanted to do my CoC in South Africa but unfortunately I was not well advised and ended up not being able to apply for the Notice of Eligibility there.
When I arrived home, I made some research and talked to the Shipping Superintendent in Mauritius who helped me connect with a shipping company, where I started my cadetship for an unlimited CoC.
In that company, I met the DPA, Ann Till, a Warsash Maritime School alumni, who became my company training supervisor and mentor, as well as my friend. I had applied for a UK LIA at that time, and Ann advised me to study at WMS and said how great the training was there. Then Ann and her husband Keith sponsored me for my studies! I am to this day very grateful; without them, I wouldn't have got my CoC.
Any other challenges?
Covid complicated things, of course. In 2020, when I was doing my cadetship at the very beginning of Covid, after just one month the company wanted to send me home before the borders closed. It was disappointing for me because I had just started!
With the support of the Captain I managed to stay to complete my three months, but by that time the borders were firmly closed. So, I stayed a further six months, which was ideal for me to complete my nine months' sea time.
Fortunately, it was possible for me to talk to my family and boyfriend at that time and know that they were fine. We went to drydock but it was impossible for us to go out. As months passed, some people onboard were really tired and their family needed them home.
I had the opportunity to work on 4 ships at that time. There were days where I was tired and since jabs were not already available, we were hoping not to become covid positive.
Then when time came to travel to Warsash Maritime School in the UK, no travelling was allowed except for compelling reasons. Caroline Rees, our lecturer in Naval Architecture and Sam Samuels, senior lecturer, helped my classmates and I to arrive in the UK as they liaised us to the right people in WMS to have the required papers to travel. Thanks to them!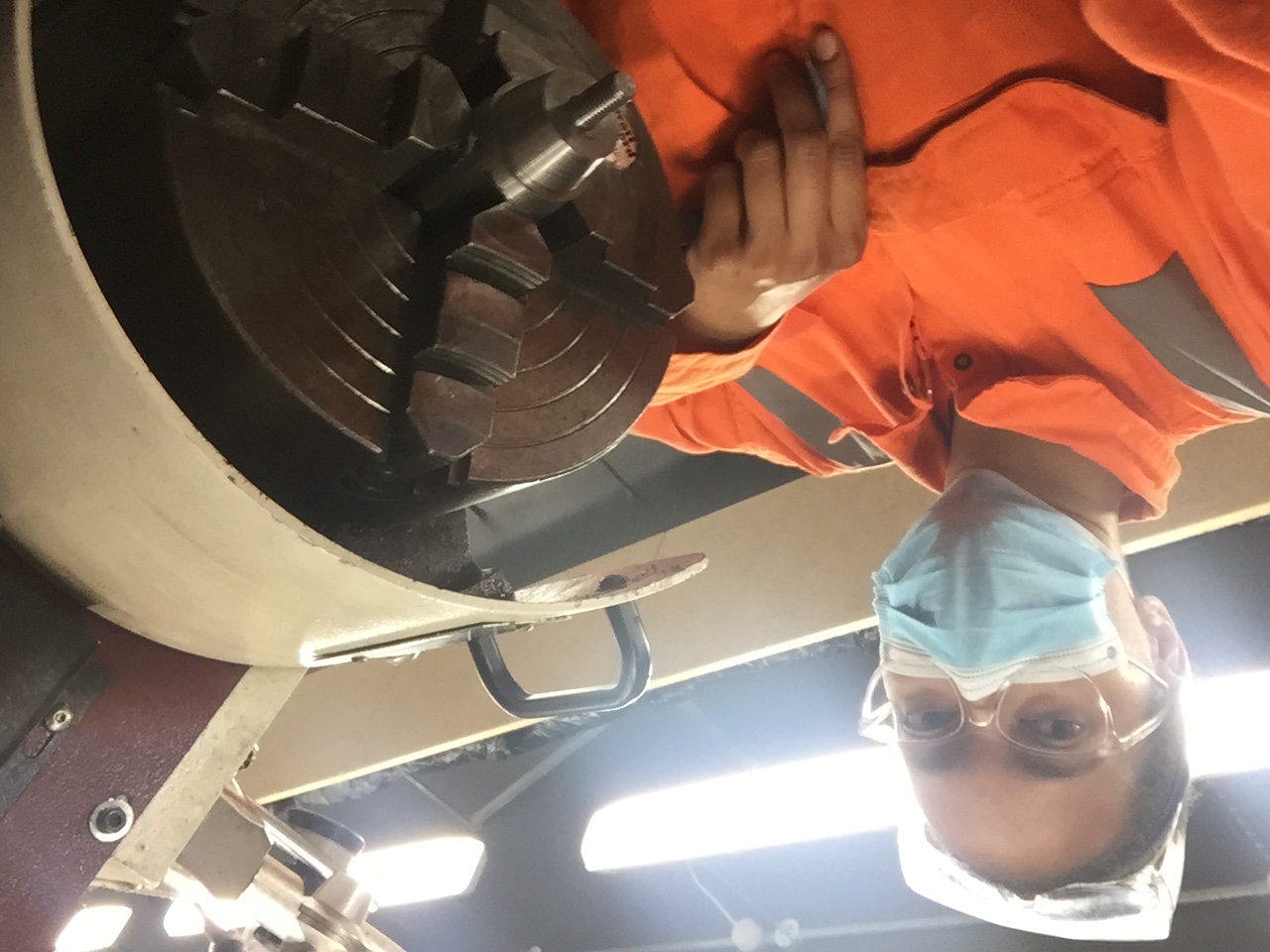 What was it like, studying here?
It was super cool! I studied IAMI and Engineering workshop at St Mary's but also short courses like High Voltage (Operational), PSCRB, HELM (operational) and Medical First Aid. Overall, I was there for four and a half months.
The lecturers are very friendly and helpful. They are also accessible for any question or query. I remember sending an email to Caroline Rees one day before IAMI exams because I had a doubt about one question and she told me to connect on Teams for a chat about that. She was so caring and wanted the best for her students.
In the workshop, the training instructors have years of industrial experience and they make us do some workpieces that are done on ships; like for example the manifold we made in the welding workshop that we tested under pressure to check the quality of our welds.
We also made a ratchet from zero, a threaded cylinder and its corresponding bolt on the lathe…fitting was fantastic too; and electricity where we had to build a star-delta circuit and learn how to parallel motors on a switchboard. The ratchet in particular was several weeks work and when it was finally mounted, I felt so proud of myself. It really boosted my confidence!
We worked on a MaK engine as well in the workshop; where we learnt how to remove a cylinder and make wear measurements. I personally enjoyed each day in the workshop and online preparing for IAMI exams.
One thing I was very impressed with at Warsash, was that even people who didn't know me and who hadn't been my lecturers would generously help. For example Toby Bishop and Tom Holdway, whom I had never met before, helped me with an issue I had when applying for the NOE and needed to have one session of oral exam practice respectively.
What did you think of the city as a place to live?
Southampton is a very dynamic and lively city for students, with appealing diversity of cuisine. And it has a long history, too; I was amazed to see how much of the Titanic's story is threaded through Southampton, such as senior fifth engineer Frank A. Parsons' house!
Where did your maritime career start?
I started as a cadet on purse seine fishing boats for ten months; there I was under the responsibility of the second engineer, doing routine watch and maintenance as well as participating in the fishing factory, like other engineers, to separate fish and process them in brine first and then transferring them to the -40℃ freezers.
There was no internet access, other than communication by email, and that only to the family. 70 days over the deep sea, coming to shore only twice; once to unload the fish and the next time to sign off. It was tough!
Where has your career taken you? Anywhere particularly interesting or memorable? Any good stories?
It has taken me to places I would never have visited like Egypt where I spent nine months. I met great people who treated me like family, and tasted local food. I also got to know how other people live and different architectures, mentalities, cultures.
One good story: when I met a stray cat when I was in cold stack in Alexandria during Covid. I named him Tigrou and fed him. Tigrou became a friend who visited me every day.
What's your current role?
I'm currently working as third engineer onboard an anchor handling towing supply (AHTS) for Bourbon. Onboard the ship, I am responsible for the bilge system, fuel transfer, various auxiliaries like the start air compressor and purifier, assisting the C/E in preparing for bunkering, among other tasks.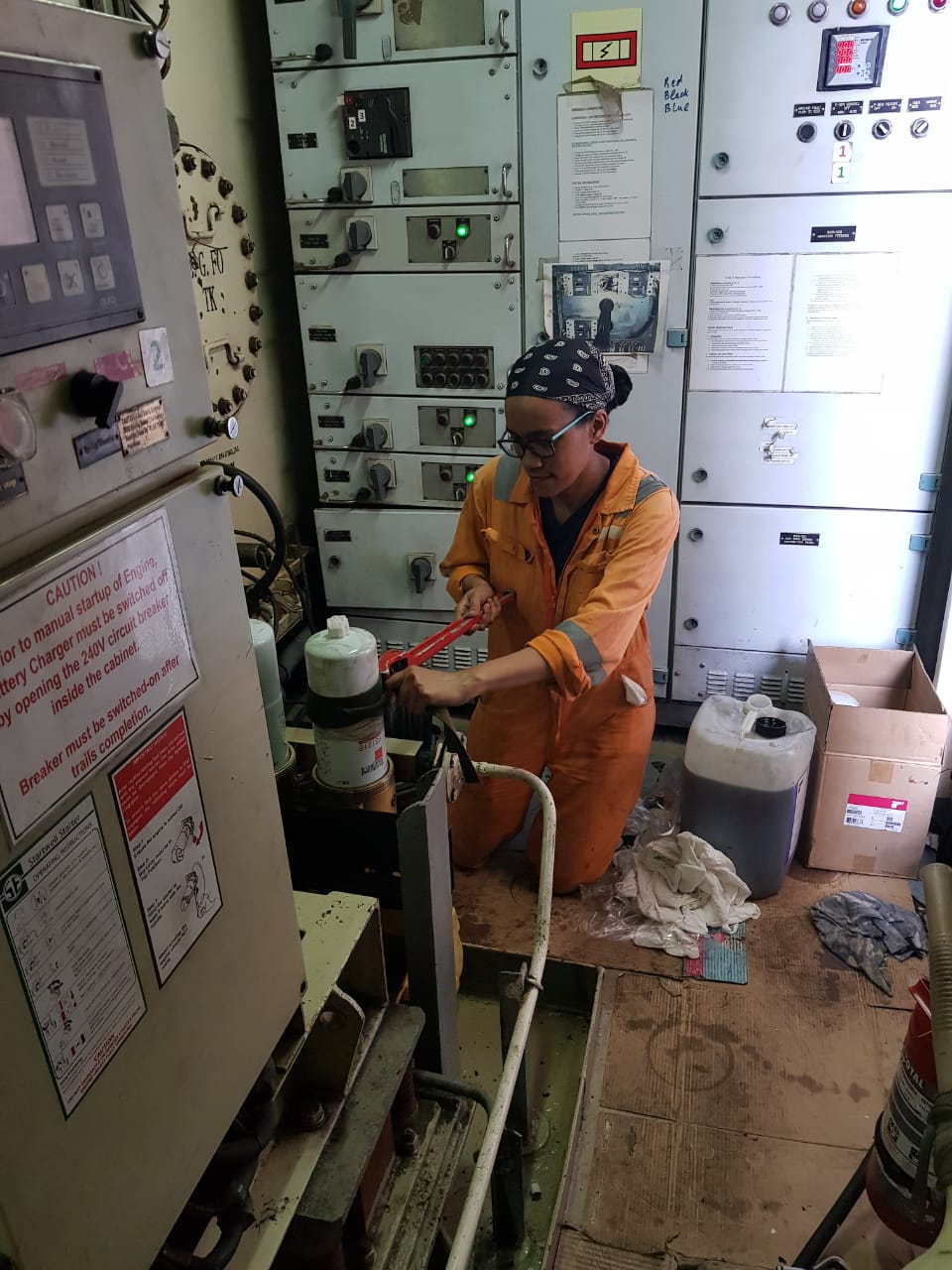 Can you describe a typical working day?
I have day work and if we have for example a towing operation, I would be on duty from 6 to 12. In PPE, I start my day making a round of the ship (engine room, control room, steering gear room, bow thruster room, emergency generator room…) where I check that all main equipment and auxiliaries are working properly and their parameters are within acceptable limits.
Then I check all header tanks' level, drain the condensate from receivers, and drain water from day and settling tanks. I fill the engine room logbook and analyse the readings obtained. I also transfer fuel to day tanks and settling tanks. Then, I check the day readings taken by the oiler and look at what are the jobs to be carried out on the planned maintenance system and do them.
If we are in operation, the engine control room must be manned by at least one officer, which can be me. Also, depending on the bridge request, I may also start a main engine and parallel it. At the end of the day, do a walk around inspection and pump bilges.
What's it like as a woman in a typically male-dominated industry?
I personally do not see myself that way; we wear the same coveralls! I really enjoy working on ships and I feel at ease doing any job. My current ship is a challenge as it is my first contract as third engineer; as such sometimes it is funny to see them stop and watch how I connect the air pump to transfer lube oil to the tanks, or if I can start the main engine, or use the hydraulic pump to unscrew the bolts of the main engine. I have to prove that I can do the job… but so does any newcomer in that position. Do I have to prove myself more than a man would? Perhaps.
Other days are more irritating though. Most people onboard have never worked with a woman offshore, and some will always want to know how a woman at sea will cope with her life, if she is married and if her husband agrees to this life or will look elsewhere; how she will do when she will have kids.
I remind them through my actions that I am similar to them; and that a family needs also the father, so how is their wife coping without them? It is tiring sometimes, but I am grateful to the majority who have been very supportive and treat me not as a woman but as any other colleague.
I do celebrate the fact that as a woman I made it to where I am today. It was not an any easy journey but it was a learning one. I was also blessed to have people who believed in me, supported and sponsored me to get my CoC.
What tips would you give to someone wanting to get started in a career in maritime?
To go for it! It will make them grow mentally and they will surpass themselves. Marine engineering encompasses every aspect of engineering: hydraulics, electrics, mechanics, control engineering, refrigeration and air conditioning, drawings,… no two days are the same. It is the practical part of engineering. Having my hands dirty to better understand how equipment works and maintain it.
Marine engineering gives me confidence and helps in life as well; like task planning, risk assessment, budgeting and management skills. I learn everyday and become a more versatile and independent individual, even at home!
It also makes me a more responsible individual towards our environment. Marine law about MARPOL and ballasting sensitised me on how important it is to segregate our garbage, to not discharge oil, sludge or forbidden garbage overboard… this makes us respectful towards living organisms.
So, I would say that marine engineering is both an interesting career choice that not only is full of adventure and discoveries of different places and cultures, but also makes me a complete individual.
Find out more about our engineering cadetships and professional courses at https://maritime.solent.ac.uk/courses/engineering-and-electro-technical