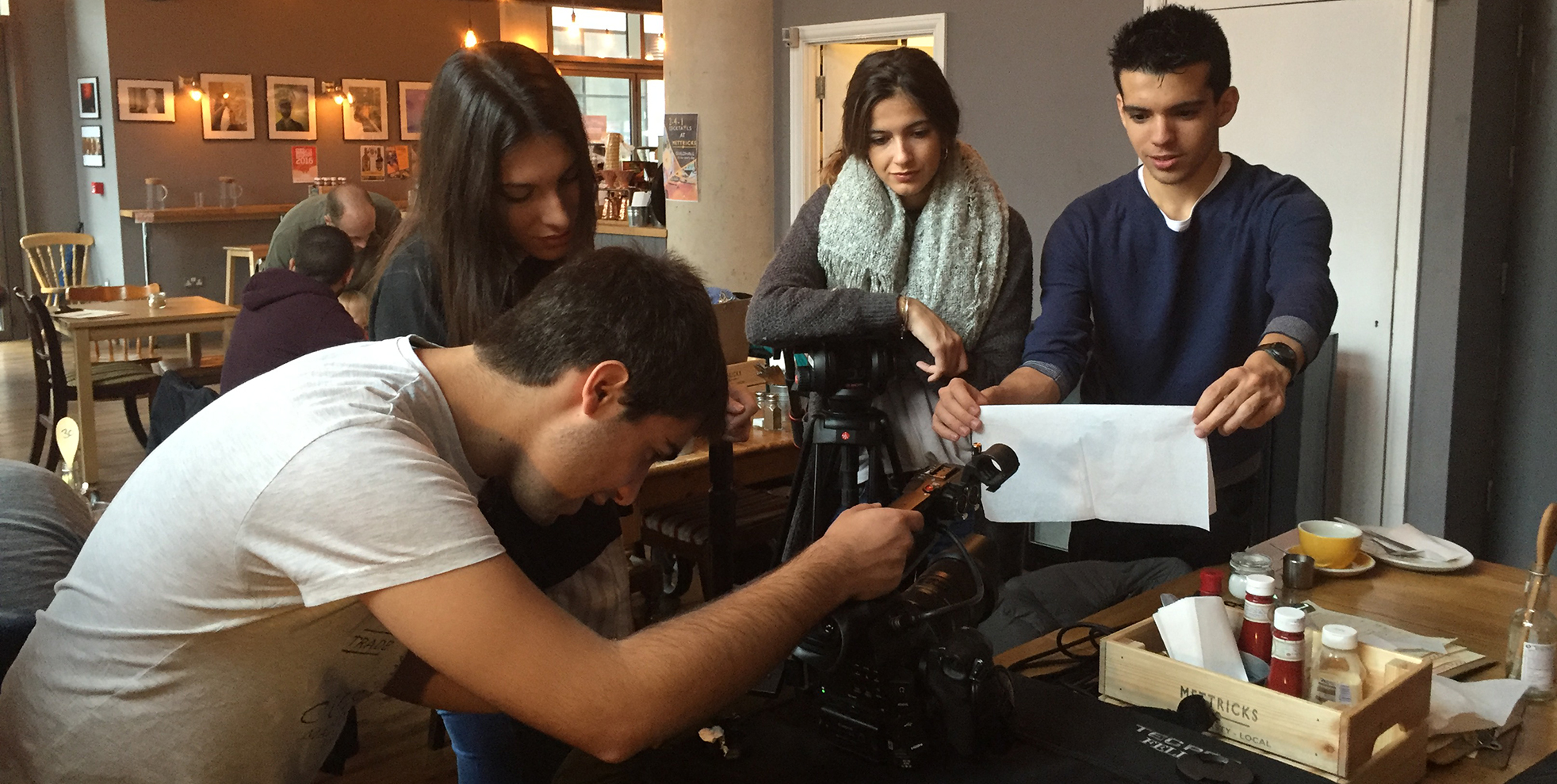 An international dimension
Preparation for today's fast-changing, global environment
1st January 2017
Staff and 23 students from the University of San Jorge (USJ), in Zaragoza Spain, visited Southampton Solent University in November, to take part in a week full of industry focused activities. During their time at Solent, USJ students had the opportunity to experience a series of workshops, talks from guest speakers and participate in live industry projects, which were organised by the International Development team, the School of Media Arts and Technology, the School of Business, Law and Communication and Solent Creatives.
USJ students worked together with Southampton Solent University students on a range of projects, which included filming for Business South who wanted to promote different aspects of living and working in Southampton. Oscar Rodriguez, Solent BA (Hons) Media Culture and Production student, mentored the USJ students during this project and said "It has been a great experience working with a group of students from University of San Jorge; we had the chance of filming at Mettricks, a local coffee house in Southampton, interviewed some of their staff and shot some contextual footage."
Oscar explained, "In the crew of six people the students assumed different roles, including camera operator, interviewer, gaffer, and sound. I was very impressed by their dedication and knowledge, especially since most of them were first-year students. All the footage came along nicely, and I think we achieved great results."
Students also participated in an e-campaign where they worked to meet the needs of a secret live client brief organised by Dr Catherine Sweet (Senior Lecturer in Public Relations and Communications).
Additionally, they tested their skills while shooting a live music performance with Solent third year students from BA (Hons) Television and Video Production. The performance was organised by the School of Media Arts and Technology and gave the opportunity for USJ film and television students to gain practical experience of producing performance recordings, setting-up lighting, staging and using Solent's production equipment. 
International Enrichment Week
The visit from USJ students was just one of the initiatives taking place during Solent's first International Enrichment Week. During which students and staff from the School of Media Arts and Technology packed their bags for a six day trip to Holland. Students spent time in both Amsterdam and Utrecht, making the most of the time away by taking part in a range of events and performances.
For those not venturing overseas there was still plenty of activity on campus as all staff, students and the local community were given the opportunity to participate in a series of free activities that were designed to enrich their knowledge and understanding of internationalisation, from signing up to a taster language session, to food tasting, enjoying live music and dance performances or watching international films in our very own state of the art Dolby Atmos surround sound cinema.
The Study Abroad and Erasmus programme team, also ran a number of successful workshops raising awareness of the opportunities available to Solent students with the range of summer schools and study/work programmes that are on offer. Studying abroad will not only give students the experience of a lifetime, but it will also add an international dimension to their CV; essential to achieving success in today's fast-changing, global environment.