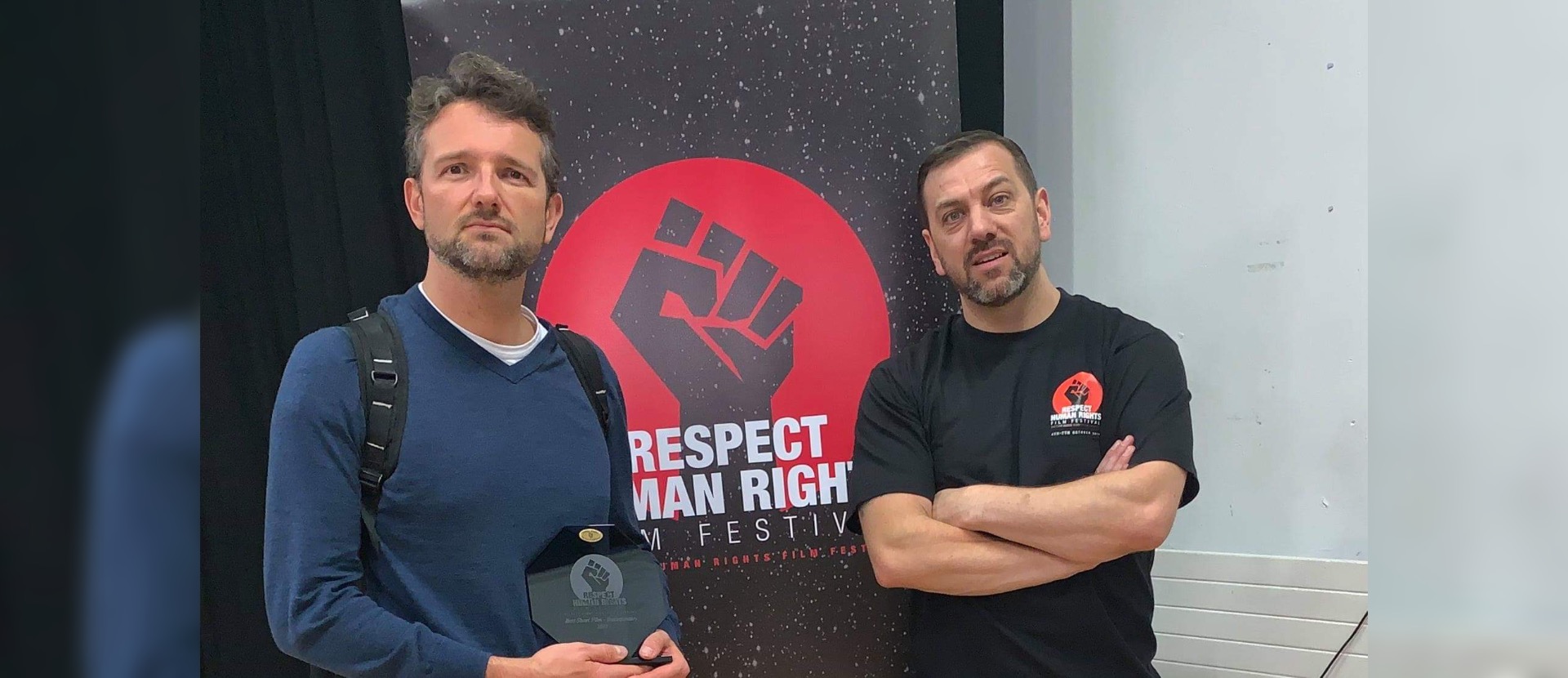 'BLOWBACK' wins Best Documentary Short
Dr Terence McSweeney, Senior Lecturer in Film and Television is celebrating after his recently produced documentary 'BLOWBACK – The 9/11 Wars in Global Film' won Best Documentary Short at the Belfast Human Rights Festival.
15th October 2019
TV, film, media production and technology
Research
The documentary was co-directed with Solent Alumnus George Lee, and evolved for Terence over two decades, where he researched the complicated relationship between film and society. We caught up with him to find out more about the film and plans for the future. 
Hi Terence, tell us more about the film
The film offers a counterpoint to the movies we are exposed to frequently about war, not just in Iraq and Afghanistan, but back to Vietnam and even those about the Second World War. The film argues that these films are extremely powerful cultural artefacts and even have a substantial impact on how we understand and remember these conflicts. In their place we explore war films made by Iraqi, Afghan, Turkish, Danish and Chinese film-makers. How could an awareness of their perspectives on the defining conflicts of the new millennium, remedy the rather one-sided perception of them in the cultural imaginary?
How did the idea come about? 
As a film historian I have written a number of books on topics as diverse as Russian film, post-9/11 American cinema, science fiction, horror and even contemporary television. With every new book I always thought about whether this might be the right time or indeed the right topic to branch out into something more practical.  
When I signed a contract last year with Edinburgh University Press to write a book about the representation of the wars in Iraq and Afghanistan in world cinema, I really felt this was the right subject matter: for me the topic is a timely one and of central importance in this most turbulent of political climates. At exactly the same time I was fortunate enough to be offered a post as a research fellow at the Institute of Advanced Studies at UCL which I knew would provide a suitable home for the project.
Your finished film was then shown at the Belfast Human Rights Festival and won an award, how was that?
It was an absolute privilege to even be invited to the Respect Human Rights Film Festival in Belfast to show the film, and take part in a Q and A. The festival screens shorts and features from all over the world and after seeing the diversity and quality on display it was a huge surprise to win the award for my first film.
What feedback did you receive?
I was overwhelmed by the response to the film and delighted to see it watched in the spirit in which it was made, to provoke discussion and debate that made every long day and late night we spent making it worthwhile. The festival director, Sean Murray, an internationally renowned film-maker himself suggested taking the film into schools to challenge a generation of young people raised almost exclusively on American cinema, and it is something we would love to do.
What's next for the film? 
I'm very excited that the film is being screened as part of the Southampton International Film Festival where it will be shown alongside a short film directed by one of my colleagues, Greg Hall, called Smack Edd. It has been a remarkable personal creative journey, something of a rollercoaster but one which has changed the way I look at films and has me excited about what is in store for me as both as writer, and a film-maker in the future.
A screening of the film can be seen at Southampton International Film Festival on Thursday 17 October, 1.30pm at Odeon Southampton. Visit the Southampton Film Festival page for further information.