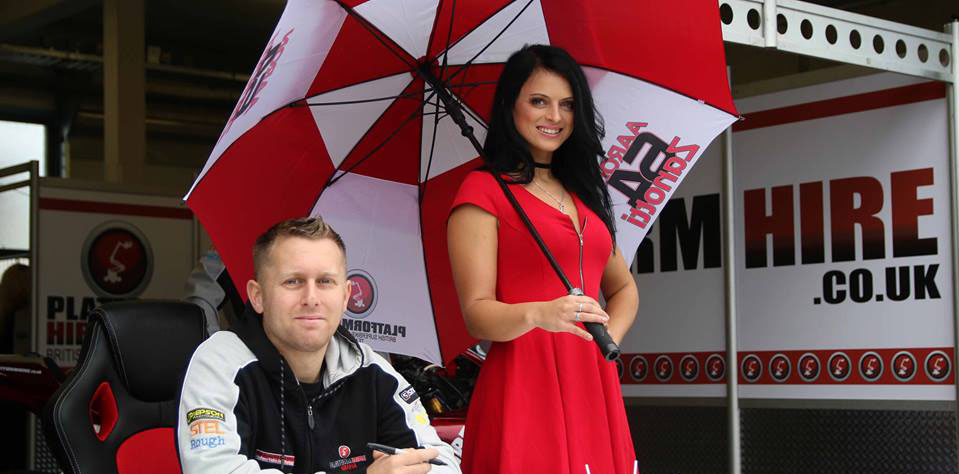 British Superbike placement results in speedy summer for make-up and hair design student
Eloise races ahead
7th November 2016
Over the summer, Eloise Robinson (20) managed to secure a placement at the British Superbike Placement.
As she embarks on the final year of her BA (Hons) Make-up and Hair Design degree at Solent, Eloise tells us how she uses her time out of studies to build up her already impressive portfolio - which includes Givenchy, John Frieda and Citroen - and to grab every opportunity that comes your way…
What was it like getting to work at the British Superbike Placement?
It was a really exciting experience as I have been brought up with motorsport, so to get the opportunity to combine the two things I love and have an amazing trip was brilliant.
What was your role?
I was responsible for Karla Saunders, who is one of the PR people for the Santander Salt teams. Karla is also a grid girl and I would be doing her hair and make-up over the weekend of the televised races.
How did the opportunity come up?
I actually got the position through Karla and a few individuals who run the series. They had seen some of my work over the summer and past year at University.
You have already had some great work experience placements…
At Solent, we are encouraged to push ourselves and get involved in the industry, as and when we can, which isn't always easy. I was very motivated over the summer months and sought out work so that I could improve my experience and knowledge, as well as expand my portfolio outside of the classroom.
How do you promote yourself as an artist?
I use social media, especially Facebook (www.facebook.com/makeupbyeloiserobinson) and Instagram (@makeupbyeloise). Wedding and bridal make-up is great to build your experience and skillset and make a bit of money while studying. I also get involved online on wedding pages to build up contacts.
What are you loving about Solent?
I enjoy being in a creative atmosphere! There hasn't been an idea or design I've suggested to my tutors that has been stopped in its tracks because it's too adventurous, my work has only been encouraged, which is something I've really appreciated.
How do you stand out as an artist in a competitive market?
I stand out by being as much of an all-rounder as I can. I take the time to enrol myself onto other courses outside university so I can be as much of an asset as possible. I am now also qualified in lash extensions, gel nails, manicures & pedicures and finally, lash and brow shaping and tinting. All of these extra skills make you more valuable and sought after. I also draw from a range of influences including art, history, fashion etc. to create new looks and unique ideas which I hope help me to stand out from the crowd.
What made you choose make-up and hair design?
I chose the course because I have always been fascinated with make-up and hair and how it has the power to transform someone not only physically, but mentally too. I didn't come from an art background but knew I wanted to pursue a future in it and Solent was the right fit for me. It had the right balance between different areas of the industry so it allows me to experiment, and find what I love and where my skills lie.
What advice would you give to other students?
Have fun! When you enjoy what you're doing, you get more from it. Secondly, don't be scared to branch out, even in your first year. Go for any opportunities and experiences you have coming your way. Don't feel hindered because you're 'only' a first-year or you haven't graduated yet. Go for every opportunity you can and if you don't get it, see it as a learning experience and go for it again next time.
Have you any other exciting placements lined up?
Not yet, but am looking into it. I would love to branch out and gain experience in theatre, especially with wigs as I have taken this as my optional unit this year and I'm really enjoying it.
Did you have any downtime over the summer?
I managed to have about a week off in total! I was either working my part-time job, working hectically over prom season and weddings, or on other projects. I wouldn't change my summer as I feel I have grown as an artist and gained valuable experiences from it being so busy and varied!