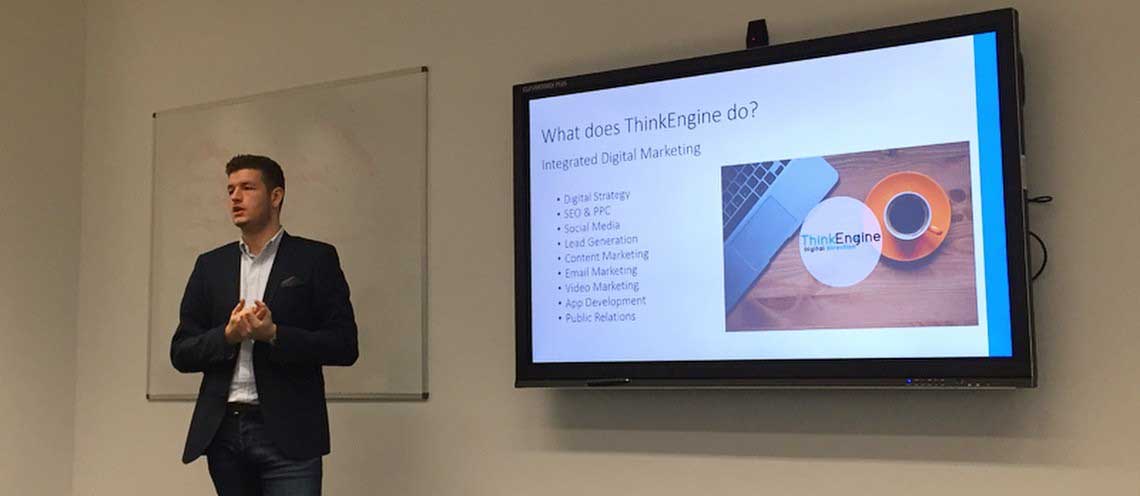 Business graduate reveals top tips to his own success
Alumnus success for marketing pro
23rd February 2017
We were recently joined by successful alumnus and marketing pro, Ben Michaelis, who very kindly imparted some of his wisdom to our business management and marketing students. Ben graduated from Solent in 2015, having studied BA (Hons) Business Management, he has since gone on to start his own business, ThinkEngine, a digital marketing agency.
We caught up with Ben to hear how life as an entrepreneur is going and what tips he has for students who are also thinking of creating their own empire...
What are the most important things you learnt at university that prepared you for work?
I was already someone who liked to be prepared before I do anything, but university simply reinforced this no end. The old motto counts for a lot: Failure to prepare, prepare to fail!
What has been your biggest achievement in your work so far?
Starting my own Digital Marketing Agency which has employed staff to deliver our client's needs. I feel that if you have the opportunity to run your own business, it should be one you embrace.
What do you love about your career?
I love the opportunity to help clients drive their business forward and realise the potential of online marketing. I also have a great passion for start-ups, and getting people excited about what can be achieved in a small business.
What would a normal day entail for you?
I like to be quite structured with my time. However, the small business world can sometimes be a little 'off the cuff'. My typical day would see me in the office completing client projects or in meetings with prospective clients.
What is your favourite Solent memory?
There are so many! All of my best memories come from being with a great group of friends. We could count on each other all the time and they made my Solent experience even better.
Other amazing experiences include our year one projects for Tea brand Ahmed Tea and being involved with the team that opened the new Boux Avenue store in West Quay. We also had the pleasure of meeting ex-Dragon, Theo Paphitis.
What would top tips be for students?
1-    Failure to prepare, prepare to fail!
2-    Know your stuff
3-    If you're on time, you're 10 minutes late
4-    Don't always accept the first offer
5-    Understand your liabilities
6-    Nothing is certain until the 'pen's on the paper'
7-    Learn from others around you and be entrepreneurial even if you are working within a larger company
Finally, why would you recommend your course and Solent to others?
The team on the business management course are all fantastic. Their support, guidance and industry knowledge makes the experience unique. I would recommend the course to anyone who wants to gain a broad understanding of all business functions.
Find out more about our business management courses here.