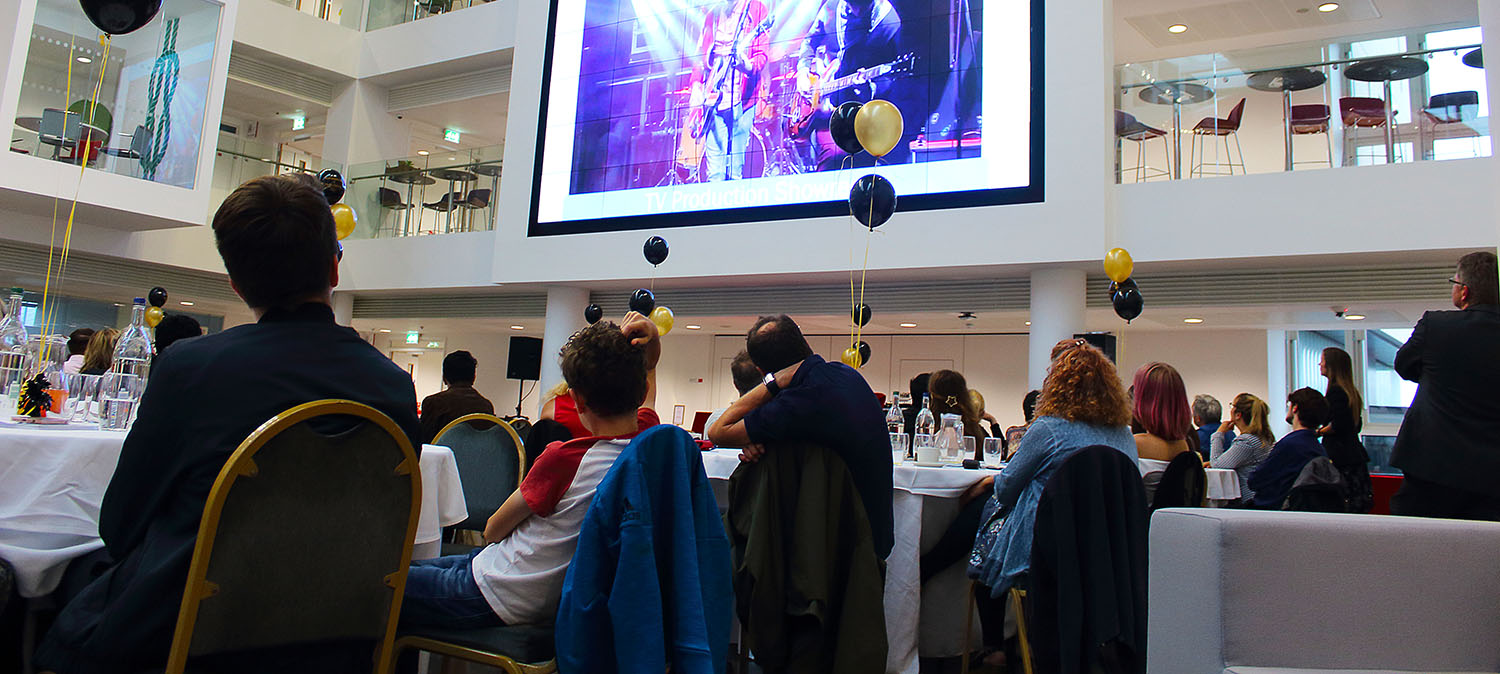 Celebrating young media and film talent
First Southampton Media and Film Awards
4th July 2017
TV, film, media production and technology
Schools and colleges from across Southampton came together to celebrate up-and-coming media and film talent at the first Southampton Media and Film Awards.
Held in the Spark, students competed in eight different categories, with awards for those at GCSE level and also post-16.
The evening was organised by the Media and Film subject network group of the Southampton Education Forum, of which Solent is an active member, to showcase student work and celebrate achievement.
The schools and colleges involved were: Upper Shirley High, The Sholing Technology College, Bitterne Park School, Itchen College Sixth Form, City College, Richard Taunton Sixth Form College, and Bitterne Park Sixth Form College.
Stuart Ray, Head of Television and Sound at Solent University, says: "The evening was a great celebration of some amazing young talent in Southampton. The work young people are doing on media and film courses should be recognised and celebrated as it instils vital qualities which are essential in later life – skills such as teamwork, organisation, using technology and communication.
"Southampton Solent University prides itself on the quality of our graduates in television production and so we were delighted and honoured to be able to showcase and celebrate future talent in this way."
Sarah Turner, Subject Leader of Film Studies, Teacher of English and Literacy Leader at Upper Shirley High, adds: "We schools and colleges were extremely proud to be able to reward our students for the dedication and hours of commitment that they have put into their projects."
Awards were presented to the students by BAFTA winning Film and TV Director Bruce Goodison, who has directed Born to Kill, Doctor Foster, Tony Blair: Rock Star, Flight 93: The Flight That Fought Back, and Puff Daddy: Keeping it Real to name a few.
The winners of the evening were:
Mise-en-Scene
GCSE category: Ivy by Olivia Kowalik, Alia Smith, Katie Street, Agie Szymczak - Upper Shirley High School
Post-16 category:  Hills of Portree by Eleanor Wilson– Itchen Sixth Form College
Cinematography
GCSE category: Daemonphobia by Amy King– Bitterne Park School
Post-16 category: Fields of Gold by Mark Jones – City College
Visual Effects
GCSE category: Zombie Nation by Shannon Paddock – The Sholing Technology College
Post-16 category: She's Watching by Lewis Stride – Richard Taunton Sixth Form College
Screenplay
GCSE category: Framed by Liam Wyett – Bitterne Park School
Post-16 category: Flight NA370 by Bradley Bowers, Billy Crook – City College
Editing
GCSE category: Ivy by Olivia Kowalik, Alia Smith, Katie Street, Agie Szymczak - Upper Shirley High School
Post-16 category: She's Watching by Lewis Stride – Richard Taunton Sixth Form College
Use of Sound
GCSE category: Revenge by George Pope – The Sholing Technology College
Post-16 category: Passage by Will Lickley – Richard Taunton Sixth Form College
Original idea
GCSE category: Human At Heart by Charlie Carter-Banks, Joseph Clarke – Upper Shirley High School
Post-16 category: Superhero Brothers by Haira Khan Laghari – City College
Best Film
GCSE category: Change of Heart by Katherine Brocklesby, Jessica England, Alice Parsons, Tasveer Sidhu – Upper Shirley High School
Post-16 category:  Fields of Gold by Mark Jones – City College