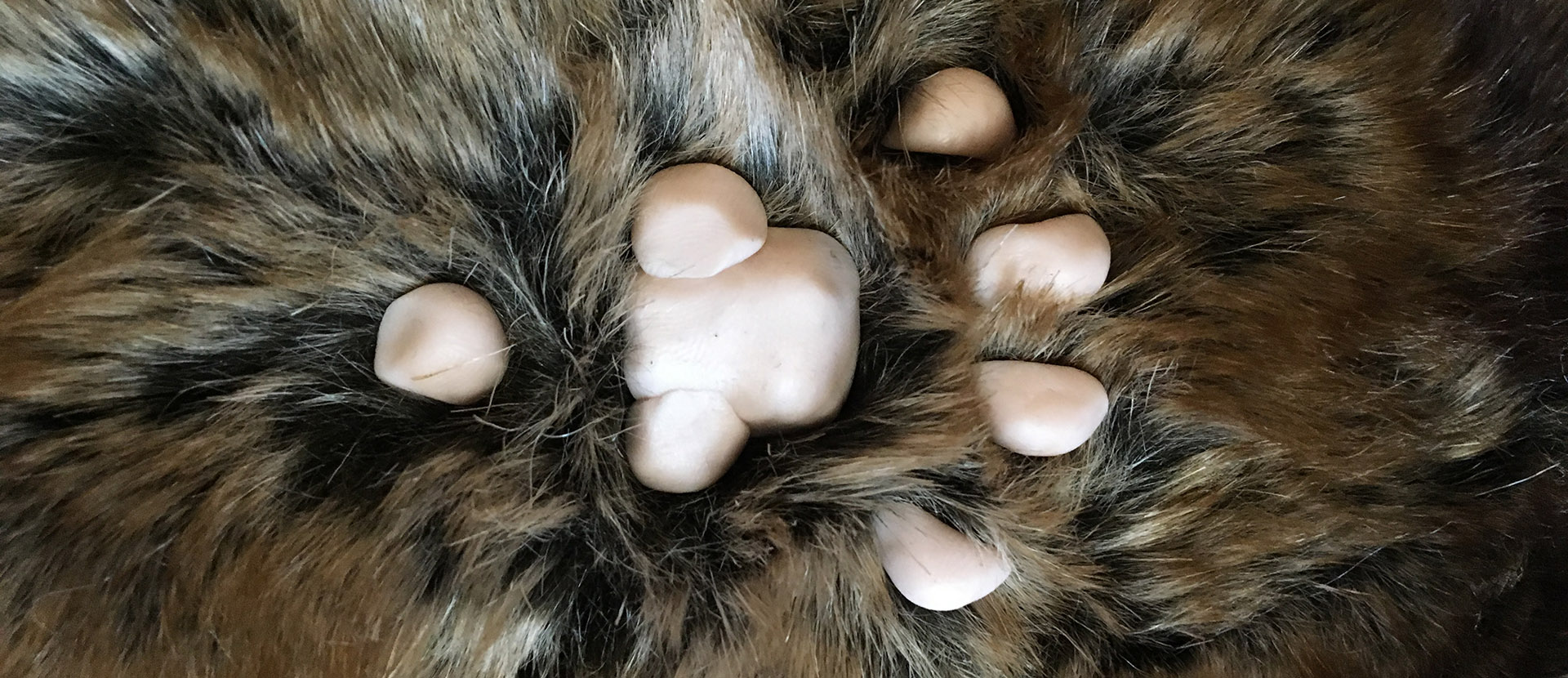 Croydon cat killer becomes focus of fine art
The mystery surrounding the Croydon Cat Killer was the inspiration behind BA (Hons) Fine Art student Lucy Marshall's final major project. We catch up with Lucy, 21 from Westerham, to find out more about the story behind it, and what she plans to do after graduation.
25th April 2019
Hi Lucy, tell us a bit about your final project
My final project surrounds the mystery of the Croydon Cat Killer, a notorious criminal who has been brutally murdering and decapitating cats all over the UK for the past few years. The police dropped the investigation to conclude that foxes were responsible, though this doesn't explain the clean incisions, the collars posted back through letterboxes, the heads left in playgrounds or gardens for people to find. I started making cat heads, and have also made a paw and tail, along with some digital drawings and ten cat collars complete with names of the deceased, and I'm going to present these in our exhibition, the 13th Floor Exhibition.
Why did you decide to focus on this theme for your project?
The Croydon Cat Killer is big news near my home town, but no one in Southampton seems to have heard of these abhorrent crimes, so my motive was to spread awareness about the case, and try to draw people in with a blurring, unflinching mixture of cuteness and fear.
What have you enjoyed most about your time at Solent? 
My course has been incredible. Despite numerous personal issues and struggles I've had throughout my degree, my tutors have been so supportive. It's really become a sacred place for me where I have felt utterly comfortable in achieving my potential.
What's next for you?
My dream has always been to become a tattoo artist, so once I've finished my degree I'll be starting a tattoo apprenticeship so I can begin to learn. From my first year at Solent I started creating pet portraits for people on social media, and I have continued this since, managing to become a fledgling freelancer, and making some money off of my art already which I am proud of. I have had many people interested in buying my cat heads too! - I'd like to use some of this money to donate to South Norwood Animal Rescue Liberty (SNARL), which is the animal charity leading the investigation in catching the Cat Killer.
What advice would you give to future students?
My advice would probably be – TALK. I spent too much of first year not speaking up when I've had a problem, and I've learned that so many people are there to support and help you through the process, and it's definitely worth making the most of these opportunities while you're at the university. If you need help, ask for it! There's no point suffering alone, and plenty of people are there to help you.
See Lucy's project and other art, design and fashion projects at our 2019 Summer Show