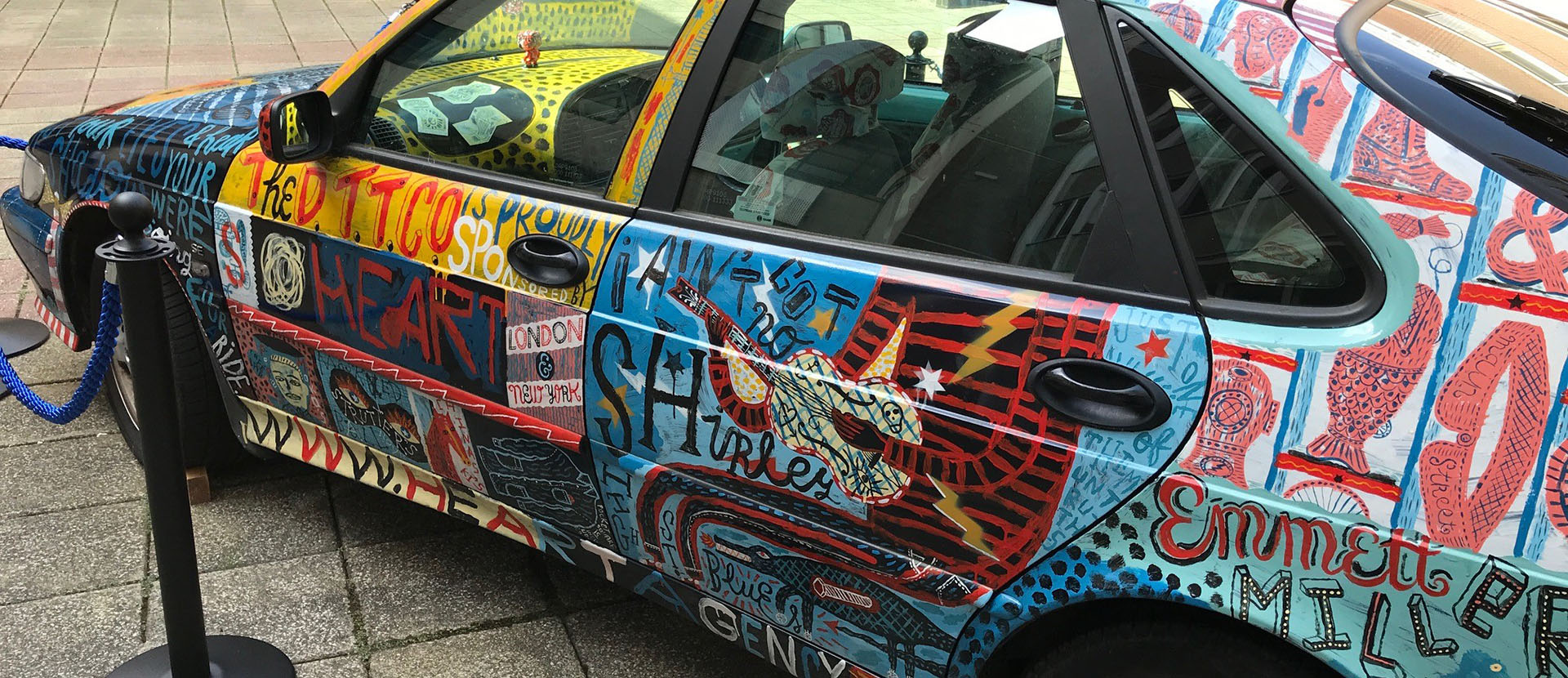 Darktown Turbo Taxi parks up at Solent
Solent University is thrilled to be the final resting place of a Jonny Hannah original piece of artwork – the Darktown Turbo Taxi.
20th August 2019
The taxi features artwork in Jonny's signature style with illustrations from the fictional Darktown, including shops and emporiums such as the Mermaid Café, the Cullen Skink Fishmongery and Ole Whitman's Print Shop.
We caught up with Jonny to find out more about this project, and his mysterious fictional Darktown.
Hi Jonny, tell us a bit more about Darktown?
Darktown is inspired by Shirley High Street, and is my retreat on a daily basis when real life gets too much. My alter-reality hinterlands, accessible via ferry over the Sea of Possibilities, and by road down the Lost Highway. A place where anything can happen, but little does. Darktown offers me a refuge from modern life and council tax payments.
I've made several attempts to bring the town to life for others - for my exhibition at Yorkshire Sculpture Park I created three shops from the town, and recently I customised a Saab 93 – creating my very own Darktown Turbo Taxi.
Tell us more about the taxi…
I've been painting 'found' objects for years - guitars, coffee pots, shoes - and this seemed a logical step to make it bigger and bolder. The illustration course I teach on is very much connected with this, we encourage our students to take chances and push boundaries of what illustration is, which this does.
On the car there all sorts of cultural, historical and social references. From quotes from songs (Johnny Thunder's Born to Lose) to a line from an unpublished poem by the American author Nick Tosches, Shut your eyes and hear your shadow, we're goin' for a ride. It also has a reference to a song called Ain't got the Shirley High Street Blues, written by me, as a homage to the 'real' place where I live. But if there's a body of text which sums it all up, it's the panel on the left hand back seat door, from A Season in Hell by the great french poet Arthur Rimbaud:
I loved maudlin pictures, the painted panels over doors, stage sets, the back-drops of mountebanks, old inn signs, popular prints; antiquated literature, church Latin, erotic books innocent of all spelling, the novels of our grandfathers, fairytales, children's storybooks, old operas, inane refrains & artless rhythms. 
Arthur Rimbaud, 1873 
It's also been on display as an artwork/sculpture at Yorkshire Sculpture Park, the House of Illustration in London, and Aspex Gallery in Portsmouth. It's also been to various prints fairs and Manchester School of Art, for a cabaret with me and Professor Peter Lloyd, performed for the students there.
To view the Turbo Taxi and be transported to the mysterious Darktown, visit the quad – located off the Andrew's concourse.