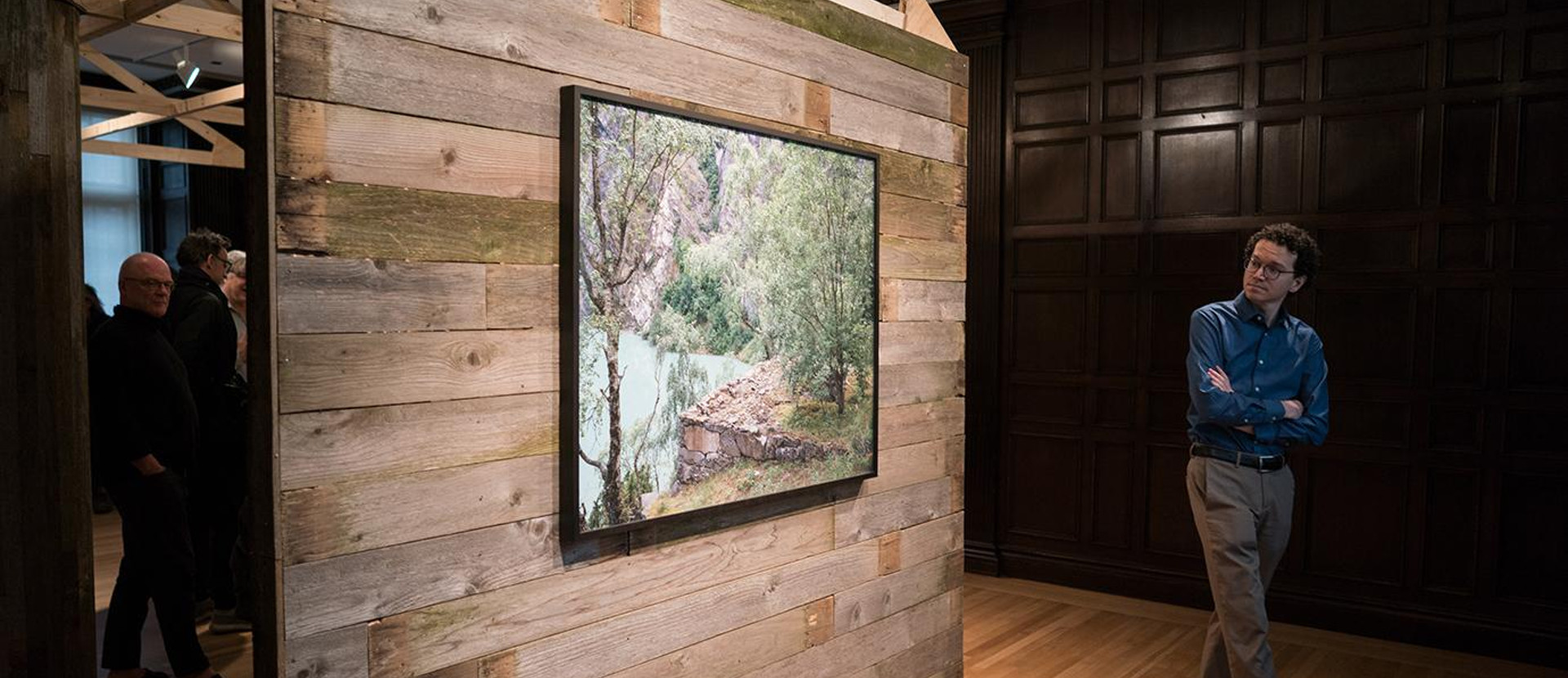 Documenting a philosopher's retreat
For the past couple of years, Guy Moreton, Associate Professor of Photography, has been participating in a number of high-profile exhibitions, including the Venice Biennale. We spoke to Guy to find out more, and to see how he expresses his research creatively.
Talk us through the exhibitions your work has appeared in lately.
I made a series of photographs and a book for an exhibition in Southampton a number of years ago for the John Hansard Gallery, called There Where You Are Not, about the philosopher Ludwig Wittgenstein.
My research project set out to examine the relationship between landscape and thought. In particular how the very remote mountainous landscape around Skjolden, on the west coast of Norway where he lived for intense periods between 1913 and his death in 1951, allowed him to write in the way that he did. My photographs of this landscape, and the ruins of Wittgenstein's house, formed the basis of this research, which has subsequently been exhibited and published internationally.
Dieter Roelstraete, who's a very well-known curator of contemporary art, included 15 of my photographs, including some new work exhibited for the first time in the Machines à penser exhibition at the Venice Biennale last year in the Prada Foundation. With work from a selection of international artists, it was a deeply considered showcase of contemporary art and historical artworks that dealt with the idea of retreat as well as retreat as a philosophical position.
The Hutopia exhibition at the Neubauer Collegium in the University of Chicago develops some of the themes from the Venice exhibition, using my photographs alongside replicas of the retreats and other works of art to reflect on how the philosophers thought. They chose to retreat in order to establish an intellectual connection to the land, their writing and themselves.
How do you express your research in a creative way?
At Solent University, we have a very strong tradition of creative practice research, and we're currently developing our postgraduate offer to integrate and embed our research interests through learning and teaching, and through sharing best practice.
So, my research is expressed through my teaching, and also through public lecture and symposia at other universities and cultural institutions, including recent public engagement events with the John Hansard Gallery and Southampton City Art Gallery, and a forthcoming lecture in Norwich on my photographic work on the writer W G Sebald.
I try to collaborate with museum and gallery curators who are often able to present visually articulate bodies of research through intelligent programming and with acute knowledge of audiences.
What are you currently researching?
Most recently I've been looking at the archaeologist Jacquetta Hawkes, who lived on the Isle of Wight in the 1950s. I'm interested in the influence of modernity, broadly speaking; not just in Britain but across Europe and the wider context of how we understand that period through art practice. The legacy of that period of cultural optimism is poignantly relevant to me now as an agent for contemporary discourse around value systems through reappraising our relationship to the natural world through creative practice.
What was it like taking part in the exhibitions?
The Venice Biennale was an amazing experience and Venice is incredible in so many ways as a cultural destination and as a truly international stage – I'd say that exhibition is one of the highlights of my career to date. Exhibiting with Gerhard Richter for example, an artist who has been hugely influential for me, was an enormous privilege and absolutely memorable – and the new work I presented in the exhibition in Venice is now in the collection of the Fondazione Prada in Milan.
I haven't yet seen the Chicago exhibition Hutopia, but it's just been reviewed in Canada and the US in the journal Momus.
The Hutopia exhibition will continue to run at the Neubauer Collegium for Culture and Society, University of Chicago until Friday 6 September 2019.