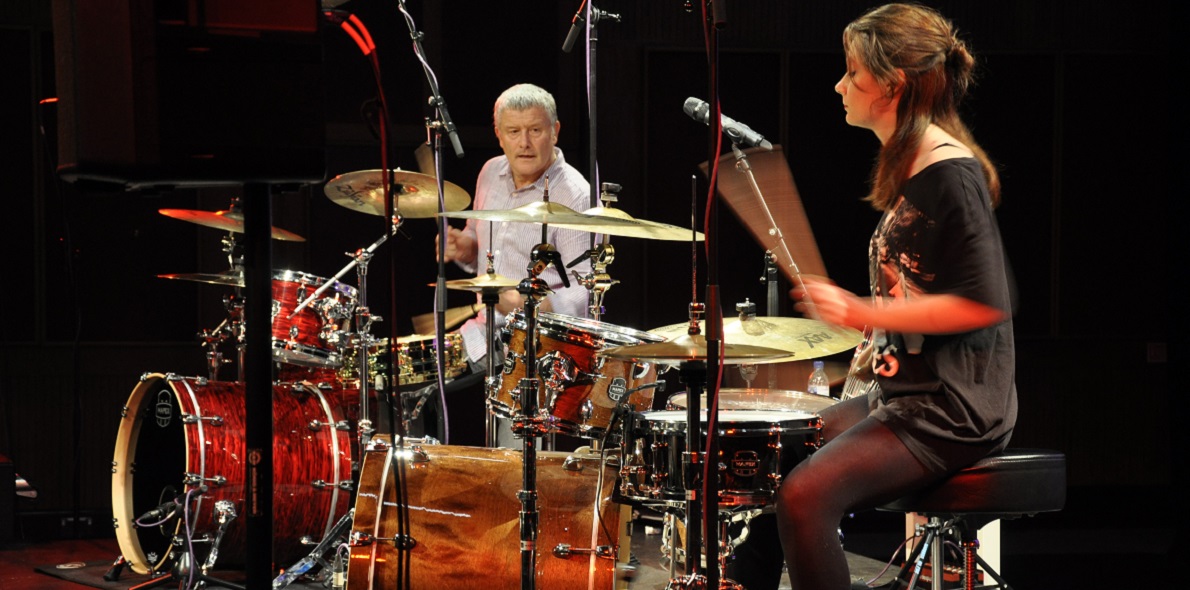 Drum clinic's a hit with music students
Carl Palmer's Drum Clinic
12th February 2016
Renowned drummer Carl Palmer visited Solent this February to deliver a drum clinic which proved to be a big hit with the University's student musicians.
An English drummer who has played with many top names, Carl was a founding member of influential prog rock supergroup Emerson, Lake & Palmer. He has also played with the likes of Asia and is one of the most respected rock drummers to emerge from the sixties.
Students had the opportunity to jump on stage and play alongside Carl and learn techniques from the drummer who has played for over forty years.
Sharna Edwards, who is in her first year studying BA (Hons) Popular Music Performance, had the chance to share the stage with Carl: "It's been absolutely brilliant. I've learnt so much. The exercises he gave us were great and I can't wait to get working on them."
Final-year student, Tom Remington, said: "It's really inspirational and at the same time overwhelming, as a drummer, to see someone of that calibre perform but he has given us a load of practise sheets to go through his techniques."
During his visit, Carl was awarded a Visiting Fellowship by the School of Media Arts and Technology.
Carl Palmer told us how much he enjoyed his visit to Solent: "I had a great day with the students and there are some great drummers here. I showed them some techniques; we talked about the history of drums; and I showed off with some drum solos and tricks. It was a fantastic day. The motto is to keep practising – two hours a day, remember 10,000 hours isn't enough."