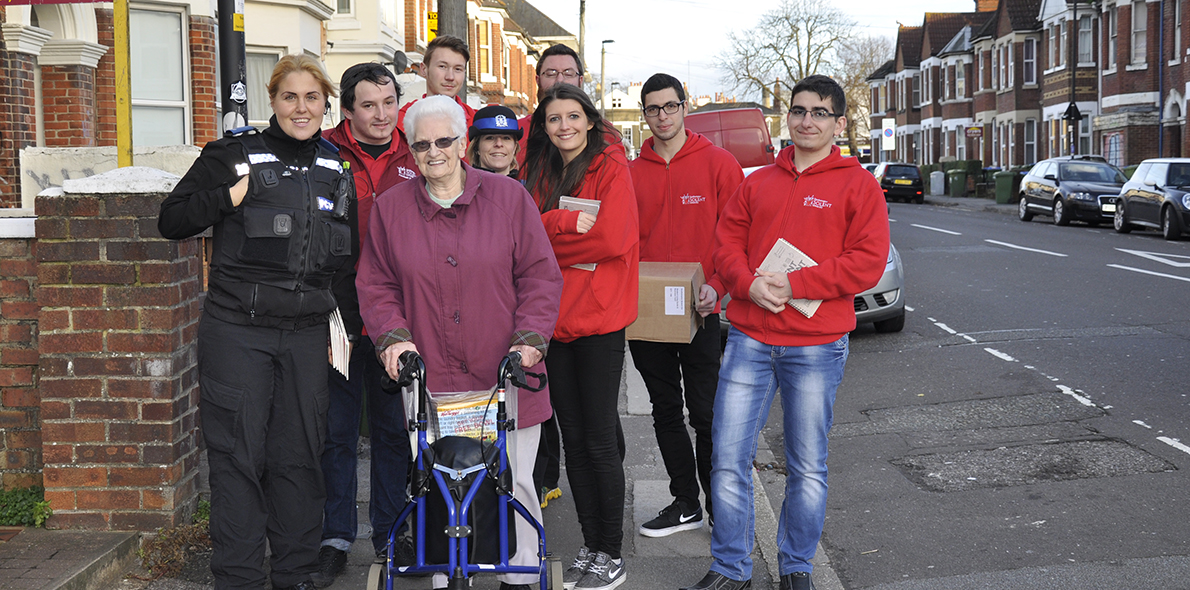 Everybody loves good neighbours
Encouraging positivity: Students out in the community
4th January 2016
Solent students have been out and about in the community, helping to raise awareness and encourage positive community relations in Southampton.
Working in partnership with Hampshire Police, student ambassadors have been out and about with local PCSOs in the Polygon, an area of the city where there is a high student population, giving out copies of Solent's student living guide and chatting to local residents about neighbourhood issues.
Solent's student living guide provides useful advice for students about living in private rented accommodation. The guide is packed with information to help students be a good neighbour and understand their responsibilities as a resident of Southampton, with tips on home security and environmental issues such as noise awareness and recycling.
Solent University's Police Liaison Officer, PC Jeanette Maidment says, "Working with the student ambassadors in the Polygon is a great way to inform and educate local residents, many of them students, about crime prevention, safety advice and the impact of noise nuisance on neighbours.
"This partnership working is also a great way for students to get some work experience alongside our PCSOs and we will continue to work with Solent on community initiatives to engage students and other local residents."
Solent University works with Solent Students' Union, Southampton City Council, Hampshire Police and other agencies to provide a safe and enjoyable environment. For more about our latest student and graduate successes, check out our blog or look out for upcoming events you may be able to get involved in.