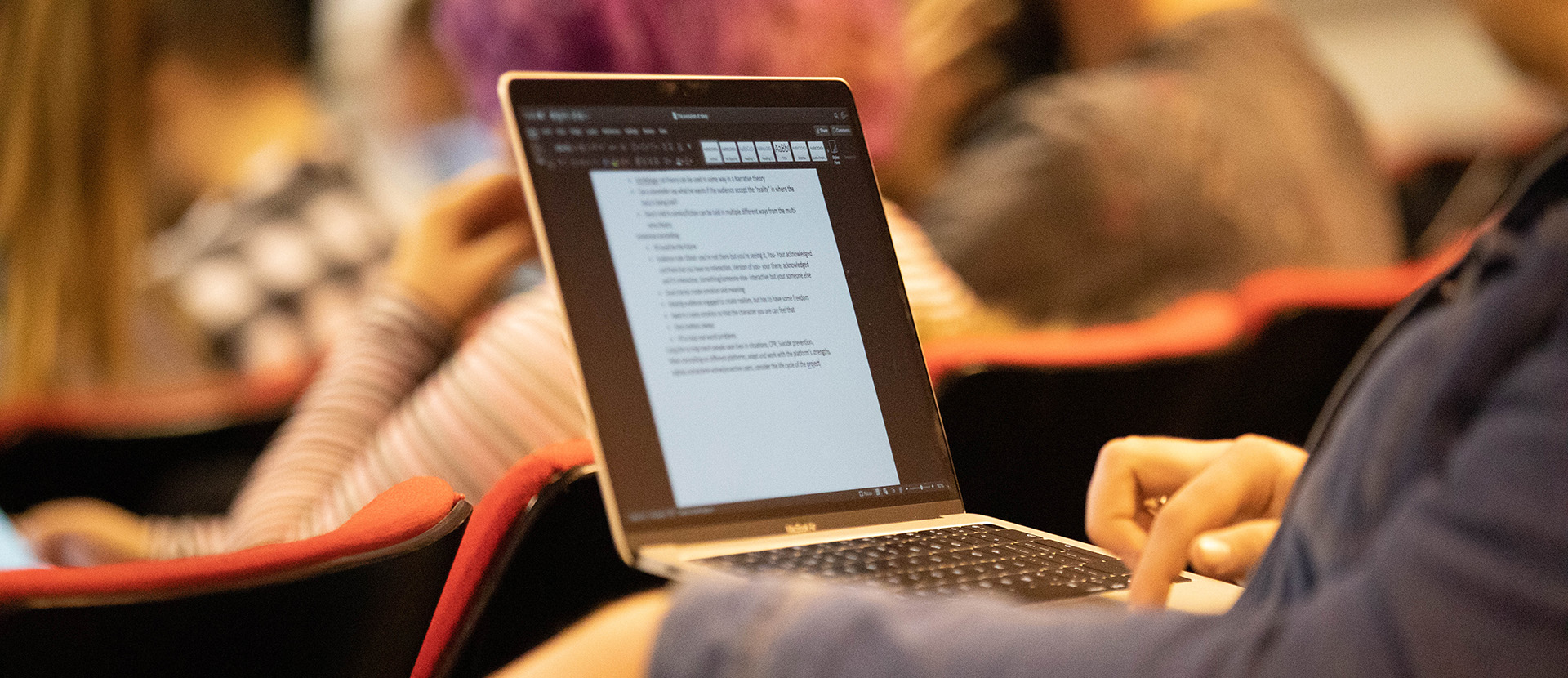 Over 100 students and industry professionals packed out the Solent Lecture Theatre on 19 February for 'The Evolution of Story' symposium.
10th March 2020
TV, film, media production and technology
The symposium aimed to explore the ways in which story has evolved beyond the linear, the stage and the boundaries of screen – asking questions such as 'Is story still king/queen?', 'Does the Hero's Journey still work if we no longer depend on one "hero" and focus on a collective?' and 'Is the traditional three-act structure still relevant?'
The symposium kicked off with a keynote by William Proctor, Principal Lecturer in Film and Transmedia at Bournemouth University - Strange Worlds? Towards a theory of quantum storytelling and world-building focused on the way in which storytelling may have evolved since the quantum revolution.
The day continued with a panel discussion on Immersive Storytelling and Experience Design by Martin Percy, a BAFTA Award-winning interactive video director, and Professor Dinah Lammiman, Creative Producer at the BBC. Further panel speakers throughout the day included Adam Gee (Red Bull Media House), Roger Graef OBE (Roger Graef Productions), Dr Joe Reddington (White Water Writers) and Alison Norrington (Story Central).
Students were also treated to interactive screenings by BAFTA winning video director, Martin Percy, who focuses exclusively on making films for interactive digital devices, including phones, tablets, computers and digital cinemas. Martin's films aim to use the interactive power of these devices to create new, interesting and useful types of film experience. The screenings included Heart Class, which uses group interaction to teach US high school students how to do CPR, and Mercy or Justice, a high-kicking martial arts movie about a woman fighting for revenge on an evil interactive TV show. The story can play out 62 different ways, with three endings, all consistent with the same story world – offering an incredible new way to watch movies with friends.
Final year BA (Hons) Media Production student, Shenali Karunatilake said of the symposium: "I worked as a producer and was able to meet the impressive panel one-on-one and use my networking skills to meet new people. The day's events ran very smoothly and I found it super interesting to learn about the theoretical as well as practical side to storytelling, and how this continues to grow as we evolve. It was nice to see everyone getting involved and engaging with the debates and workshops."
Roy Hanney, Course Leader in Media Production and the symposium organiser said: "It was an amazing day with so many great speakers, I was thrilled that such inspiring speakers wanted to be involved, but it seems we gave them a platform they perhaps don't have elsewhere. We definitely want to do this again next year and everyone involved asked to be invited back. It's such a great opportunity to share all this thinking about story, its right at the forefront of the debate"
View panel discussions on the Evolution of Story symposium YouTube playlist