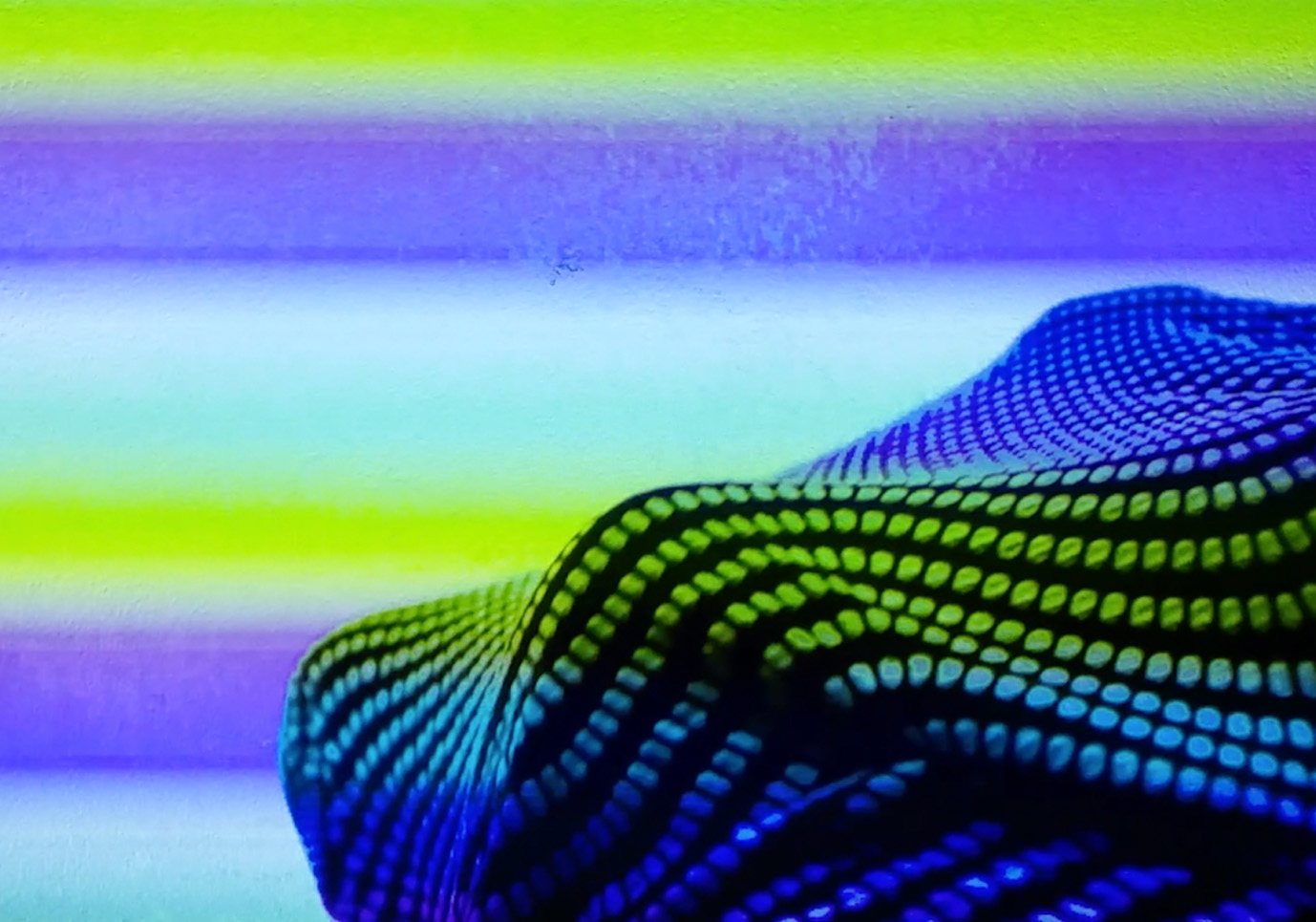 Exploring female identity in the digital landscape
BA (Hons) Fine Art graduate Kate Aries tells us about her final degree project and the inspiration behind her work.
9th August 2016
Kate Aries, a BA (Hons) Fine Art graduate from Oxford, mixes performance, moving image and photography to create her work.
We talked to the 22-year-old artist about her thought-provoking final degree project which examines how the female body is portrayed in today's digital and media-led society.
Tell us a bit about your final project
My work consists of performance, moving image and photography. In my video piece, Virtual Vertigo, I have used fabric to mediate the body, showing only a trace, creating a moiré effect. For my final exhibition I made the decision to have this video projected, filling an entire wall - this collapses the space, and suddenly there is no solid end, adding to the optical illusion. The viewer has an urgency to rewrite the narrative for him or herself, finding a foothold in an infinite terrain, drawn in by the lure of the moving gaze.
 What was the inspiration behind your project?
I use the female body in response to my transition into a young woman, questioning my identity in the contemporary world as a woman physically, virtually and digitally. I have grown to realise how ingrained everyday sexism is in our society - feminism and female solidarity have become a substantial kernel in my practice, as well we adverse effects of isolation and helplessness. A great deal of the way that body is thrown back to us in the current mediatised world is through digital mediation. My practice focuses not only on the body as an embodied experience, but also the manipulated and processed image and the mutability of identities in an increasingly mediatised society.
What have you enjoyed most about your time at Solent?
The tutors on the fine art course are unbelievably supportive and made my time at Solent really enjoyable.
The opening night of our exhibition was very rewarding, seeing all of our efforts come together and witness what we had created being received so well. I have enjoyed hearing different visitors' interpretations of my work and overall we have received a lot of positive feedback - I believe that we produced a really exciting exhibition.
What's next for you?
I am ready to excel at this next chapter in my artistic development. I have been gaining work experience at The Photo Rooms Ltd, which has given my first-hand experience of working in a photography studio. The managing director, Ashleigh Spice, who graduated from Solent in 2013, is very inspirational.
What advice would you give other students or potential students?
Conversations with peers and tutors will provide a vital insight into your own practice. Make sure that you're always taking note of your ideas, go to lots of exhibitions, and experiment with different ways of working.
To see more of Kate's work, visit her website. 
Find out more about Solent's art and design courses.