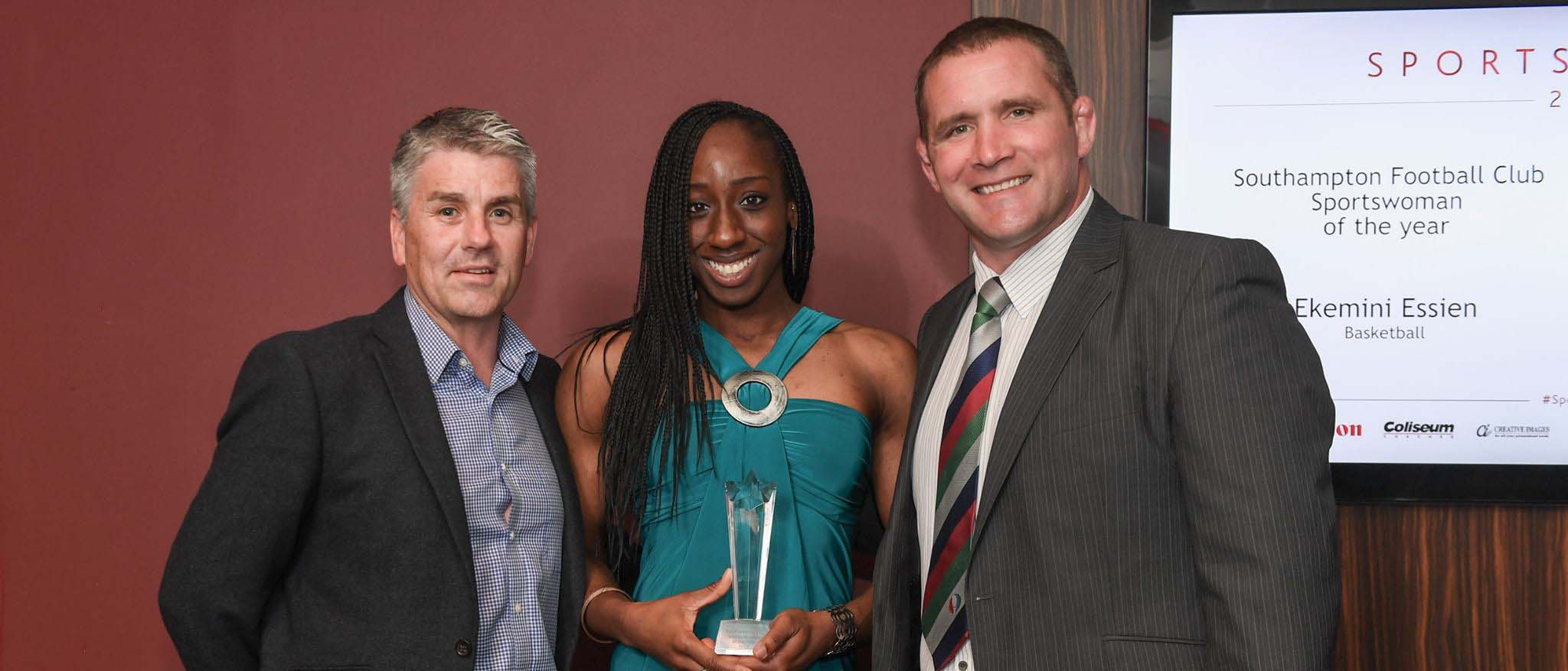 From Dallas to Solent: the journey of an award-winning basketball student
Ekemini's year of sporting success
13th June 2017
Marketing, communications and public relations
This time last year, American student Ekemini Essien had just finished her degree at Houston Baptist University and was about to start a scholarship in MSc Management at Southampton Solent University, having wowed their basketball coaches.
Now, she's preparing to graduate, and has taken home the Sportswoman of the Year award from Solent's Sports Awards.
Ekemini, 23, from Dallas, has been Solent basketball team's most valuable player (MVP) in both the British Universities and Colleges Sport (BUCS) and the national league, as well as the team's leading points scorer. She has recently been externally voted as MVP for the Basketball England National League Division 1.
Ekemini was awarded Sportswoman of the Year for her dedication to Team Solent on and off the court since arriving, as well as for being an outstanding athlete.
Of her win, she says: "I was so excited and thankful to have won the award. At the beginning of the year, I'd set some goals – one of them was to go a season undefeated.
"We only lost one game in the entire league, which we couldn't really avoid, so I feel like having that goal really helped. It felt good to see that mentality was what brought the award – I really appreciated that."
We asked Ekemini a few questions relating to her time at Solent:
What did you study at Houston University?
My first degree was in business administration with a concentration in marketing. I wanted to broaden that and study the management side of business.
Tell us about your scholarship.
After graduating from Houston, I wanted to leave the country, as I'd never left before. I decided to visit a friend who lives here, but at the same time another friend got a scholarship to play and go to school at the same time, so I thought I'd do the same thing. She hooked me up with her coach, who got me some contacts.
CJ, the basketball coach here, saw my film and said I was exactly what they were looking for, so invited me to visit. I visited and loved Southampton, CJ, and his attitude to life. It just felt like the perfect fit – especially since I have family in Andover – so I accepted the scholarship when it was offered to me.
What stood out about Solent?
When I visited it was super sunny and beautiful. I liked the fact it was close to the shore, and I loved the people. When I first came, I went straight into a workout with CJ, and later that evening I was scrimmaging with the rest of the girls in the team. They invited me in with open arms like I was part of the family. It was like CJ saw me as the missing piece of the puzzle in his team, which was great.
What advice would you give students starting at Solent in September?
Link up with people who will help you along the way – it helps to have that one or two people, the support group who just show you the ropes and tell you where to go. I didn't know which bank was best for me, how to get around, which restaurants to go to…
Just make friends and really get involved. Have as many parties, sleepovers, etc, as you can. That's what builds the friendship.
As for athletes, make sure you take advantage of the high performance athlete centre at Solent. The staff are there every day, as long as you're willing to put in the work. I've been going 4-5 times a week – they have physio and massage services, working out, strength and conditioning coaches, whether prehab or rehab. It may be a small gym, but I feel like I've received so much help – more so than I've had in any other similar environment.
What are your plans for after university?
Right now, I'm 60% leaning towards going back to America to start work, maybe in project management, finance or operations.
The other 40% doesn't want to waste the time I have left – I feel I have so much further to go. If I can find a good team to play with, why not?