From Lego boats to naval architecture
On International Women in Engineering Day, BEng (Hons) Yacht Design and Production student Elodie Grenen talks about her experiences as a woman in this traditionally male-dominated field – and what inspired her to go into engineering
23rd June 2021
From a young age I was always playing with Lego and Lego Technic when quite often all of my friends would be playing with more stereotypical toys for young girls. I was fortunate enough to be brought up in a very rural area where I spent my days building dens and racetracks for our bikes and go-karts. I suppose even from a young age I was doing some engineering related stuff - even if it was tying tree branches together to make a roof for a den!
At ten I was introduced to sailing and it has been a passion and hobby ever since. I then went on to study more engineering- orientated subjects for my A-levels, and after visiting several universities which offered marine engineering courses I decided to choose Solent University as it was the only university in the UK which offered a yacht design course that also has a highly practical aspect to it.
This was a huge appeal to me, being someone who learns more through the practical application of taught skills. On visiting the university it was clear that they had extremely good resources for the students and the staff were absolutely lovely and clearly dedicated to supporting students to making sure they unlocked their true potential.
I enjoy the challenge and appeal of being able to work towards creating something unique, or even progressing existing designs. I have always loved the problem-solving aspects of engineering as this challenge encourages me to achieve my best work.
I have worked in chandleries designing mooring setups for sailing and motor vessels, so problem-solving and design have been incorporated into my personal life, hobbies, summer jobs and education from a young age. But even from working a summer job it was clear that there was a major divide between the male and female workers.
My male colleagues were extremely supportive, and I wouldn't have classed them as part of the 'problem'. However, being a young woman in a chandlery did present problems as I quite often found myself being dismissed by male customers who simply wouldn't want to speak to a young woman, despite me having just as much knowledge as my male counterparts.
I also experienced rudeness which the males in the workplace simply did not have to deal with. On the whole, I feel some people were shocked to see a young female working in a marine environment as I was quite often told by customers they were shocked to see a "young girl like you" working in such a place.
But women are just as capable as men, and should not be dismissed. By excluding any person from a field of study, you risk the potential of never hearing that one ground-breaking idea or theory.
On the flip side, I strongly believe that my gender has helped me stand out. On my interview day a graduate scheme with Babcock International, I was one of 5 people and the only female – being a woman in such a male dominated sector does make you a much more memorable candidate!
That needs to change, though. I think that from a very young ages, when STEM is being introduced at Primary and Secondary level education, women should be present in all aspects of the projects for encouraging young people to get into engineering.
I strongly believe that from a young age, girls do not see enough women in engineering, so by having women doing school talks, advertisements and promotions for these STEM subjects, it'll make young girls more confident to pursue roles in engineering when they get older as it would have been 'normalised' from a young age.
Just because there are visibly less women in this field does not mean we aren't capable. There are examples of women who have had a lot of success in the engineering field so use this as inspiration to follow your interests. If you have a passion for engineering, follow it.
Women are finding places in the engineering field more easily these days and I really urge any young girls or sixth formers to pursue their interests and push to be the next women in the industry. Times are changing which is fantastic, if you go in with passion and strong work ethic, there should be no reason for any employer to doubt your potential.
I strongly believe there is no point in choosing a career path that doesn't capture your full interest as you'll struggle to unlock your full potential. Every day companies are making more effort to employ women - I know in an ideal world they should have been employing us from the start, but at the end of the day, progress is progress.
Since my time at Solent, I feel like I have become a more confident young person who has been able to push themselves to be recognised by employers and successfully gain a job. I have made lots of new connections with people from all sorts of different cultures and walks of life - on the whole, I feel like my time at Solent has been incredibly enriching.
I have also developed 3D modelling skills – which have been awesome to learn and definitely very cool! I have also loved the resistance and propulsion aspect of our course, which helps predict how much power a vessel needs to achieve design speeds, along with what size propellers they should have - along with many other things!
And I also got practise in designing vessels and developing an understanding of classification society rules which actually proved invaluable for me when I had to go for an interview with Babcock for their graduate naval architect scheme. We also had several assignments where we had to do an interview style presentation which has also proved to be extremely useful when applying for jobs.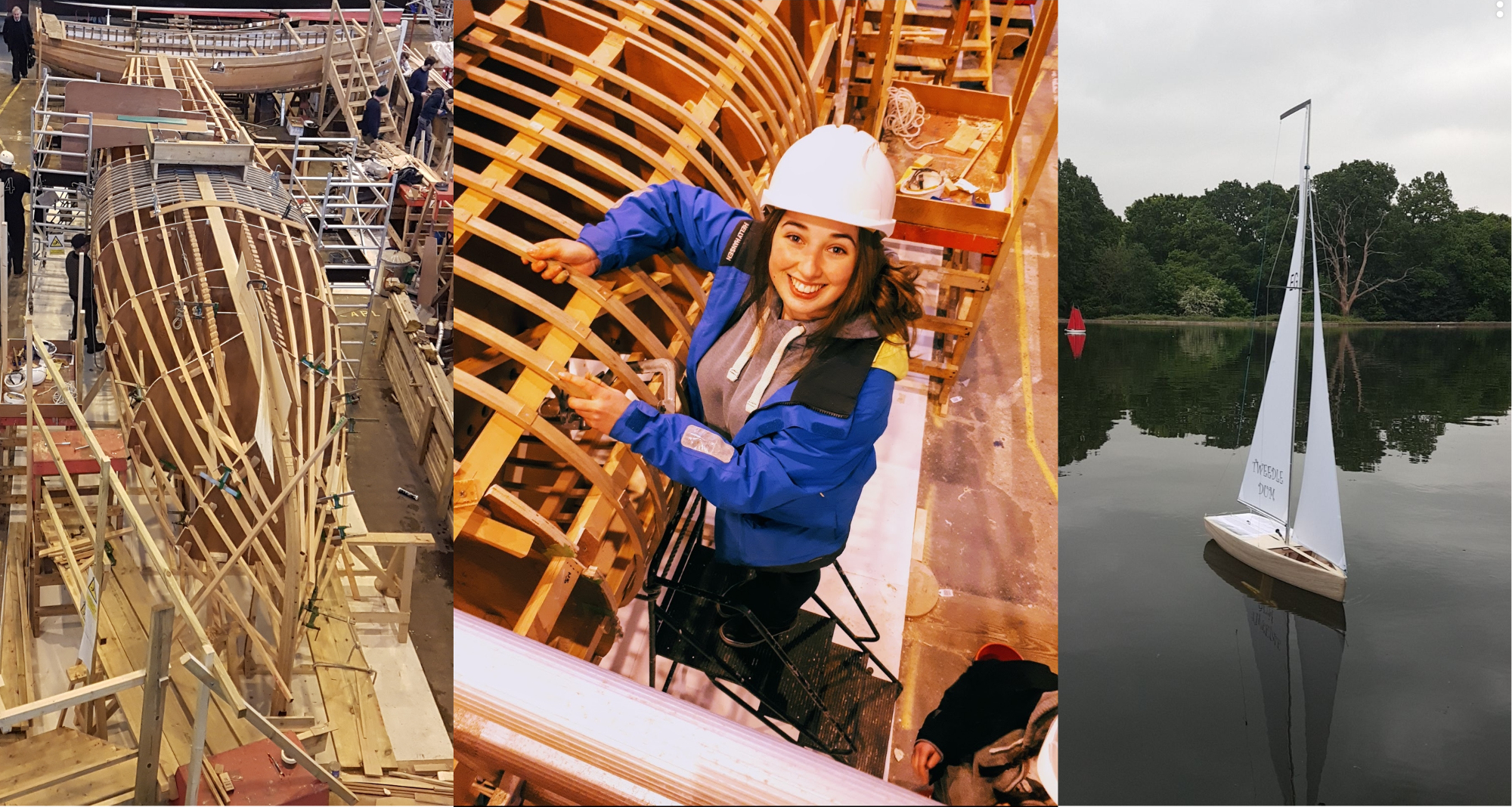 I would love to be a part of the marine industry, designing small patrol craft or work boats – I actually based my dissertation on a 16m Search and Rescue craft using more sustainable design and manufacturing ideas – which is how I ended up applying to the Babcock International graduate scheme.
The process was quite long, from putting together a CV specific to naval architecture, through a time constrained exam which tested your problem-solving ability, another assessment which was a multiple-choice task choosing solutions to certain 'problems' encountered when working in teams and office environments, and finally a one-hour interview during which I had to present on present task, followed by a group activity with the other candidates. It wasn't until I was sitting at the online assessment centre as the only female candidate that I felt it was competitive.
You can only do your best, but I was not going to let being the only female slow me down and affect my personal performance during the interviews. If anything, it spurred me on to wow the assessors as best I could.
I was fortunate enough to be offered a place – and the fact that they have only selected five people for a graduate scheme has highlighted to me how competitive it must have been. I am still slightly in shock, but also very relieved that all my hard work has paid off and I can pursue a career I am interested in.
I will be starting in September and am really looking forward to it. The graduate naval architect scheme will see candidates tackle complex engineering challenges which could include designing fast patrol craft, and even getting involved in complex technical ship science. Over the two-year duration of the scheme, I will be able to take part in multiple placements across the Devonport site to experience all the aspects of the job and gain experience working in a number of different teams /design projects.
There are a lot of different things I have the opportunity to be involved with when I am on the scheme - this can be helping design various floating vessels and structures, and even investigating resistance and propulsion. Babcock will give me the opportunity to work with some extremely respected naval architects and I will have the chance to make real contributions to projects.
I have been told that previous graduates have worked on everything ranging from naval ships, to submarines, to small boats and offshore platforms. During my time at Babcock, they will give me the basis for a long-term career and also support me through the process of becoming an incorporated or chartered engineer.
I feel like as a company, they will be very supportive of their graduates and aim to encourage people to unlock their full potential. The flexibility of being able to select your own placements also allows you to refine which career you really want to delve into.
So I'm just grateful my time at Solent helped me get where I am today! Every lecturer on the course has been absolutely fantastic and really supportive. They are constantly adapting their teaching to make sure we get the most out of our lectures, and during covid they have been phenomenal in making sure that all of our online content has been engaging and easy to follow.
I really feel that without the efforts made by each and every one of them, I would not have been able to achieve the degree result I did!
To find out more about Solent's engineering courses, visit https://www.solent.ac.uk/courses/engineering