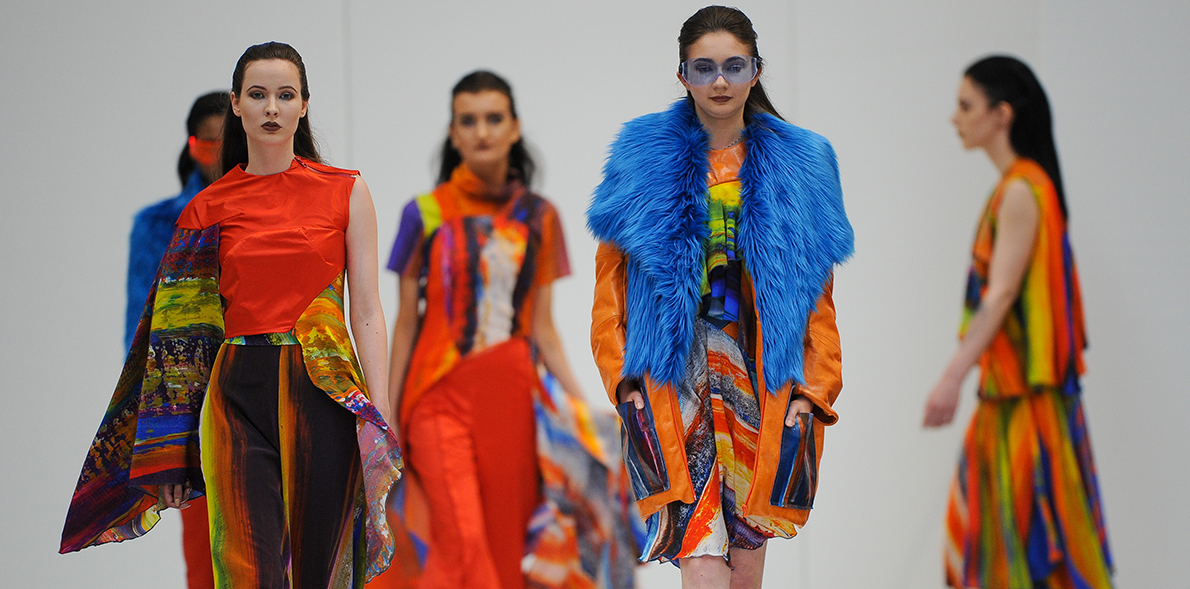 A peak at the 2016 final-year fashion collections
13th June 2016
Set against the backdrop of the University's stunning new Spark building, fashion design students from Southampton Solent showcased their final-year collections at the Graduate Fashion Show 2016.
The eye-catching collections took to the catwalk in the dramatic Atrium of the University's Spark building at East Park Terrace on Friday 10 June.
The graduating students presented 15 collections inspired by an eclectic range of themes – from the beauty of Venice architecture to the bold, bright colours of the 90s rave culture.
Charlotte Stevens' Consistently Inconsistent collection is strongly influenced by her own personal journey with Attention Deficit Hyperactivity Disorder (ADHD).
Speaking about her designs she says: "They reflect the cycle of stages I went through while trying to deal with my problem. I focused on my 'colour story' to express these emotions; by using warm hues with shy greys I hope to communicate the inconsistency I feel within myself. The gun mettle chains are a representation of having to constantly pull myself down and tie myself up."
Other stunning student collections hitting the catwalk include:  Imogen Orrell's Era of Ecstasy, featuring multi-coloured fur coats and clashing mix-match patterns inspired by the acid house era of the 80/90s; Lily Da Costa's menswear collection, using calf suede, Mongolian fur, wools, denim and prints, to echo both the rustic and cosmopolitan areas of her home in Portugal; and Ellie Partridge's The aftermath of Destruction, which combines cool grey hues and accents of smoky blues, juxtaposed against the innocence of white.
The show's producers – final-year Fashion Promotion and Communication students – Georgia Jones, Georgi Reid and Kaylee Dee – are thrilled with the event's success: "We've loved organising and designing a live fashion event and collaborating with creative individuals and organisations. The experience has allowed us to gain further knowledge of working to an industry standard and dealing with clients and problems in a professional manner."
Images from all the collections at the show can be seen on the University's Facebook page.