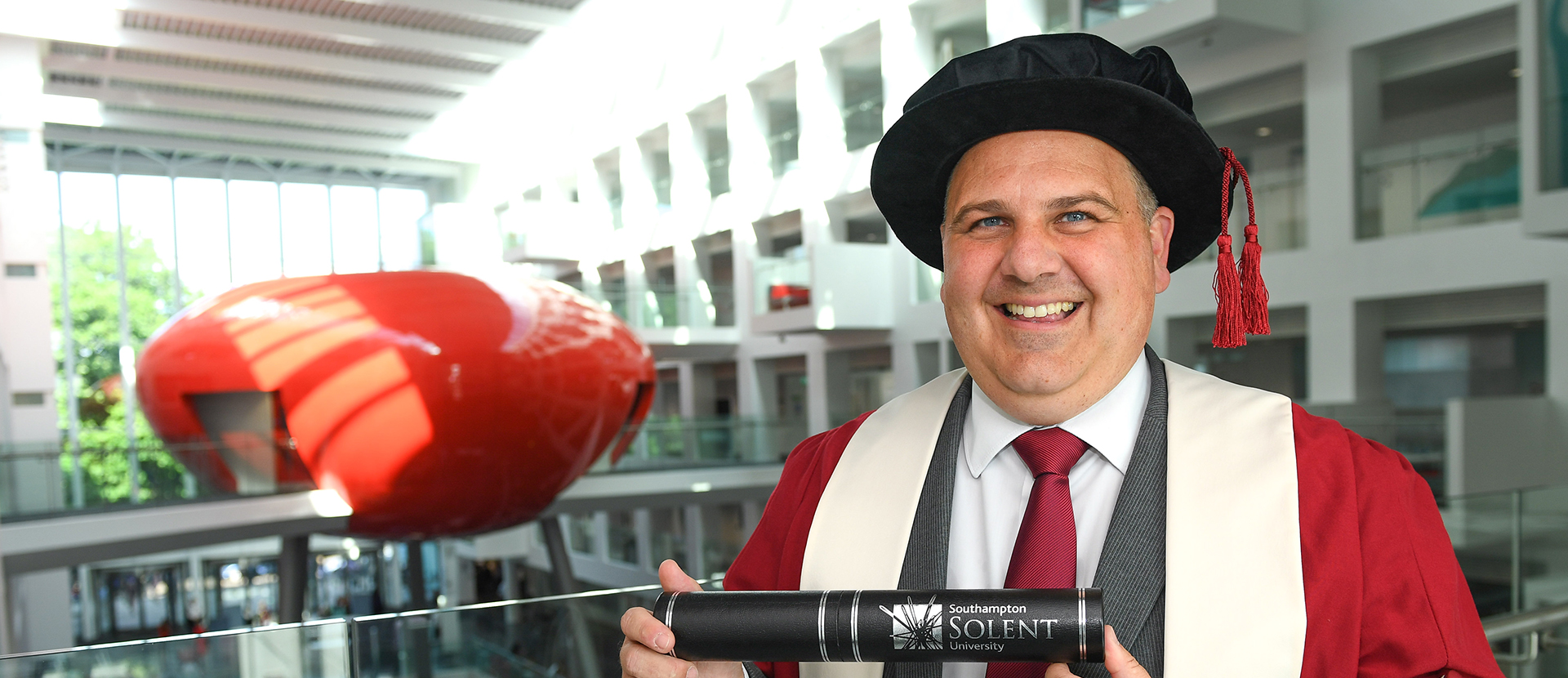 Graduate recruiter awarded honorary fellowship
Paul Hanrahan, Talent Acquisition Manager for Enterprise Rent-A-Car, South Central and South Coast Region, has been awarded an Honorary Fellowship by Solent University today (Thursday 12 July)
12th July 2018
Paul Hanrahan, Talent Acquisition Manager for Enterprise Rent-A-Car, South Central and South Coast Region, has been awarded an Honorary Fellowship by Solent University today (Thursday 12 July): "I feel honoured that the University values the work I do with them highly enough to recognise it in this way. My relationship with the university goes back over 20 years to when I was a student there myself; walking across the very same stage as those graduating today."  
Paul graduated with a BA (Hons) Human Resource Management from Solent University in 1999 and joined Enterprise Rent-A-Car as a graduate management trainee the following spring.  He worked his way up through the customer-facing operational side of the business and was successful as both an assistant manager and as a branch manager in a number of branches within the Dorset area.   
After five and a half years, he made a sideways move into a more specialist role and joined the HR team based out of the regional head office in Winchester.  
Since joining the HR team back in late 2005, he has spent time as an HR generalist and as a training and development specialist before moving into his current role of talent acquisition manager for the South Coast and Central region of the UK.   
As the talent acquisition manager, Paul oversees the entire graduate recruitment and internship process, from attraction, through assessment and job offer to on-boarding and orientation.  
Paul regularly delivers skills sessions, guest lectures and workshops to the students at Solent University.  
"Without the academic learning and life experience that I received whilst studying at Solent, I would never have achieved the success that I have in my personal career and certainly wouldn't be in a position to develop, coach and upskill others, as they begin their graduate careers or internships," Paul adds.