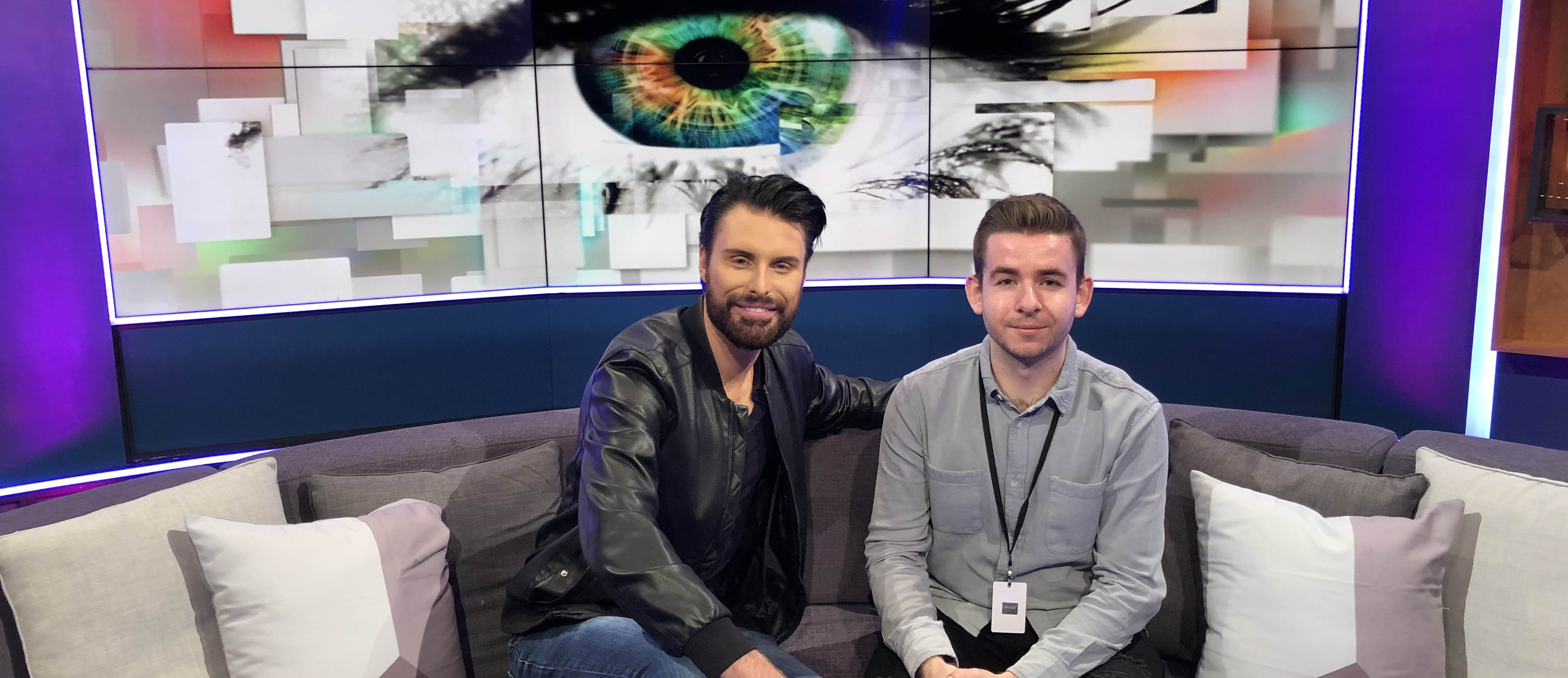 Greg's experience on Celebrity Big Brother's Bit on the Side
Second year BA (Hons) Television and Video Production Southampton Solent University student Greg Wycislok is currently working in a dream position on 'Celebrity Big Brother's Bit on the Side'. We talked to him about this exciting role, why it pays to get t
17th January 2018
TV, film, media production and technology
Second year BA (Hons) Television and Video Production student Greg Wycislok is currently working in a dream position on 'Celebrity Big Brother's Bit on the Side'. We talked to him about this exciting role, why it pays to get to know people in the industry and what he's learnt so far.
Tell us a bit about your position.
I am currently working on Celebrity Big Brother's Bit on The Side, which is full-time employment as a production runner. The show is transmitted from Monday to Friday, and every day we prepare the office for the show that is recorded later on in the evening.
Main morning duties consist of admin tasks such as replenishing stock in the office café, making sure there is enough paper in the printer and collecting the main Big Brother shows from the edit for the presenter and guests to watch before they speak about it on TV. This is as well as preparing the dressing rooms and completing tasks that arise on the day.
In the afternoon, we copy the scripts and running orders and look after the guests. During rehearsals, we usually have to stand-in for the guests, which is fun as you can pretend to be a celebrity for a while! As a runner, you basically make sure that everything is there for the production and editorial team.
How did you find out about and secure the work experience on Celebrity Big Brother's Bit on the Side?
'Bit on The Side' is not my first job in TV, but Big Brother is my first full-time job where I'm in the office Monday to Friday rather than just once or twice a week.
In TV it is all about who you know, and this job was just a touch of luck, as with many of the other jobs I have done. I met another runner on Strictly Come Dancing back in November, who secured a job in the main Big Brother show. He passed my CV to one of the production managers and they passed it along. After a few days, I had a call inviting me for an interview.
What is the main thing you have learnt from the experience so far?
I keep learning every day. So far, I have learnt how commissioning works, how to draft a script, what the rehearsals look like and how to produce a call sheet. There are many more things that help me complete my work at university, but the list would be too long.
What made you apply to Solent?
I applied to Solent because of the facilities we have, like the TV studios. Everything is so similar, you feel like you work in real live TV all the time. I also picked Solent due to the amount of practical work I would get to do.
How have your Solent studies helped you during this experience?
I think that being at university helped me gained the confidence needed, while working in a fast-paced environment. We also use the same equipment as the ones used by the professionals in TV, which has been really helpful.
What do you hope to go onto after your studies?
After my studies I'm planning to continue working in TV. Hopefully I will have enough runner credits that I will be able to jump straight to junior researcher and then progress to become a producer.