Gullu shares her FMP - Focusing on love, loss and betrayal.
Gullu Kandrou shares projects from her final year of BA (Hons) Fine Art, presenting a cathartic journey through art which looks at the taboos associated with trauma.
17th August 2020
Art and design
Applied art
Hi Gullu, tell us about your final major project, and where you gained inspiration
It all began on 15 September, an incident I'll never forget, or really clarify. I like to refer to it as "the event". Some people will understand, some people won't; that's okay. It all depends on your experiences. That is when my project began and when I decided I would either fall, or rise stronger, as I had once before, when I awoke from my coma.
My final major project was a project discussing issues of love, loss, betrayal and relied on memory.
Poetry featured heavily in my project, from these poetic phrases I would create collages, physical and digital, which would pair image and text. I also explored my childhood and how this led me to where I am today; whether I could have ever known who I would become or where I would end up.
I created blackout poetry from Stephen King's Insomnia, relating to this traumatic event that happened to me.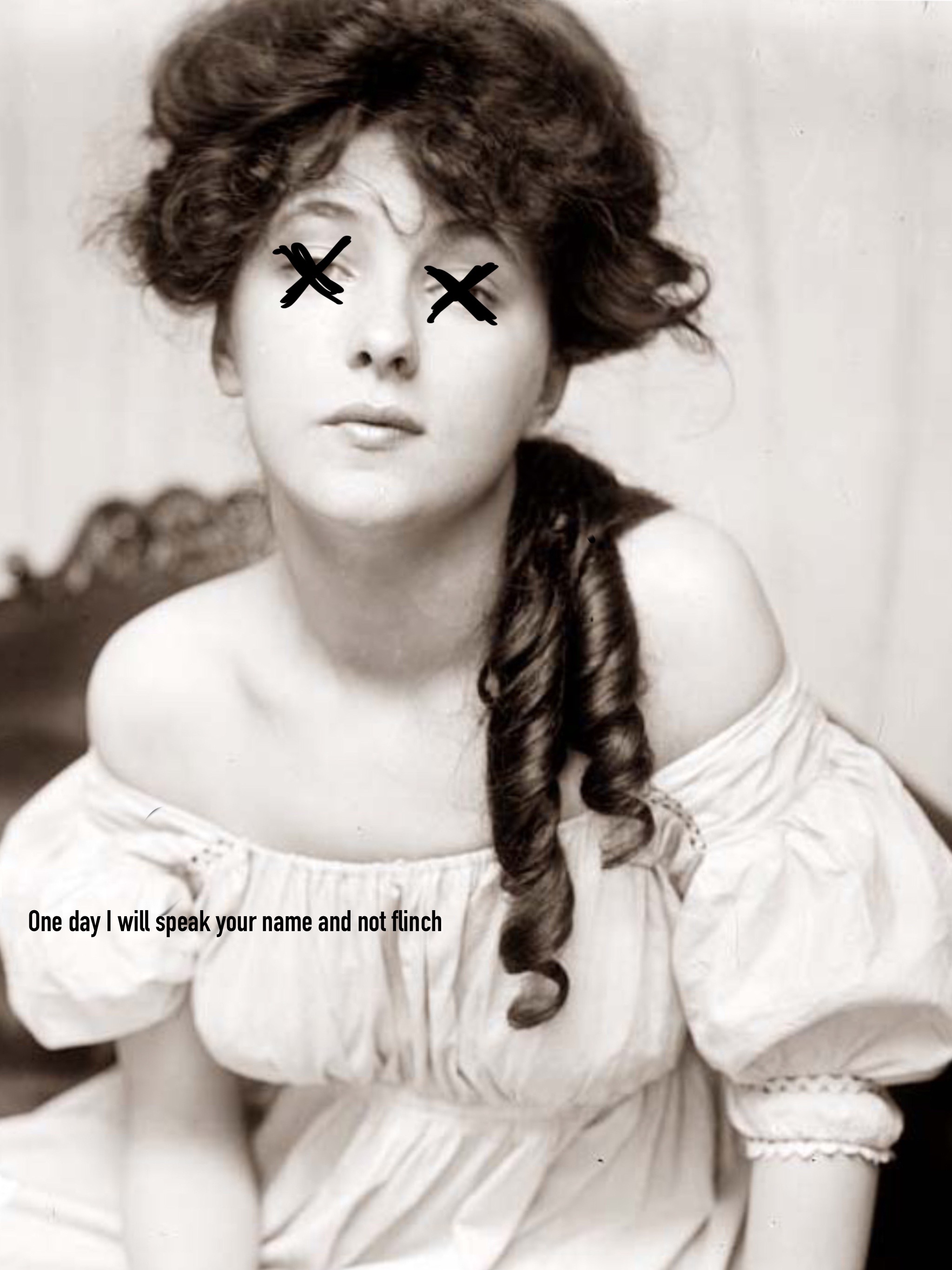 Tell us about your other projects
One of my final pieces, not included here, is a video of myself, naked and bound, slowly freeing myself of my bindings. It represented my very real loneliness and how I was bound by this bond of marriage and silence combined.

It was a project discussing the taboo, and how I was 'bound' by my silence and my inability to share what I was going through with other people, not even my mother, for the very real fear of judgement. I shared some of what was happening and was chastised for it, blamed, even. How did I end up being the one who was taboo when he was the one who committed this socially taboo act? Perhaps it is due to my body being the one whose 'proximity to blackness' is judged as having lower value, as a BAME woman, (as we have seen with so many deaths, like George Floyd) while he was a white heterosexual male. It's a powerful piece in its highlighting and subverting of the status quo. It was hard to grasp and reason with.
The reasoning behind my project was not only a form of catharsis for myself, but also to highlight the humanness of people and how a series of mistakes can either consume a relationship or we overcome it. I also wanted to do this to show others they are not alone in their experience as many go through this type of experience; some are blamed or are vilified for trying to work through it. I would urge them to seek resources.
How have you found your studies at Solent?
My time at Solent has not been a straight path - as I mentioned previously, I was in a coma during this time. However, Solent worked with me, helping me choose the best course of action, allowing me to achieve the best grades I could. I would really recommend the mentoring that is offered, as my mentor, Lucy Marder, gave me the confidence to apply for a grant before I had finished university which led to my first exhibition. This has now kick-started my career with so many opportunities and led to so many new connections.
What advice would you give to other students?
My advice to students is look for opportunities everywhere. Don't wait for them to fall into your lap! There are great websites for creatives to look at if you're looking for grants to get into exhibitions. It's never too early to start! If you're a chronically ill/disabled artist like me, use the internet and start building your networks early on.
During my dissertation research, in the summer of second year, I reached out to an artist I admired, never expecting a reply. Not only did I get a reply, but she connected me with over 30 other artists and activists in my area of expertise. It sounds wild, but sometimes you just have to try your luck!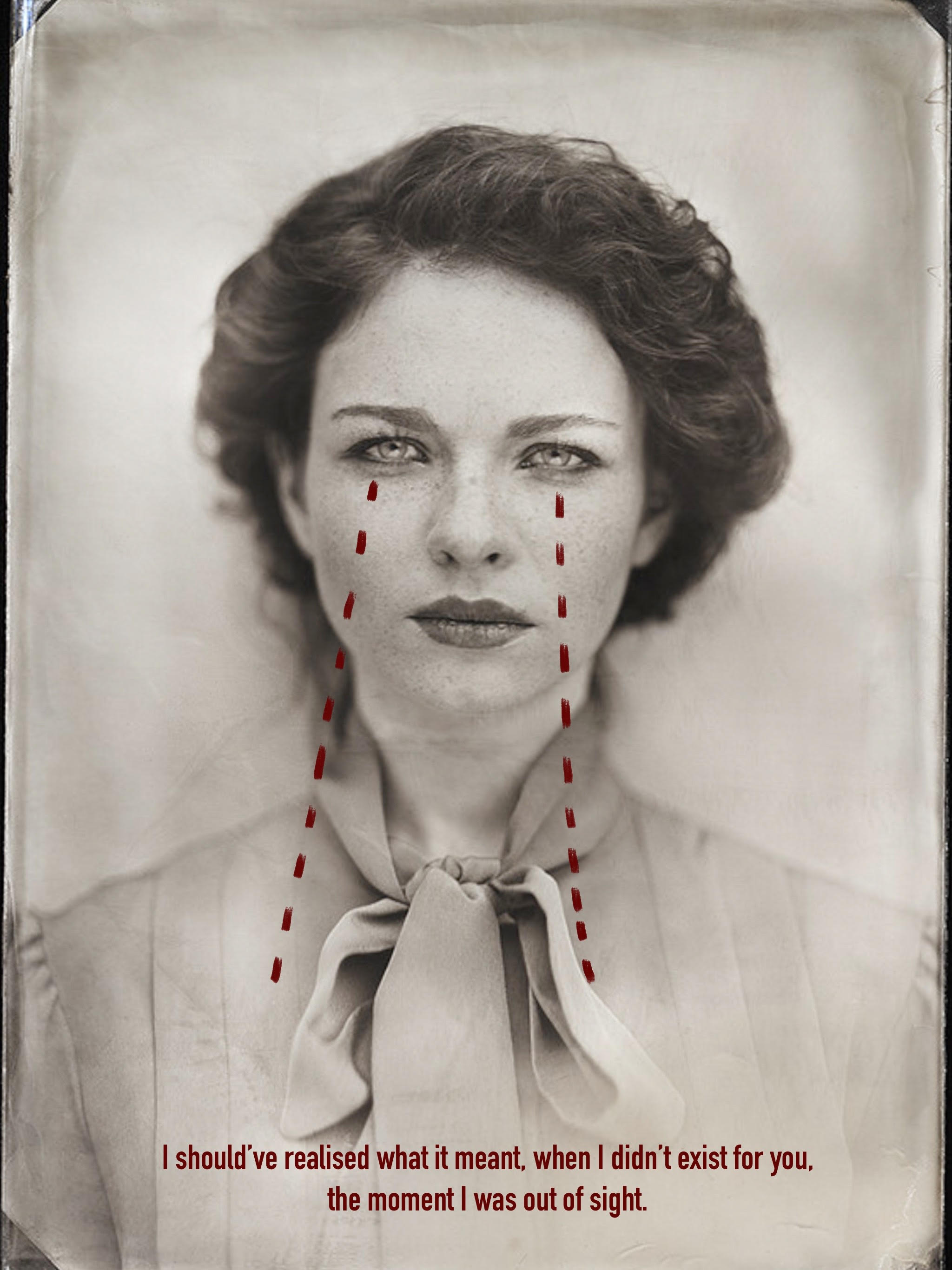 What's next for you?
I now have an exhibition with the Tate, which is presently on one of their billboards, and can be seen at 130 Stoke Newington High Street, Hackney (as well as online). It is a response to the Guerilla Girls Dearest Art Collector artwork. I'll also be having an exhibition in October, along with two other artists, at Bath Spa University, in collaboration with Little Lost Robot Studios. I plan to apply to the Arts Council for funding for a special project that is close to my heart, soon.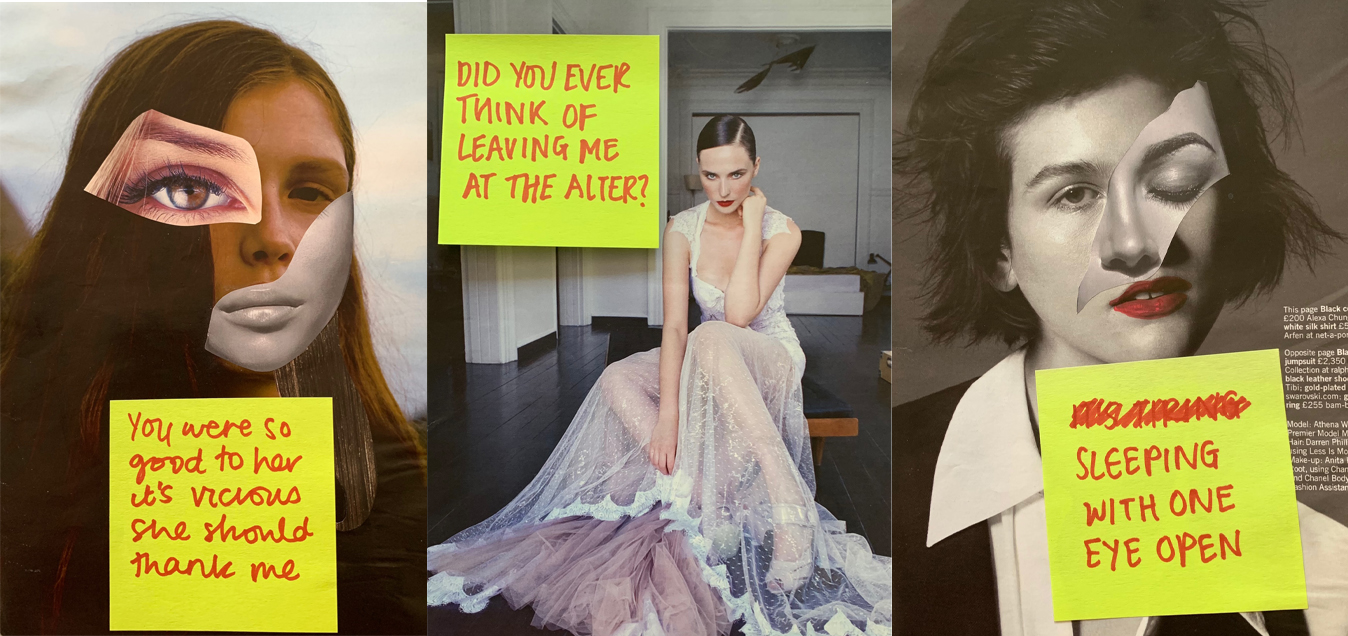 IMAGE CREDITS (in order of appearance)
Header image:
Title: UNTITLED: All The Small Things
Left: Size: 5"x7" Materials: Analogue Collage on Photograph
Centre: Size: 5"x6.4" Materials: Analogue Collage on Photograph and INSOMNIA by Stephen King with black Sharpie
Right: Size: 5"x7" Materials: Digital Drawing over Scanned in Photograph – Print
Image 1:
Title: "The Way My Tongue Curls"
Digital Collage using Procreate App
Image 2:
Title: "I Still Fight To Love You"
Digital Collage using Procreate App
Image 3:
Title: "I Was A Pretty Little Thing, But Pretty Didn't Do Me Justice"
Digital Collage using Procreate App
Image 4:
Triptych: "UNTITLED THOUGHTS"
Size: 22cm x 15cm
Materials: Analogue Collage with Post It Notes on Magazine Editorials