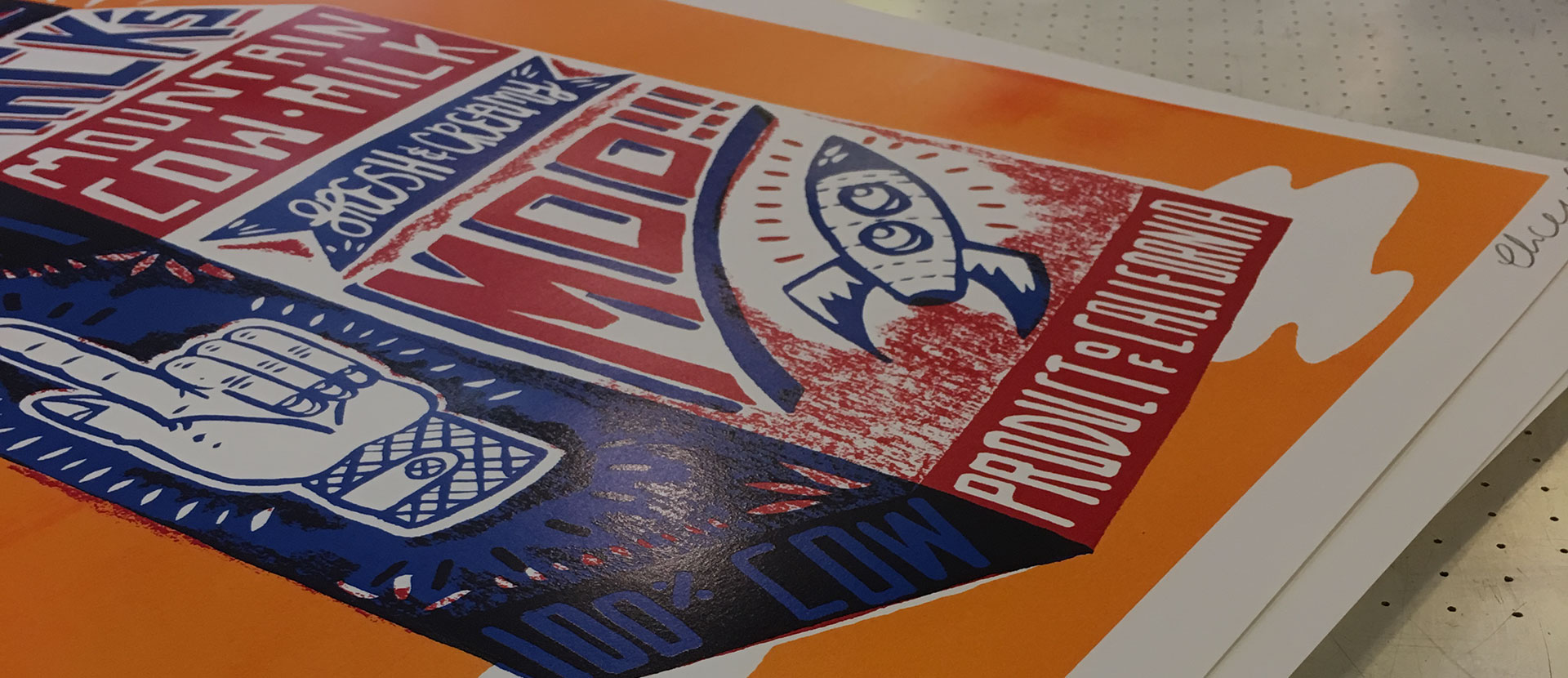 Illustration graduate lands 'printernship' with Print Club London
BA (Hons) Illustration alumnus, Charlie Gould, graduated with first class honours last year. He was also winner of the Cake and Ale Press Award for text and image. We caught up with him to find out about his internship with Print Club London.
Tell us about your internship - how did it come about? How long is it for?
I've followed Print Club London for a while on social media. I see them promote the 'printernship' every now and then, and I've always been interested. This time I saw it on the last day of another residency I was involved in and thought, "Why not?"
The internship itself is amazing. Over a period of two months, I have to create six screenprints to be exclusively sold through their store. Not only that, but I also act as technician weekly during the workshops they hold. It's a great combination of practical print work and teaching experience with those completely unknown to print - all within a studio that seems to be constantly abuzz with hugely talented individuals. And, at the end of this printernship, there's a small display of my work in their gallery. Ticks all the boxes of what you could want!
What does a normal day entail?
A normal day usually involves a fair amount of commuting. But it's not all bad - it's a chance to read a good book.
Apart from the commute, it's usually a case of rocking up to the workshop at about 11am-ish and get a screen all ready to print. Usually, there's an eclectic selection of music playing in the background. Recently it was the works of Amanda Lear, which was interesting. Then it's print your work, rinse and repeat. I head on home at about 6pm and just miss rush hour. Lovely.
How did your degree at Solent help you?
I think the degree helped me to understand where I wanted to go after, and what I wanted to achieve. I think more specifically, though, the print room at the Below Bar campus was probably the biggest influence. Without it, I wouldn't have any clue how to print - and obviously would never have applied for the Print Club London printernship!
As a side note, rather interestingly, one of the two people who interviewed me for the printernship was a Solent student herself! So I think Solent might be doing something right. 
What was your highlight at Solent?
Rather selfishly, my highlight was probably when my own style of work finally 'clicked'. Up until that point I was cruising as a pretty mediocre student. Now I like to think I'm doing ok.
What advice would you give to current students?
While you're in an environment where you're meant to be learning, learn! You might find you learn a skillset which can be applied elsewhere and further your career. That way, the jump in applying for something that you don't feel so wholly qualified to take part in isn't this massive chasm. Instead it's something you can tell yourself that you can do.
Would you recommend your course to others?
For sure. The facilities available are just fantastic, and the tutors are incredibly supportive. Not only that, but depending on the way in which you work, there'll be one or two tutors you can reliably turn to who'll help nurture your abilities.
What do you love about your career?
Having the freedom to be creative with an audience that's receptive to my work. It's a pretty good feeling when people say they like what you're doing.
What's your biggest career highlight?
Right now, it's being at Print Club London. It's all I could possibly want from a career in illustration.
What are the biggest challenges you're facing in your industry?
Standing out from the crowd and finding consistent paid work. The unfortunate pitfalls of being freelance.
How do you see your industry developing in the future?
As we've seen already with illustration, there has been a return almost to the traditional ways of working - pen on paper, rather than digital. I think that trend will likely continue, as there's something very alluring to the tactile nature of traditionally-produced works. Screen-printing is a great example of this. There's something that's almost comforting with print, and it's also probably why Print Club London is doing so well!
What's next for you?
Probably just to keep on doing what I'm doing. The last six months have been great for me, and if I keep on working hard, I should hopefully see continued success.
Check out Charlie's work on his website or Instagram: @charlieslgould
Find out more about  Print Club London on their website or on Instagram: @PrintClubLondon