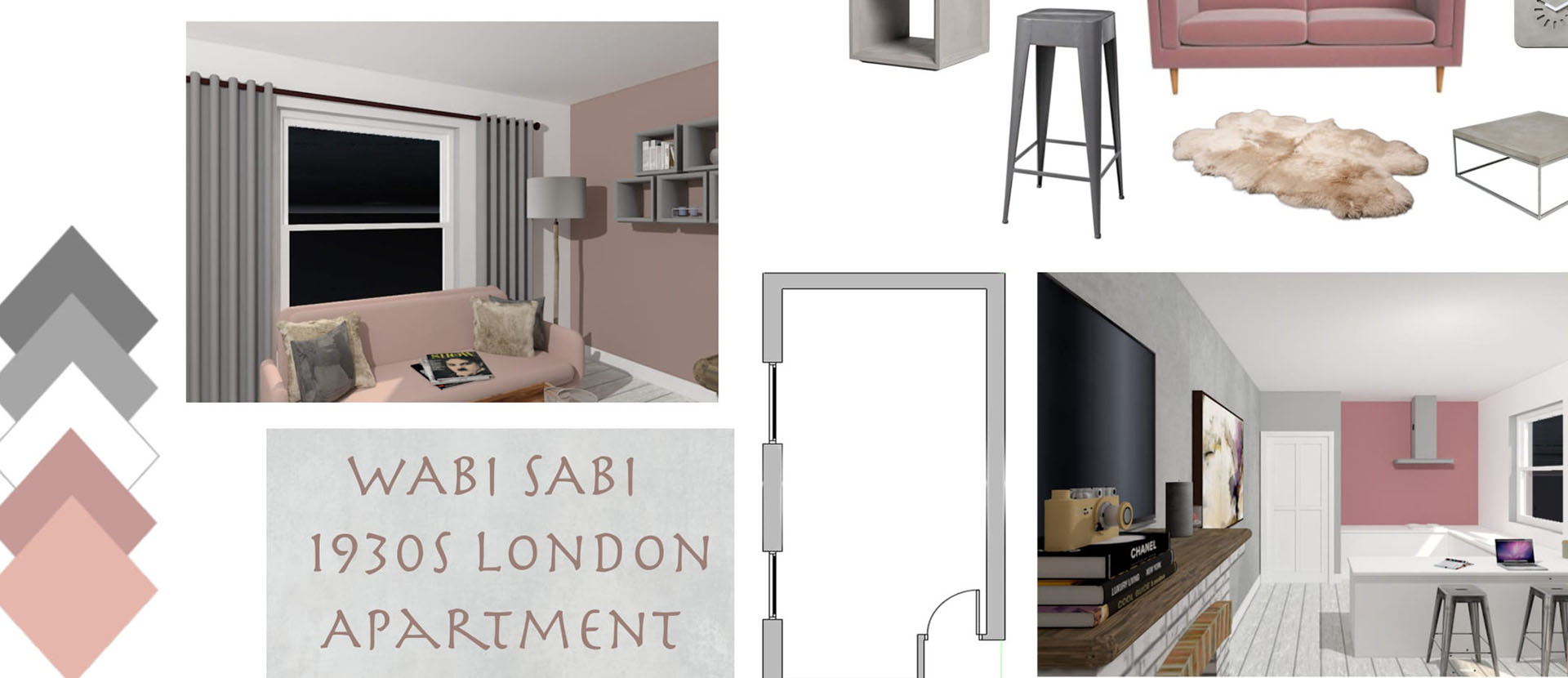 Interior design decoration students win awards
Students impress with Scandinavian inspired designs
19th April 2018
Two of Solent's third-year BA (Hons) Interior Design Decoration students received awards at the Amara Student Interior Designer of the Year awards earlier this month.
With over 40 submissions, Daisy Jenson secured first place, winning a £3,000 scholarship and two week internship, and Amelia Fairley achieved second place with a £1,000 scholarship prize.
The Amara awards invite students from universities and colleges across the UK to design a luxury scandi-inspired London apartment. Students are given a budget of £10,000 and asked to produce a mood board, cost sheet and explain their process.
We caught up with Daisy and Amelia to find out about their winning designs…
Congratulations, how does it feel to have come first place?
Daisy: I'm over the moon! Finding out that I had been shortlisted into the top 10 was amazing, let alone getting first place!
Amelia: I never thought that I would even be shortlisted, never mind finishing in second place!
How will the prize of a scholarship and internship help you?
Daisy: The scholarship and internship at the Amara head office is so exciting! It will be a great start to my career outside of university and I am sure it will give me a great insight into the interior design industry. 
Amelia: The prize money will help me massively, it'll help to start the saving for my future after university as I plan to start a master's degree in the next couple of years.
Tell us a little about your design and where you got your inspiration?
Daisy: I wanted my design to be a little different, however I still wanted to stick to the Scandinavian concept in the brief. I have always been interested in upcoming trends, so when I found out about the 'Wabi Sabi' trend I figured it would be an interesting concept to use. Wabi Sabi derives from Japan, and is the acceptance of imperfections, in order to convey this in my design I used a variety of products from Amara, especially the Lyon Beton range, which is furniture composed of solely concrete and steel. 
Amelia: My design and concept 'Scandi Dream' was inspired by the products on the Amara website, elements of Scandinavian design and some of the details in the client brief which included a need for a luxury and chic place to relax and space to work and socialise.
How did working on a live brief help with your studies?
Daisy: I thoroughly enjoyed working on this particular project and working towards the end goal which definitely motivated me to push my design and concept.
Amelia: We are very lucky to have these opportunities come up on our course. This isn't the first live client which we have had and working on these projects prepares us for our careers after university and gives us a great sense of what it'll be like to work in the industry, alongside real clients and working towards a brief and budget.
How are you finding life at Solent?
Daisy: I have really enjoyed my three years at Solent and couldn't be happier with the course I chose. I have worked on some amazing briefs with different companies and I'm sure this will benefit me once I have graduated.
Amelia: Life at Solent has been great. I've been fortunate to work alongside some incredibly talented people and have had some amazing opportunities. The skills and knowledge I have gained in my time here has prepared me for my career. The friends I have made during my time at the University and the staff who have supported me the whole way through have made my experience here.
Find out more about our interior design decoration course here.