Joe's edible insects farm design aims to benefit the environment
Final year BA (Hons) Product Design student Joe, 23, has a passion for helping the environment.
31st July 2020
In his final year of BA (Hons) Product Design, Joe talks about his final major project work, and what he's enjoyed most about his time at Solent.
Hi Joe, tell us a bit about your final project
My Final Major Project started out with me wanting to investigate ways to reduce the damage being done to the natural world as a by-product of human activity. The topic of reducing environmental damage is one that has become very important around the world and is something that I have developed a big passion for. I chose to focus on the problem of climate change identifying the implications and causes. I discovered that Agriculture was the second biggest contributor to climate change worldwide after Power Generation. I found this shocking as food is a necessity of life yet current methods are causing so much damage to the planet. From here I decided to focus on Entomophagy which is the practice of humans using insects as a food source. This may sound strange or even unsavoury, but Entomophagy is actually very common around the world with roughly two billion people using insects in their diets. However, this does not tend to be the case within Western cultures and societies. This made me want to investigate this more as it seemed like a challenge.
The final solution for my project which has been named "The GrubFarm" is an appliance designed to allow individuals to farm insects from the comfort of their own home. The GrubFarm is a farm designed to fit somewhere such as a kitchen countertop. It has been carefully designed to be able to farm two species of insect which are crickets and the larvae (young) of beetles in the form of mealworms. Utilising a multi-tiered vertical farming system allows for multiple harvests to co-exist at one time maximising harvesting potential. Featuring a range of technologies including a separation system, a specially designed for different life stages of the insects, an individual heating element for each harvest tray, a lightweight insulation shell as well as a modular design to allow for the product to be created through the injection moulding process. The GrubFarm utilises minimal aesthetics to allow the product to blend into the customer's kitchen when not in use.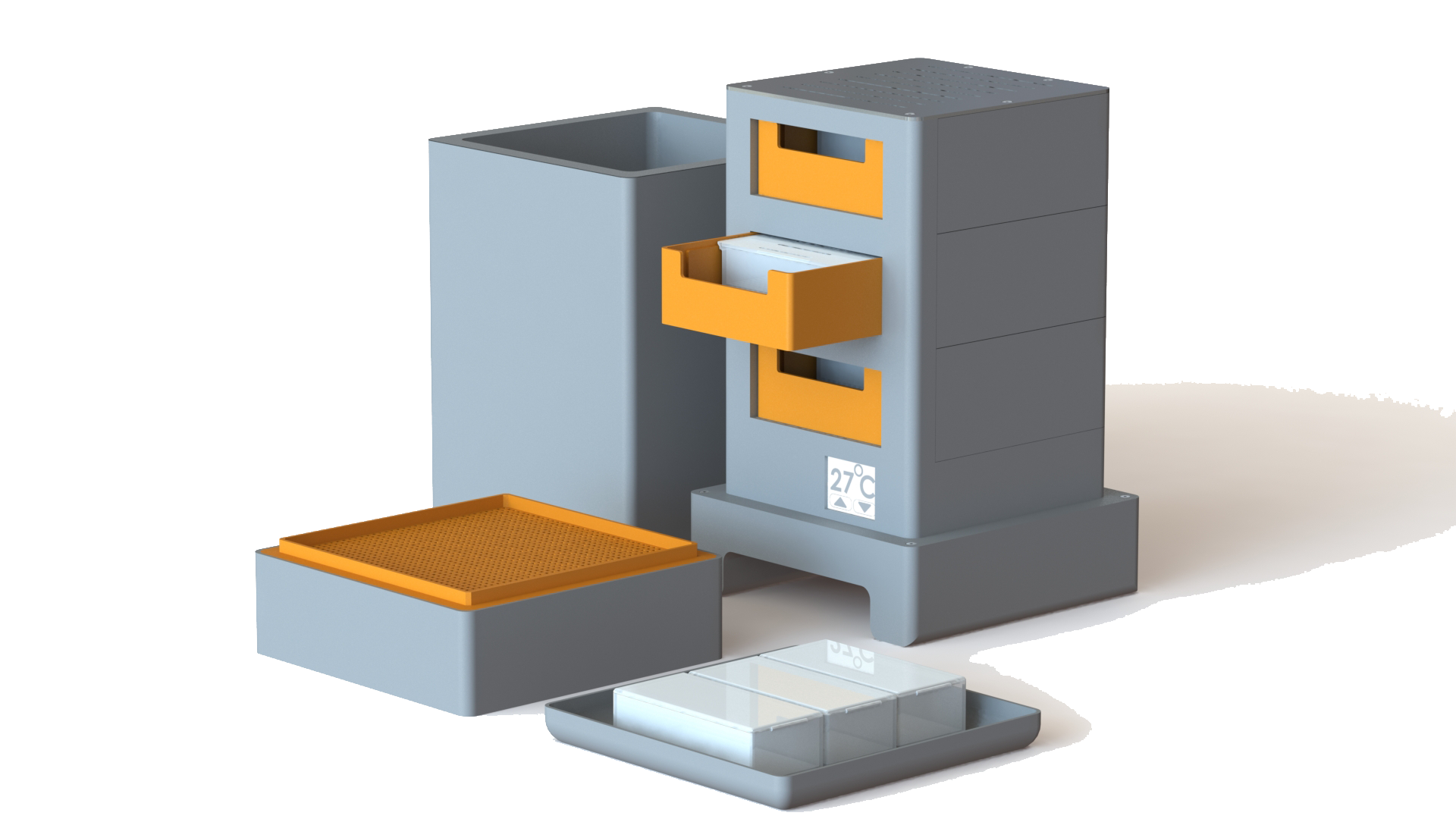 What was the inspiration behind your project?
At first the inspiration for my project started because of a concern for the natural world and environment due to human activity. During the time I was thinking about what I wanted to look into for my project I was watching a lot of nature documentaries and seeing how human activity is negatively affecting life around the world both above and below sea level. This was something that I found really distressing to see and I knew I wanted to help discover any solutions if I could. Through discussions with my tutor, Dr Alan Manley, I thought about the practice of eating edible insects and I started doing research and discovered so much. I learnt just how common the practice of eating insects is, I also learnt all the benefits of eating insects of which there are a lot. Insects are really good for health as they are highly nutritious. They are also beneficial for the environment, requiring much less resources than other common Agriculture methods. I saw a big opportunity in this and knew this was what I wanted to explore for my project. I also wanted to see how people would react when I told them I was exploring edible insects. It would normally be met with unsettling thoughts which I also found really inspiring. Doing something that challenges mainstream conventions and being open minded to fresh ideas is something that I enjoy when designing and as part of my day to day life.
What have you enjoyed most about your time at Solent?
The time I have enjoyed most at Solent has to be the way the University has helped me understand myself more as a person and a young designer. The freedom that the course has given me to explore my own ideas has allowed me to identify what influences and inspires me. Having this freedom and control over my learning has continuously encouraged me to aim higher, I feel more invested in my project as I am actively making decisions to influence what direction I want my project to take. This has made the majority of my projects very enjoyable to work on and really rewarding to complete as seeing my own ideas go from something so simple to a well thought out piece of design is always thoroughly gratifying.
What's next for you?
To be honest what is next is kind of hard to say. I was supposed to be taking part in the European Innovation Academy with Solent for three weeks between July and August this summer but due to the current circumstances this was unable to go ahead which was a shame. The plan is to look for an internship or jobs in design. 'm interested in continuing to develop and learn new skills where possible.
What advice do you have for other students?
From my experience in studying product design, my advice would be if you want to get the results you have to be willing to put the work in. With this course, as is the case with other design courses, it's a lot of work and I know from experience that if you don't consistently do this, it can easily get on top of you and stress you out. You have also got to be interested and enjoy what you're doing. One thing that I find great about my course is that even though I am set a brief, in many cases I am free to explore what I want to an extent and am able to express my own personality through my work which I think is very important or realistically you may not enjoy it. So, my advice to other students or potential students is be willing to put the work in and make sure you enjoy what you are doing.