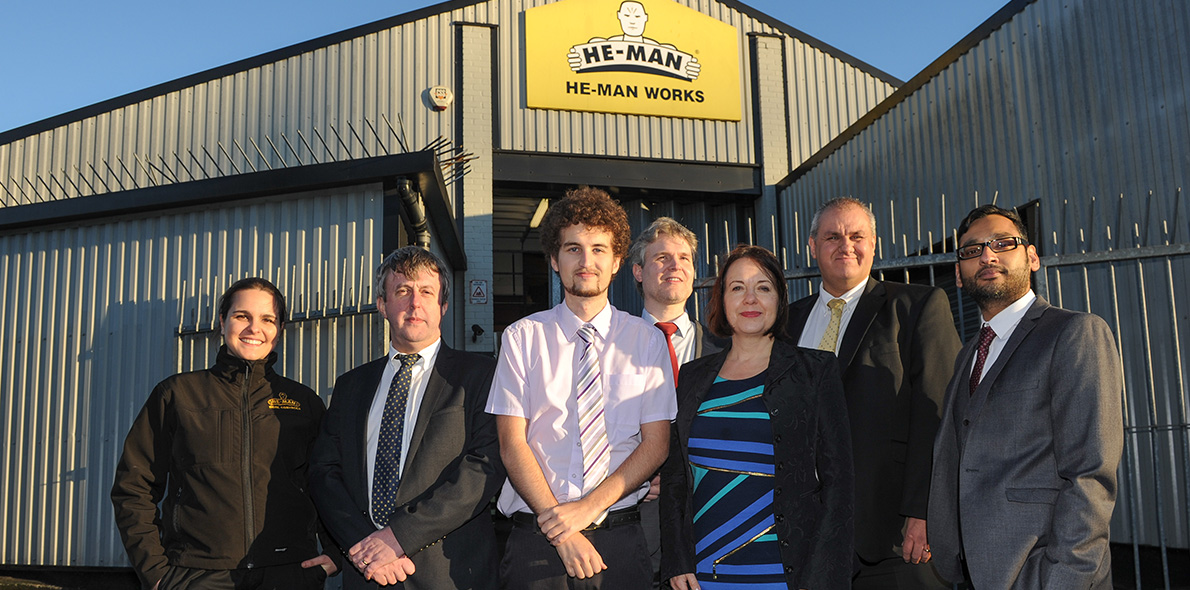 KTP: Universities' best-kept secret
How Solent is helping businesses unlock the potential of Knowledge Transfer Partnerships
3rd March 2017
For forty years, the Knowledge Transfer Partnerships (KTP) scheme has helped businesses all over Europe to improve their competitiveness, productivity and performance by accessing the knowledge and skills locked up inside universities.
KTPs are a three-way partnership between the business, the University and a recent graduate who acts as a bridge between the two institutions – channelling university expertise to the point where it can do the most good.
The driving criterion for a KTP is a clear strategic need on the part of the business – a significant challenge or potential opportunity they don't currently have the tools to deal with.
Creative collaboration aside, the benefits for the business are substantial – receiving both a highly trained graduate and access to a senior industry expert for a fraction of common consultancy rates. And for small- or medium-sized companies, the incentives are even stronger – SMEs' share of the project funding is just 33 per cent, with the rest of the money coming from Innovate UK, a government body.
The University also provides support and specialist academic expertise throughout the course of the partnership – at least half a day per week from a senior academic expert – as well as access to university facilities and technology as the project requires.
Case study: Tavcom Training
Enhancing e-learning with fresh creative talent
Award-winning security systems training company Tavcom Training, based in Hampshire, is now able to reach new competitive global markets thanks to a Solent KTP – bringing in Pete Taylor, a recent Solent computer games development graduate, to enhance their course offering.
Jim Hallett, eLearning Development Manager at Tavcom, explains: "Although our online department had been running for around three years, most of our content was primarily text with a picture and audio track. Pete, along with the KTP, offered us the opportunity to enhance these courses with the missing elements and make them a more viable item to sell."
Pete was able to review Tavcom's e-learning practices and make recommendations on the content and systems already in place.
He says: "Tavcom was able to release a completely overhauled course, using the animations and interactions within the course as a unique selling point."
As part of the partnership, Tavcom received further assistance from Solent's in-house creative teams. Jim adds: "Funded by the KTP, we contracted Solent Creatives - who created an animation and helped me produce our online brochure – and Solent Productions, who produced a couple of promotional videos for our website. All were a fantastic help in promoting our online products."
When the partnership finished in May, Pete was offered a permanent role within the company as an eLearning developer. He says: "I would highly recommend KTPs – they're an ideal way to help a business achieve its goals, while being given assistance and advice from academics at the University, and a budget to enable you to purchase any equipment to help you achieve that. Without Solent's help, it may not have happened."
Case study: He-Man Dual Controls
Electronics KTP allows international expansion
He-Man Dual Controls is the leading UK dual controls supplier, developing mechanical products for a range of vehicles including driving school cars and cars for track use. The company is branching out with electronic-based products, which are becoming more popular in Europe, and a KTP is helping them do that.
Paul Ferris, Managing Director at He-Man, says:  "Dual controls replicate the controls on the driver's side. In some countries overseas a visual and audio signal is required by the examiner if a driving instructor touches the pedals during a driving test, but you need an electronic control that does that."
The successful applicant for this ten-month KTP was Josh Bowen – a 2015 graduate from Solent's electronic engineering degree. He says: "So far I've been using my technical skills to project manage the KTP work plan developed by the partnership, which I find extremely motivating."
As part of the KTP, He-Man also has access to the University's extensive engineering facilities, such as 3D printers and testing equipment – as well as the expertise of senior academic Marc Molinari, who was able to draw upon his research within the automotive industry and from his time working of working in the private sector.
Paul Ferris says: "Products in this market haven't changed for a long time, so we don't want to be the dinosaur that misses the new ideas. The projects we're working on with Josh and Southampton Solent University will mean that we can install products into cars that we previously couldn't."