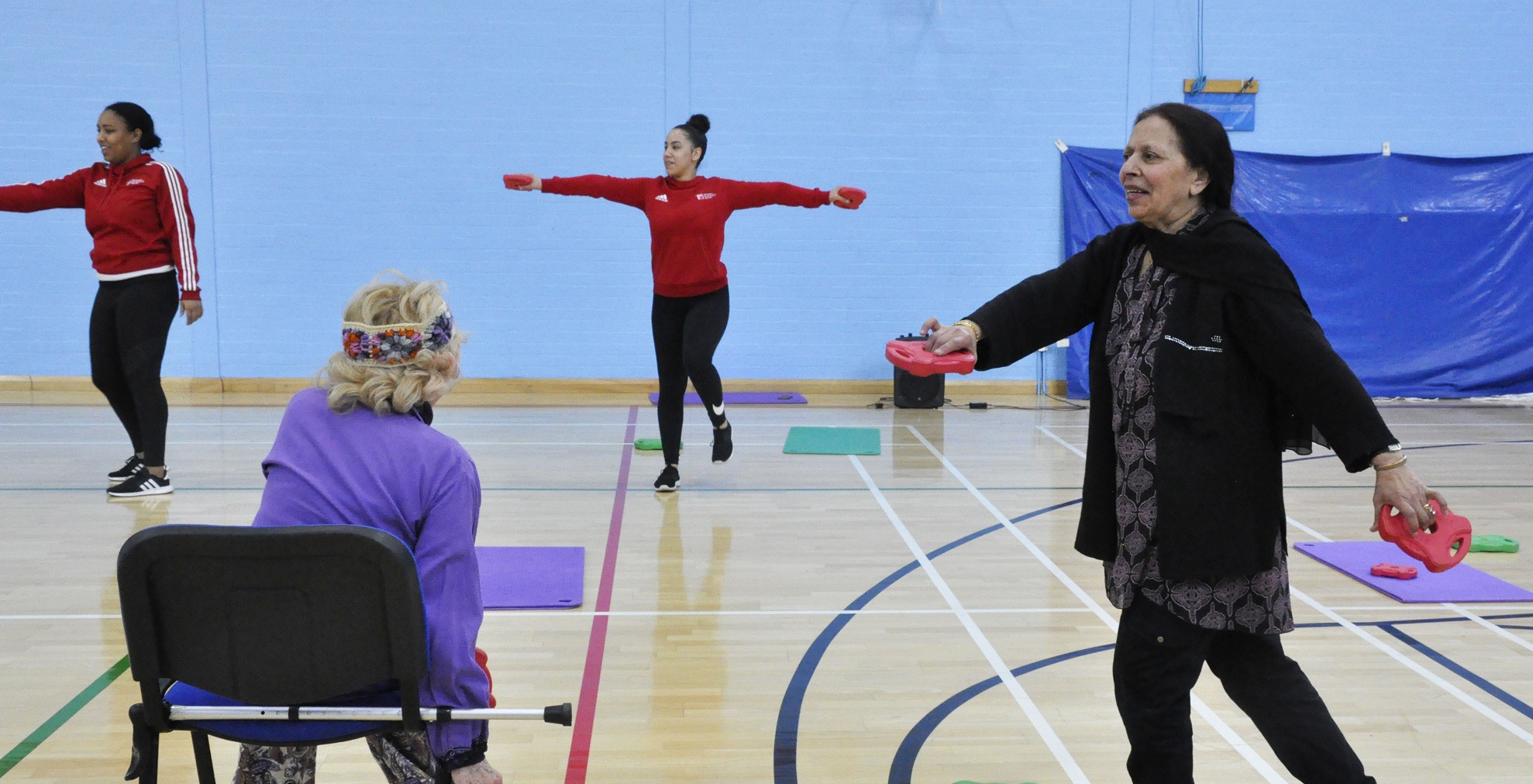 Students and staff recently wrapped up 'Ladies Only', a twelve-week community fitness course aimed at women of South Asian descent.
1st June 2018
Sport and fitness
Research
Students and staff recently wrapped up 'Ladies Only', a twelve-week community fitness course aimed at women of South Asian descent.
The programme was created by Solent University graduate intern, Amy Woodford after she learned that this demographic had difficulty engaging in exercise: "Within the South Asian culture, women are traditionally less physically active than men when it comes to exercise. This is due to a range of reasons, including fear of racism and pressures of childcare.
"With Southampton having a high percentage of ethnic minority residents, we saw that there was a need for a programme to increase their participation in exercise by providing a comfortable environment to deliver a programme based on their needs, which were identified through primary and secondary research."
From there, Amy recruited students from Solent University's Sport Coaching and Sport Development course to volunteer their time and help teach the classes. The sessions aimed to provide a safe, welcoming space for women to enjoy exercise and learn about health and wellness. The pilot programme involved over 25 women, with the majority of those losing body fat by the end of the twelve weeks.
Programme participant, Surbjit Kaur says it was easier to focus on her fitness in a female-only class: "As part of our community, it's traditional for us to wear Indian suits, but not as common for us to wear gym clothing publicly. It's not very comfortable to do physical activity in our traditional dress, but as these sessions are 'ladies only', we felt happy to wear t-shirts and joggers. It really allowed us to get the most out of the sessions and made it much more enjoyable to exercise."
The programme also gave the student coaches the opportunity to practice real-world teaching. Sport coaching student, Jemma Hagelburg says: "It was a different age group to those that I've coached in the past. A lot of the participants had never taken part in the sports that we played as part of the programme, so it was great to coach from a beginner level and give them a taste of the sports."
The sessions, run in conjunction with Southampton Healthy Living and the Southampton Clinical Commissioning Group, incorporated a variety of sports, including basketball, kickboxing and circuits, and also touched on healthy eating.
Funding applications are currently in process to carry on the sessions, with the hopes of getting even more women to join in with the sessions in the future.