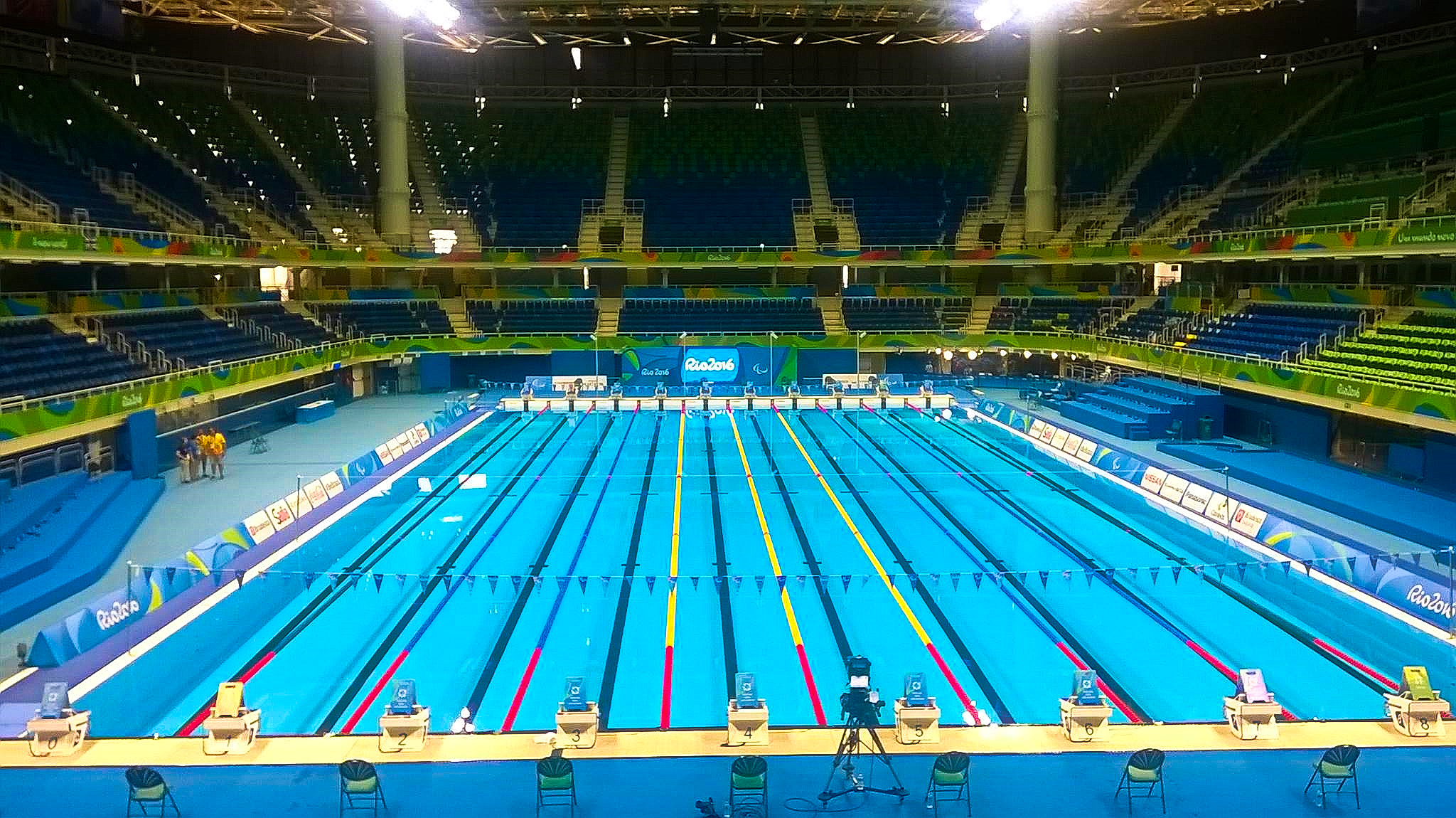 Lecturer brings Olympic experiences to the lecture room
Kim's Road to Rio
28th October 2016
Kim Wilcox, lecturer in Sport at Southampton Solent University spent her summer over in Rio volunteering at the Olympics.
Passionate about sport and having also worked the London Olympics four years ago, Kim explains why volunteering is a great way to watch the sport and make memories. She reflects on her 'Road to Rio.'  
Had you been a part of the Olympics before?
In 2010 I applied to the London 2012 'Games Maker' volunteer programme. I recognised that hosting such a major event was the perfect opportunity for the nation to shine on a world stage and I wanted to play a part, however small, in making that happen. Little did I know that I would have such a fantastic experience in London that I'd want to do it again.
Tell us a little about your role as a volunteer in Rio?
My role was in the Press Operations Team at the Aquatic Stadium. This role focused on assisting the accredited press by ensuring that the information, structures and services that were in place for them all worked effectively.
Did your experience of Rio live up to expectations?
To be perfectly honest, it surpassed my expectations. I was aware of negative media coverage in the run up to the games relating to a range of factors such as the readiness of games time infrastructure, ticket sales, the volunteer recruitment process and safety, but if anything this made me more determined to go. There will always be a mix of stories attached to mega events, but as volunteers, we make the most of what we've got and we get on with it. When I arrived in Rio, I was pleasantly surprised. It wasn't like London, but it was never going to be. All things considered, the venues were fit for purpose, the spectators were brimming with enthusiasm and excitement, the information provided to me regarding my duties as a volunteer was timely and comprehensive, and I couldn't move for friendly Brazilians wanting to offer their help, support and guidance about almost anything!
How do you think this experience will benefit your students?
It was also particularly interesting to experience the volunteer recruitment process in Rio, having prior knowledge of how it had been handled at previous events, and to understand how games organising committees use monitoring and evaluation strategies to learn from those before them while at the same time looking to be innovative.
Employability is another aspect which I am particularly passionate about and seek to reinforce in my role. We advise our students to go out and get volunteering experience, and in some cases this is a requirement as part of their studies. I believe that my experiences have enabled me to empathise with the challenges and practicalities that students must overcome in doing so; things like making travel arrangements, giving up free time, personal expense and so on.
What will you take from your experience of the Olympics in Rio?
The 2016 Games were the first to be held in South America and despite initial concerns about ticket sales, received an unprecedented level of support from Brazilians. I will never forget the incredible roar of support given by the crowd to athletes of all nations and from all classifications. At times it was tear-jerking to witness the warmth and enthusiasm of the Brazilian people.