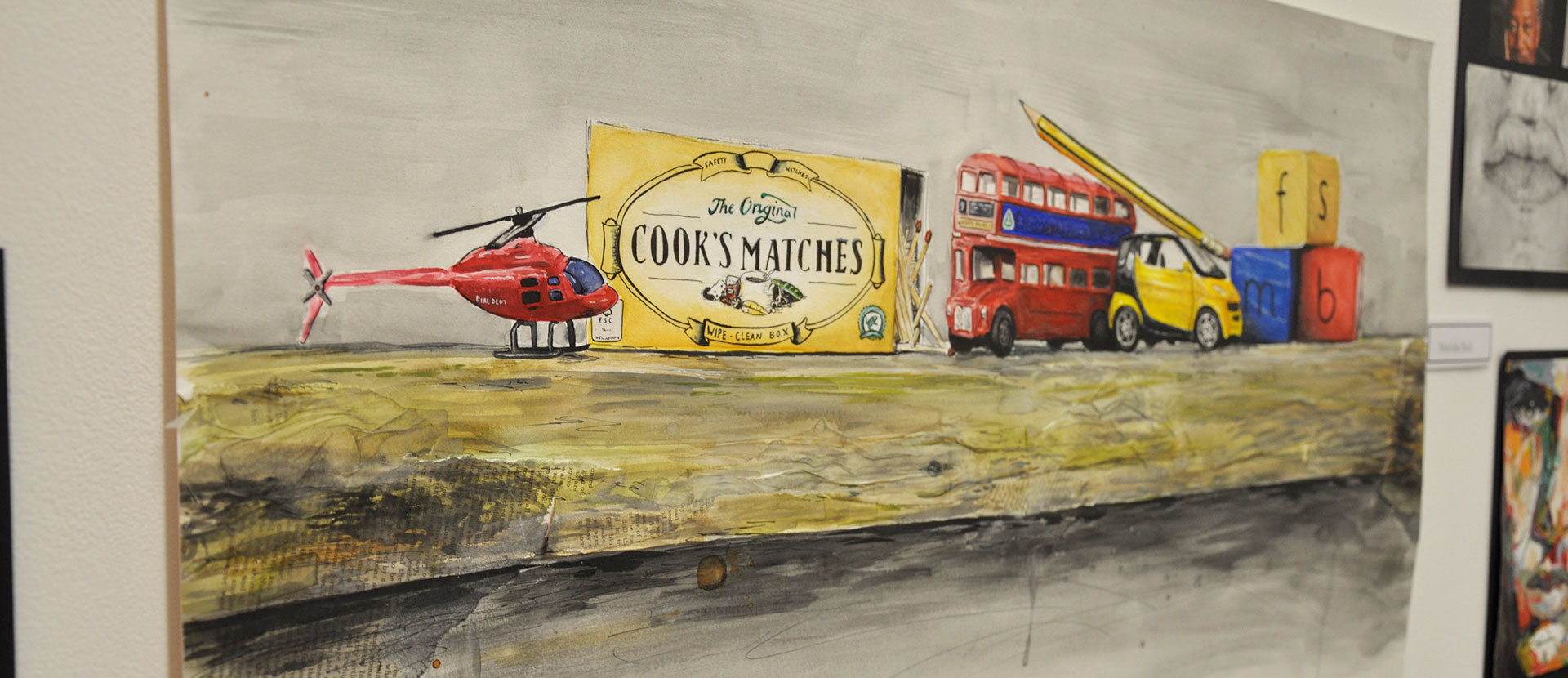 Local school showcases art and photography work at Solent's Below Bar Studios
Students from Upper Shirley High School (USH) recently held an open exhibition at Solent's Below Bar Studios to showcase work from their art and photography GCSEs.
Organised by Solent's Step into Success team, the exhibition gave the fifty USH students the opportunity to display their work in a real exhibition environment for family and friends, as well as members of the public, to view. Prizes were also awarded on behalf of the School of Art, Design and Fashion at the exhibition's opening night on 4 July.
Solent has worked closely with Upper Shirley High School over the past two years, supporting the careers strand of the curriculum with a variety of activities - including this exhibition - to raise the aspirations and attainment of the students.
Mariella De Ruiter, Head of Art at USH said: "Everyone at Solent has been amazing. We've been able to focus on the progression from 16 to post-16 and encouraging students to go into the creative arts at university. It's amazing to see some of the student work on display, and to see how happy the students are to have it up."
Head of Visual Communications and the Applied Arts, Nick Long, said: "This is the first time the Below Bar campus has been used to showcase a school's art and design work, and it's been a pleasure working with the students of Upper Shirley High School. This is a perfect example of the School of Art, Design and Fashion engaging with the community and supporting schools within Southampton."
Flo Stone: "It's really nice to get recognition for my work. In school, you spend so much time in the art room, and everyone else is quite busy doing their courses. It's nice having the opportunity to have time for people to come and appreciate your work, especially in such a nice place."
Emma Mason: It's really fun to see everyone here and look at their work. Usually it's just kept within the school and it's just nice to share it with everyone else. It's really special to be able to show our work at the University because it means the public can come and see our work as well."
Imogen Reynolds: "It's really great. I don't normally get to show my work to all of my family and my grandparents are here today to see it, so that's really nice."
If you would like to work with us to deliver a similar programme to students at your school or college, please contact our Partnerships team.