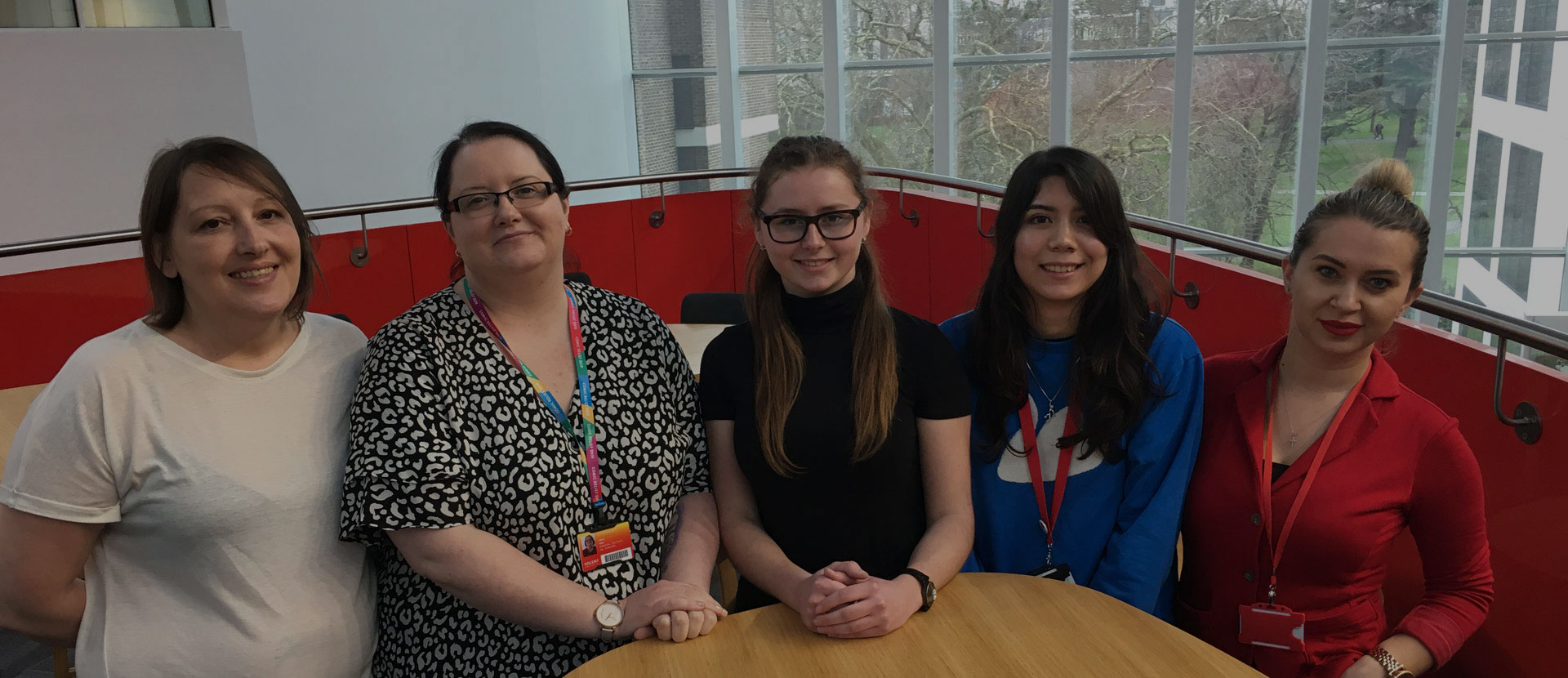 Microbiology conference inspires biomedical science students
Recently, a group of first-year biomedical science students attended the Early Career Scientists Research Symposium. We caught up with them to find out what they took away from the event.
21st March 2019
Health, psychology and sociology
Recently, a group of first-year BSc (Hons) Biomedical Science students attended the annual Early Career Scientist Research Symposium, organised by the Society for Applied Microbiology. We caught up with Hazel, Elena and Ramona to find out more about the event, and what they took away from it.
Can you tell us a bit more about the Symposium?
Elena: The theme of the event changes each year - this year it was focused on sexually transmitted infections. The day began with presentations by early career scientists displaying their research, then keynote speakers talked about specific themes. This was then followed by panel discussions. The symposium is aimed towards students, but anyone with an interest in microbiology can attend.
Hazel: As well as covering sexually transmitted diseases, the conference also discussed the ever important topic of antimicrobial resistance, which is another way of saying antibiotic resistant bacteria. The talks from the PhD students included studies into sheep with mastitis and the economic impact of underfed lambs and veterinary fees to rid the sheep of the disease; and the micriobiome of a specific species of chicken's reproductive tract. There were other talks from health professionals including practitioners from a sexual health clinic, a practitioner from Natsal, and a consultant for Public Health England.
Which talks did you find the most interesting?
Ramona: For me, the most interesting talk was about chlamydia and gonorrhoea as I never realised it is such a worrying infection and so common these days.
Hazel: I found the talk from the Oxford University PhD student about the microbiome of the reproduction tract of chickens to be very informative. The particular species of chicken in her study had a similar social hierarchy to humans, which made them very interesting. The student had collected huge amounts of data and her talk was clear and thought-provoking. Needless to say, her talk was judged as the winner by the committee.
Elena: Kate Bamford's talk on MALDI-ToF mass spectronomy for epidemiological analysis of mastitis-associated pathogens in sheep flocks was fascinating and I could see how her research may benefit farmers in the future. Andrew Lee's keynote talk about Hepatitis A in the UK was very engaging and interesting. It was great to gain knowledge concerning the public health response and challenges faced when dealing with this matter, issues which may not have necessarily crossed my mind before this talk.
What was the highlight of the event for you?
Hazel: My highlight was Dr Andrew Lee's talk. He is a consultant for Public Health England and talked about his role within the organisation. He told us how it's his job to find where a disease has come from and where it may go. He spoke about an outbreak of Hepatitis A that occurred last year. Dr Lee spoke with a refreshing openness about Hepatitis A. He may also be the most witty and charming individual I've ever had the pleasure to meet!
Ramona: I can't really pick a highlight! It was a busy, diversificated day and I took it as a whole.
Elena: The highlight for me was the poster presentations, most of which were by students. It was great seeing a wide range of creative research being presented. My favourite thing about the whole event was the friendly atmosphere created throughout the day. As a first-year student, I had limited experience about the world of microbiology, however everyone was really friendly and it was easy to start discussions and ask questions. I will definitely attend these events again.
How do you think what you learned at the Symposium will help you with your studies?
Elena: Seeing current students presenting their research has inspired me to do the same. It would be incredible to be able to present my research in the future to an audience and working professionals in microbiology. I'm definitely more determined to continue to work hard in my studies.
Hazel: I have found a passion for microbiology and love bacteria. Antimicrobial resistance is of huge interest to me as it will have a significant impact globally. The conference discussed antimicrobial resistance and has given me an insight into what the current status of this issue really is. The conference was also great for networking and gaining knowledge into how to move forward after my degree, such as how to apply for PhDs.
Ramona: I have learned to ask questions when I'm not sure about something, even if it might sound silly in my head. I know know that probably lots of other people also want to know the answer to that particular question.
What are your plans after leaving university?
Ramona: I'm thinking of doing a master's and even a PhD if everything goes well. I still haven't decided between immunology and microbiology - I enjoy them both very much.
Hazel: I'm looking to apply for a PhD within microbiology with a particular interest in antimicrobial resistance.
Elena: As a first year student, I'm still figuring out what branch of biomedical science interests me the most. So far, I'm swaying towards microbiology and its associated themes. I plan to work in a laboratory after university and then possibly complete a master's.
Feeling inspired? Find out more about studying biomedical science at Solent