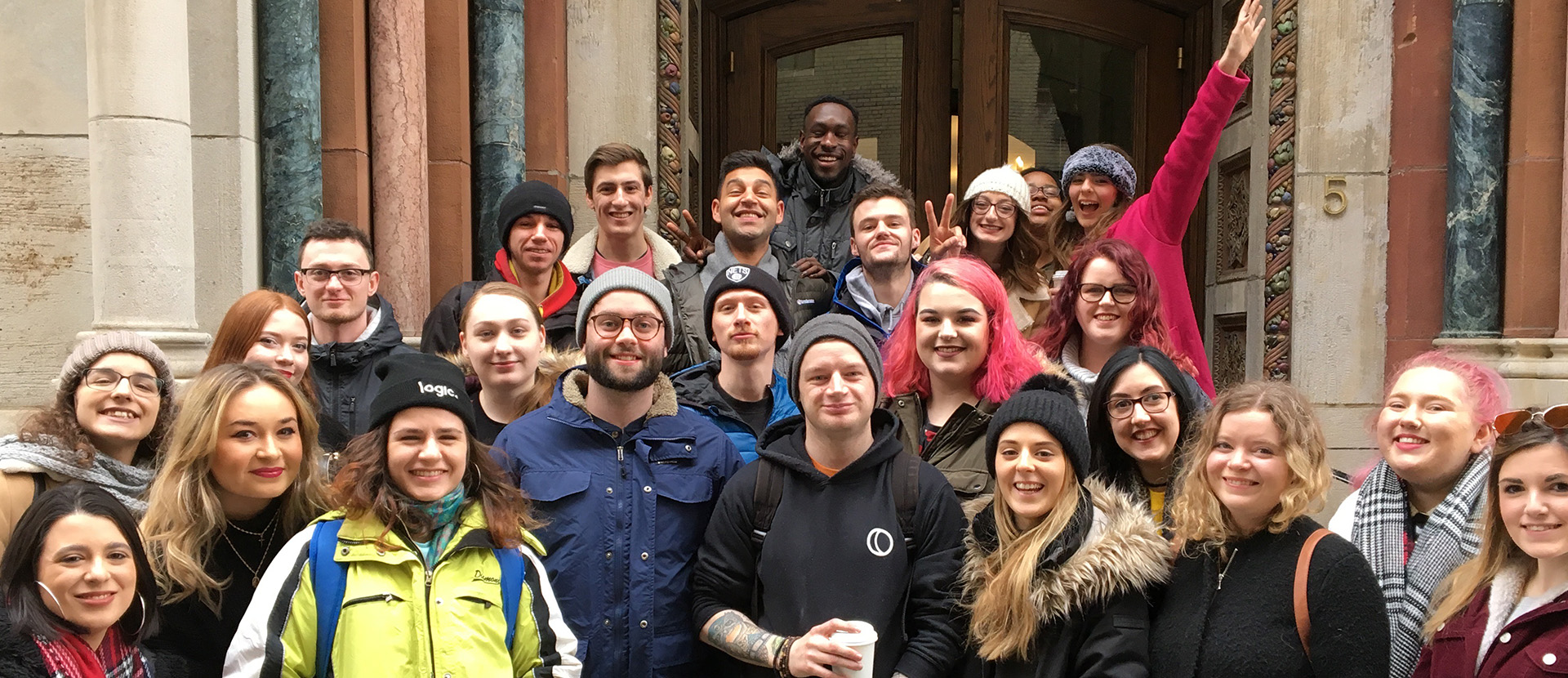 Music and journalism students get a taste of NYC
Music and journalism students from a range of courses at Solent recently joined together in an exciting four-day trip to New York City.
2nd July 2018
With a jam-packed itinerary on offer, students had the chance to visit and learn from a range of professional organisations – as well as taking in some all-important sightseeing, enabling them to build research material that will be used in their degree coursework.
 
Students took part in a multitude of cross-course activities and experiences, including a visit to Search Laboratory (Brooklyn) to learn about paid media, SEO and social media, meeting with 'Feature Story News' Bureau Chief Nick Harper, fashion panels at the Fashion Institute of Technology and LIM (Brooklyn), sports journalism trips to ice hockey and Brooklyn Nets games at the Barclays Center, a visit to the Bowie exhibition at Brooklyn Museum, gigs at Rough Trade Center, Williamsburg music Hall and Madison Square Gardens, and a studio recording session at Flux Studios, East Village, which provided music students with material for their final year dissertation projects. 


In addition to the scheduled itinerary, students had the opportunity to make the most of the 'must-see' sights and attractions of New York, including Central Park, the Empire State Building, the Statue of Liberty, Times Square, Brooklyn Bridge, the Museum of Modern Art and a group visit to the 9/11 memorial museum and guided tour of the United Nations Headquarters.
BA (Hons) Journalism student Neto Brazil was selected to be part of the live audience for Good Morning America and had the fantastic opportunity to meet and greet guests of the show, including Pharrell Williams and Ashanti.  Neto told us, "The TV studio experience was amazing – I got to chat to the host and guests, and the whole team and backstage crew were fantastic; it was such an inspiring trip on every level."
Senior Lecturer Esther Frake adds: "It was fantastic to see the students involved in such a diverse range of activities and experiences, with many of them using the trip to collect research material that will be used as part of their degree coursework.
"Several students were also able to secure work placements while out on the trip and made connections that will provide real-world networking opportunities for the future. New York is such an energetic city and we all had a truly brilliant time; the experience will be one to remember for a lifetime."