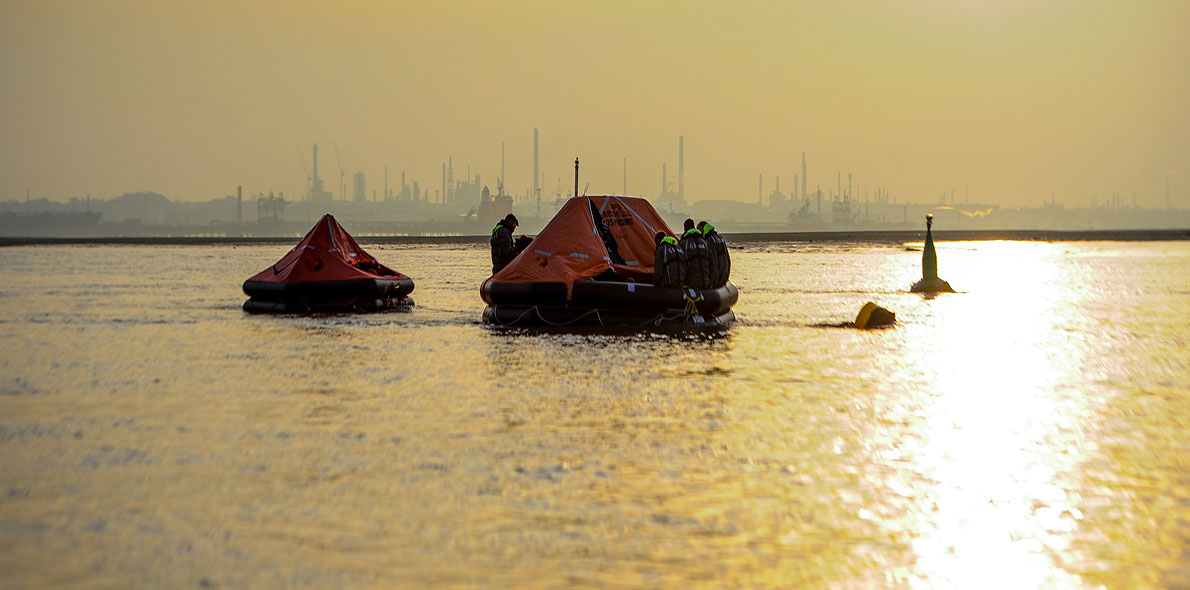 Officer cadets raise £12k for charity
Sail 4 Cancer Charity Champions
21st March 2016
Congratulations to the 32 officer cadets from Southampton Solent University's Warsash Maritime Academy  who braved the elements to complete a 24-hour life-raft challenge, raising over £12,000 for charity.
On Friday 11 March, the intrepid officer cadets, who are currently training to become ships' officers in the merchant navy, left their creature comforts on dry land to spend 24 hours in a life-raft in aid of Sail 4 Cancer, a specialist respite charity with a sporting focus.
After boarding their rafts, the officer cadets were floated out into the River Hamble and cast adrift, as if their boat was sinking behind them. Despite a cold night, the weather conditions remained favourable for the cadets – with sun and only a slight breeze during the day – whose life rafts were tethered to buoys in the River Hamble, at the end of the academy's pier.
Elle Watson, a phase 3 deck officer cadet, said: "It wasn't particularly pleasant and we were very cramped, but it was warm and it was a great team bonding experience – and we're all thrilled with the amount we've raised and thank everyone who has donated and supported us."
Sail 4 Cancer's fundraising manager, Lizette van Niekerk, says: "I'm delighted that Warsash Maritime Academy has for the third year put a team together and raised a phenomenal amount of money, which helps us provide much-needed respite breaks for families who are going through a very difficult time."
During the three years that the cadets have been undertaking the charity challenge, they have raised over £36,000.
Lizette added, "Thank you to the officer cadets who took part, the staff at Warsash for supporting the challengers throughout the 24 hours and the companies Survitec Group, Sunsail Events, Sodexo and The Warsash Association, without whom we could not make this wonderful event possible".
The Team Warsash fundraising page is still open for those who wish to donate.