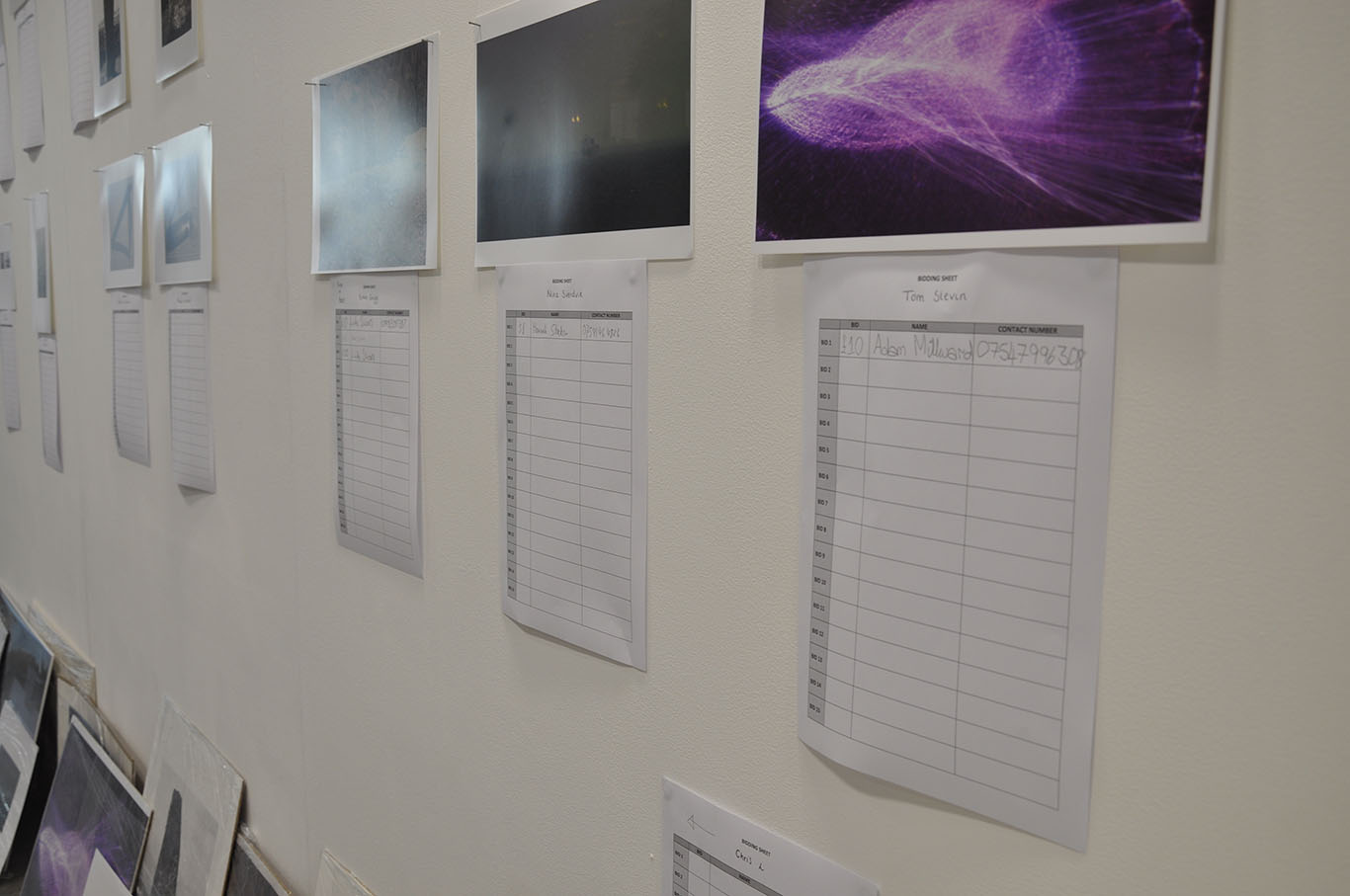 Penta Prism launch raises £1,000
Students and staff collaborate to raise money for degree shows
26th April 2017
Art and design
Photography
This month, Penta Prism magazine launched - the annual showcase for the talent and creativity of BA (Hons) Photography students.
Part of students professional development unit, Penta Prism 2017 issue explores the conceptual and experimental realms of photography. The magazine was produced by third-year photography students, headed up by editors Evie Mundy and Luke Shears.
Juanrie Strydom, third-year photography student who also helped edit Penta Prism told us about the selection processes: "We chose work with a diversity in approach and concept, showing a combination of experimental and personal perspectives of photography as a subject. This project has inspired me to be more courageous in my own work - photography allows the freedom to express one's perspective of the world."
Amy Johnson and Charis Sinclair, second-year photography students were selected by the judging panel as the Editor and Tutor choice, with their work making the front page of the magazine. We caught up with them…
How did it feel to have your photo chosen as the Editor/Tutor choice?
Amy: I was so flattered to have my work chosen as editor's choice, it makes all the hard work seem so worth it when you receive compliments such as this. It was so overwhelming to see my image being the cover of the Penta Prism magazine and being carried around by so many people.  
Charis: I was shocked and really pleased to have my work chosen as the tutor choice! I didn't know this was happening so it was a complete surprise when I found out at the opening exhibition!
Tell us about your print?
Amy: My print is titled 'Plastic Pollution #1' actually came from an initial experiment in the darkroom for one of my course units. This image was created by combining images of fish that were printed onto acetate with a physical milk bottle. 
Charis: The title of my print is 'Tower Block' and it was a response to one of the units on my photography course.
Where did the concept come from?
Amy: The concept of this image is about plastic pollution, a third of our plastic waste ends up in the ocean and only 5% of plastic is actually recycled. It is estimated to be more plastic bottles in the ocean than fish by 2050 and the planet's oceanic ecosystem is under threat due to the amount of plastic waste humans have produced and ended up in our oceans. 
Charis: Recently I've become interested in photographers from the New Topographics movement, such as Lewis Baltz, which inspired the deadpan technique used to create an indirect response to the space. I also wanted to challenge ideas about modernist buildings being symmetrical and highlight the imperfections presented in architecture. With this in mind, I decided to extend visual lines on structures so I could investigate perspective and pattern.
How does this count towards your degree?
Amy: Penta Prism was optional to help the third-years raise funds for their final degree show in London, so I was more than willing to help out as their work deserves to be on show in London to a bigger audience to see and gain the recognition it deserves. 
Charis: It's a real boost to have my work exhibited at Solent University as this contributes towards my CV and getting work seen. It's also really good for my degree because it gives an insight into how a photography magazine is organised and created.
Was your picture purchased at the Penta Prism launch?
Amy: My images were sold at the launch as both A3 prints and A5 postcards. I also donated an A2 print mounted on Dibond that were another part of my plastic pollution series - I was really pleased to find out this had also been sold!
Prints from the magazine were available to purchase at the Penta Prism launch, along with a selection of images donated from staff within the School of Art, Design and Fashion for the silent auction – all at a lower price than market rate.
Mandy Jandrell, course leader for BA (Hons) Photography and an internationally exhibited artist, had her work up for bid at the Penta Prism launch: "As practicing artists, all lecturers on the course are highly committed to supporting the launch of our students careers and as such are happy to donate work to help the students fundraising endeavours. The silent auction we donated work for raised almost £1,000. This money will go towards producing a high end degree show catalogue of the student's work.
"This year's magazine was of a very high professional standard and it was great to see the team work so together so professionally to produce it. The editors decided to rebrand the magazine, and we were all extremely impressed with the new design. The leadership of the editors, and the commitment of everyone involved in organising the event was very impressive," Mandy added.
The final copy of Penta Prism can be viewed on Issuue here. You can also view the exhibition on display here. All funds raised will go towards the BA (Hons) end of year degree shows.