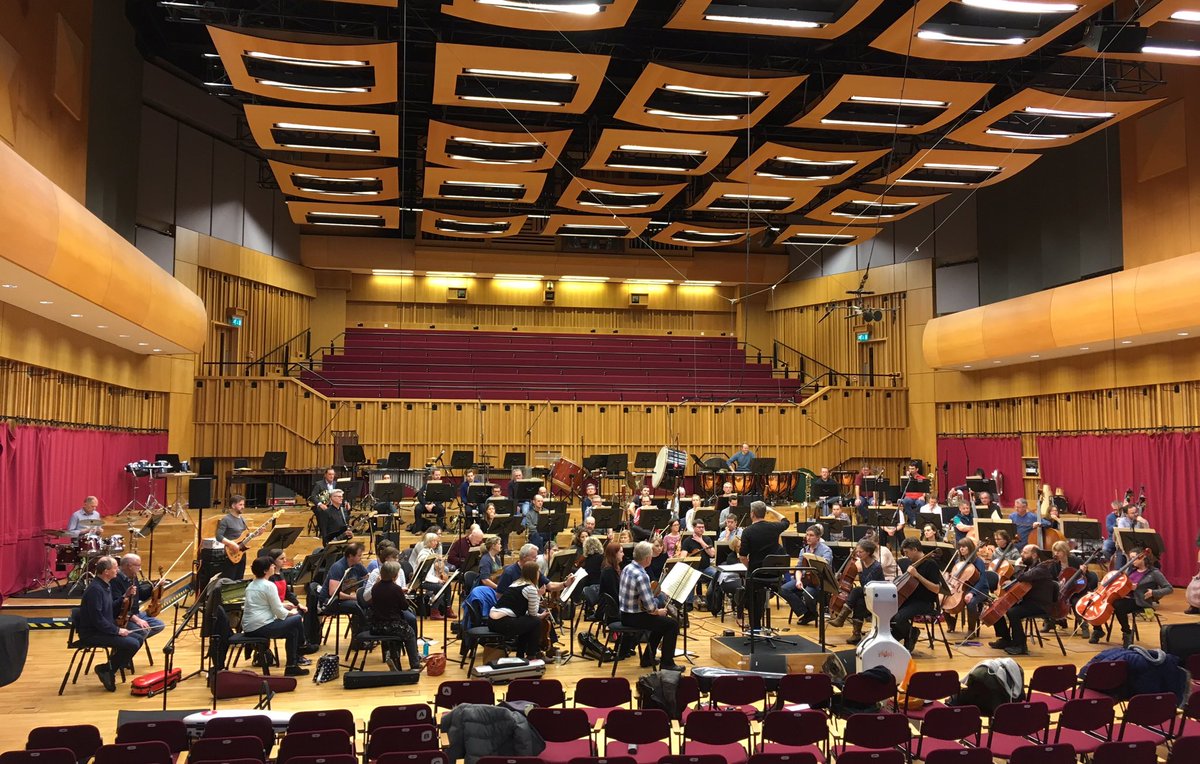 Professor performs in Star's End
Professor Pete Wilson performs rarely played piece with BBC National Orchestra of Wales
6th April 2017
Our Professor of Bass Guitar, Dr Pete Wilson, recently enjoyed a solo spot with the BBC National Orchestra of Wales, in the revival of composer David Bedford's Star's End. Originally written in 1974 for Mike Oldfield, of Tubular Bells fame, this is only the second time the piece has been performed.
We caught up with Pete to find out more about the piece, the performance and the public's reaction.
Tell us a bit more about the composition
David Bedford's Star's End is for electric guitar, bass, drums and orchestra.  It was written in 1974 for Mike Oldfield as one the soloists: a real meeting of the (then) rock aristocracy with traditional orchestral forces.
Back in the late 60s and early 70s, the two practices of rock and classical music were seen as opposing forces that might be united by enterprising avant-garde composers such as Bedford.  Rock musicians often had pretensions to be taken 'seriously' and classical musicians and orchestras wanted some of the stardust and cachet of their commercial brethren: both pursuits that have probably proven to be unnecessary or redundant in the long-run?
 Why is it only the second time it's been performed?
Star's End is something of a period piece.  Combining electric instruments as soloists with orchestras didn't gain traction as a concept for all sorts of reasons, not least that the oral tradition of rock and the notated tradition of classical didn't always play well together.
These days pop and rock instruments are easily integrated within orchestras because the players are often accomplished readers, and conversely, orchestral musicians (quite sensibly) don't feel the need to be rock stars.
Why now?
The piece was revived by BBC National Orchestra of Wales as part of a season called Great Brits; a season of music by the more maverick British Composers of the 20th Century.
I think the fact that it had only ever been performed once made it seem somehow more mystical and ripe for repeating.

How did you get involved?
I've worked with Mats Bergstrom, the electric guitar soloist, for many years in ensembles all over Europe, he suggested my name for bass soloist when the project was first mooted.
What is it like to perform?
The piece combines plenty of improvisation with strictly notated material.  So in that sense you're always on your toes.  There's some fiendish technical challenges in the written parts, but you just practise them relentlessly until they can't go wrong.
How did it go on the night?
The sense of occasion in the concert hall at the performance was quite tangible: there were audience members who'd come hundreds of miles to see the piece having been at the original performance!
A date for broadcast has yet to be decided. Watch this space for more details.