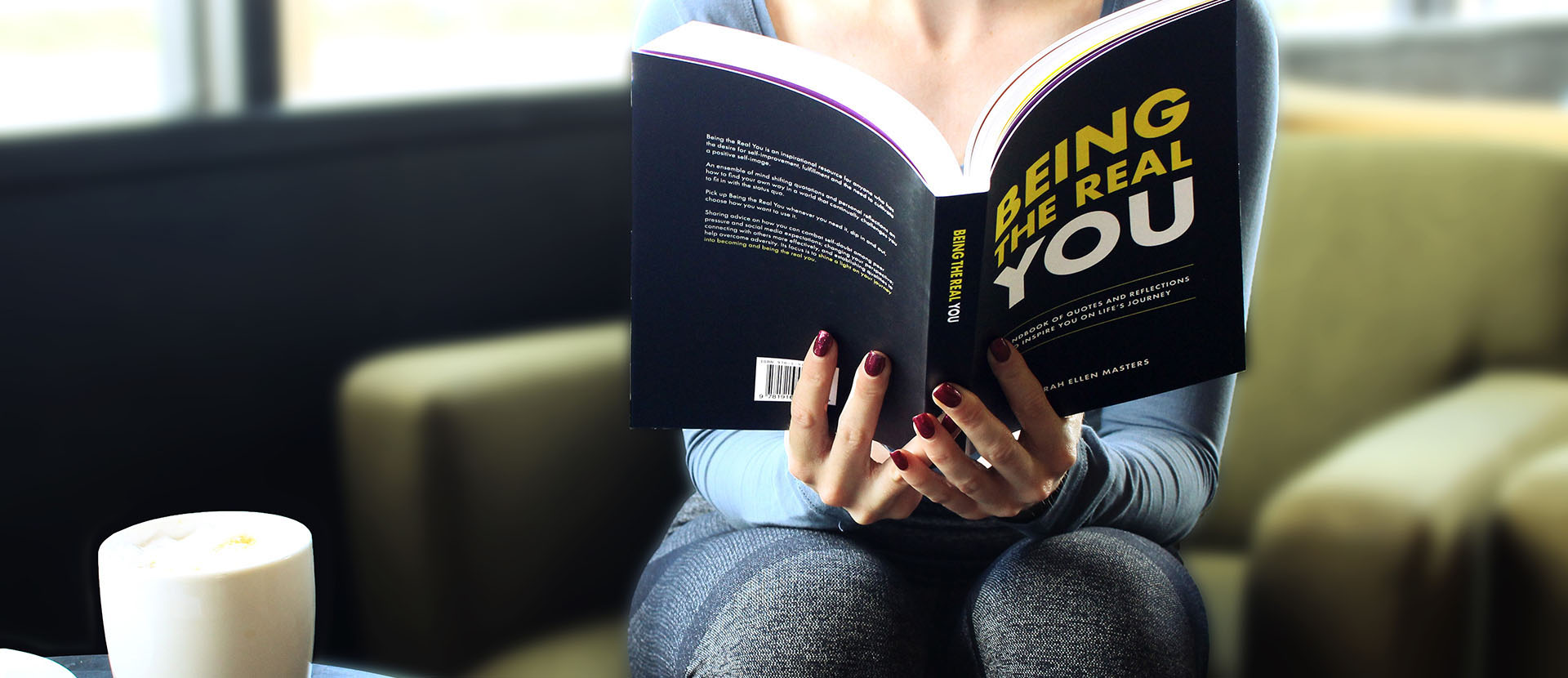 Sarah's personal development handbook for millennials
For final year BA (Hons) Graphic and Media Design student Sarah Ellen Masters, encouraging change in how millennials think and develop personally in a technologically driven world has always been a passion.
21st May 2019
Taking this idea of change forward Sarah, 25 from Dorset, decided to base her final year project on creating an accessible personal development book for young adults, particularly those who struggle with peer pressure, and social media-driven expectations – titled 'Being the real you'. 
The handbook contains quotes and inspirations to remind us of the power of true human connection and creativity in a technology driven world. We caught up with her to find out more about the book, and what she's planning to do next.  
Hi Sarah, tell us a bit more about the inspiration behind your project 
I believe it's easy for us nowadays to feel like we are connected with others, being one ping away from an instant message. However, connectivity is not the same as human connection. I wanted to draw an emphasis with my book on the importance of human connection and interpersonal skills that cannot be found from instant messaging or Facebook 'likes'. I feel very passionately that there needs to be more personal development tools and materials available in a well-designed and accessible manner for young people. 
What have you enjoyed most about your time at Solent?  
Three years ago I didn't know where the on button was on a Mac and I'd never picked up a design book in my life. I wouldn't have been able to achieve all that I have if it wasn't for Brent and Chris's valuable lectures. I feel very fortunate and privileged to have been able to learn graphic design fundamentals in such encouraging surroundings. It has allowed me to expand my own unique creativity being in such a supportive and liberating environment. I've also greatly appreciated the value of class discussions. Seeing and hearing other students perspectives has been hugely advantageous.   
I've also enjoyed the opportunity to develop strong connections with outside practitioners from internships and talks organised by the school. These networking occasions have led me to freelance jobs, giving me worthwhile experience in the graphic design industry.  
What's next for you? 
I have been offered a few freelance gigs when I graduate, however I'm keeping an open mind. I'm certain that I would like to spend my time working and being a part of something bigger, I don't wish for my final major project to stop here. I love that design is a vehicle that can help make a difference in other people's lives. Editorial design particularly interests me, because I find the use of words very impactful.  
The reality is that creative achievement today is a marathon; I've discovered with graphic design I have to go for quantity as a way to get to quality.  The more work I do and show to the world, the more feedback I receive, and the increased likelihood of an occasional great piece. I'm super excited to continue the adventure of growing as a multidisciplinary creative, wherever that may lead me.   
What advice would you give to other students? 
Give yourself permission to screw up 
Be brave when sharing your work, its worth feeling vulnerable 
Be open to the opinion of others, and don't take it personally 
Have fun! 
See Sarah's project and other art, design and fashion projects at our 2019 Summer Show