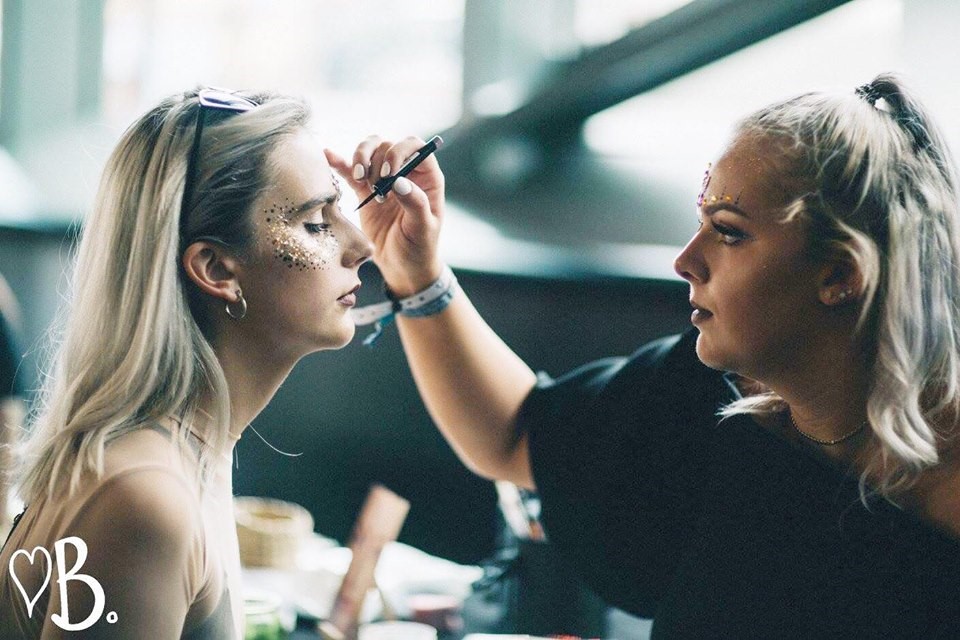 Social media adds a touch of sparkle for blossoming make-up student
Ellis shares her festival filled summer
19th October 2016
We came across Ellis Richardson (20) Facebook page recently. Embarking on the third year of her BA (Hons) Fashion Styling course, we were instantly impressed by her portfolio of images, professional profile and how she is using social media to promote herself as an artist.
Ellis talks to us about what she got up to over the summer; shares her top make-up tips and explains how social media is helping her work towards her dreams…
What have you been getting up to over the summer break?
When I finished my second-year of at Solent, I returned home to Milton Keynes for the summer, where I then started working with London-based make-up company, In Your Dreams.
When did you start using social media to promote your work?
I've always posted my make-up and new beauty products I've purchased on Instagram. As I started doing make-up for my friends and family, I'd take pictures of their finished looks and put them on Instagram, which I've continued to do.
When I started the fashion styling course at Solent I was doing lots of new things that I'd never done before - using a photography studio and experimenting with different makeup looks on models, and I began to post more and more of my work online.
How has social media helped you raise your own profile?
Originally I would only ever really post my work on Instagram, or my personal Facebook account so only my friends and family would see it. During my second year at Solent, one of my units involved creating a professional business page on Facebook to help build myself as a freelancer and create possible opportunities. This has helped to create different audiences on Facebook and Instagram, mainly due to the different age ranges that each social media platform appeals to.
Do you use your social media accounts to promote particular brands and have you been paid to do this?
Something I've noticed from using apps such as Instagram a lot, is that more and more people are getting sent items to review and post pictures.
I haven't yet been lucky enough to be put on the PR list of any make-up brands/beauty companies. I do tend to tag and hashtag the brands I've used in a make-up look, or if I've purchased a product from a brand, I post a picture of it online. This also helps to build my profile as other makeup artists often search through tags and hashtags on Instagram, allowing them to find new people to follow who have similar interests and skills.
What are you most enjoying about your time at Solent?
Quite honestly I've enjoyed every aspect of my time here. The diversity of my course really does allow the students taking part to stay interested and motivated as there's always different things going on and each lesson is different to others. The variety is great as it makes a typical uni day feel productive as many different areas get covered in just one day.
I'm enjoying my freedom to be creative within my work and having creative direction of things such as shoot concepts and styling ideas. I think its great that Solent encourages students to collaborate creatively and work together to achieve the best possible outcome of work. This has allowed me to work with different photography students as a makeup artist for their photo shoots, doing hair and makeup looks which suit their concept and then getting the final images to add to my own make-up portfolio.
Do you have anything exciting coming up?
In Your Dreams are about to launch their new collection! The launch of new products is always exciting as it's great to be able to use them to create new looks, and seeing what other makeup artists use them for. Each collection has a theme, and the theme of the new glitter collection is mythical creatures, this alone gives loads of inspiration for new make-up looks and uses for glitter!
I'll be creating lots of new looks especially with Halloween coming up, which will all be posted on my Instagram and possibly on some of the In Your Dreams social media too. I'm also thinking about making small videos demonstrating the new products and how I use them, which is great for social media as it's sometimes interesting to see not only the finished look, but how it's created too.
Do you have any tips for other makeup students?
I'd say the main thing about using social media for self promotion is to just keep up with it and be consistent with the content being posted. Keeping up with make-up trends is also an important thing, and creating your own take to show your skills and individuality, as there's so many people on social media trying to have the same success currently. 
Being professional is another thing. Replying to clients in an appropriate amount of time, allowing yourself to build a positive relationship with current and future clients. And take pictures!! Always take pictures of finished looks, this shows you are serious about what you want to do and are constantly looking to better yourself with new skills and knowledge.