Solent celebrates success of sports teams
Solent University sports' teams have had a successful season after six teams completed league wins and gaining promotion for next season.
29th April 2020
With the early completion of the British Universities & Colleges Sport (BUCS) programme, due to Covid-19, Solent University celebrates another successful season for its sports teams, with six teams completing league wins and gaining promotion for next season. 
The most recent team to receive the news of promotion, after securing their spot at the top of the Western 1A league, is the University's ladies' basketball team, who were recently promoted to the BUCS Premier League.  
"This is very much mission accomplished as it was their objective to win the league and gain promotion," explains Matt Bishop, Head of Sports Programmes at Solent Sport. "We now boast a men's and ladies' team from the same sport at BUCS Premier League level. Not a first for Solent, but it's been some time since we've achieved it."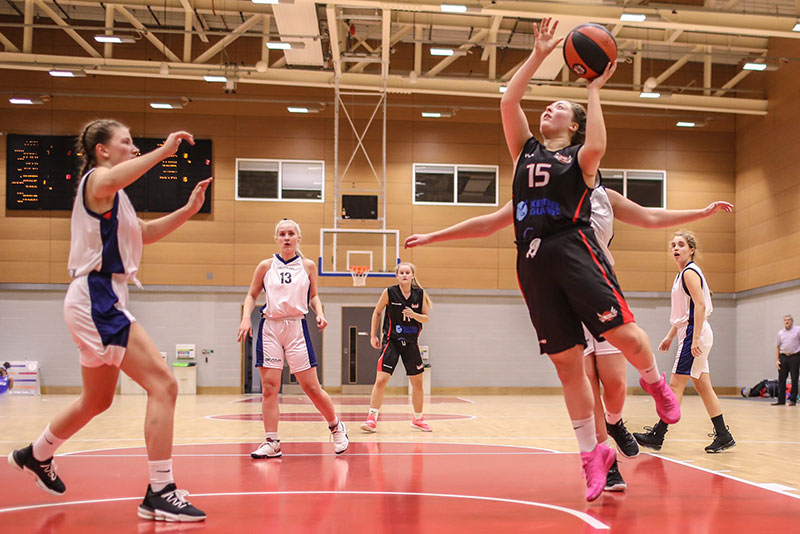 Other BUCS team league winners who all gain promotion in their respective leagues for next season, include men's futsal, ladies' badminton, and men's basketball 2nd teams to Tier 1, men's football 2nd team to Tier 3, and netball 2nd team to Tier 5. 
There was also success in knockout competitions with the ladies' football team winning the BUCS Trophy, after the final against Birmingham University was unable to be played due to Covid-19. 
The men's futsal team also made it to the BUCS Conference Cup final. While the ladies' badminton team, men's basketball 2nds, netball 2nd team and American football team all made the semi-finals this season. 
Sadly, due to Covid-19, Solent Sport had to announce the cancellation of the annual Sports Awards, where teams and individuals are honoured for their contribution. However, they will be taking to social media and carrying out this year's awards virtually, during the first week in May. 
"It's really important to be able to look back and celebrate what has been another extremely successful season for our teams," says Matt.  
"The annual sports awards is one of our key events in the year and it's obviously disappointing to have to cancel the event, but the team have worked really hard to bring the awards to the students through social media and I'm looking forward to  acknowledging and rewarding our students."