Solent footballers take on charity challenge
A group of 50 Solent University footballers have taken on the challenge to 'run to Rimini' to raise money for the NHS after their end-of-season tour to Rimini was cancelled due to Covid-19.
17th April 2020
A group of footballers from Solent University are raising money for the NHS by 'running to Rimini'.
More than 50 people who play football under the Team Solent name have signed up to take part in the charity challenge after their end-of-season club tour to Rimini in Italy was cancelled due to Covid-19. 
Instead of missing out completely, the group decided to use their commute to work or their daily exercise time to run solo, close to their homes and in line with Government guidance, until they complete 2,160 miles – the distance via coach from Solent University in Southampton to Rimini and back. 
"When our tour to Rimini was cancelled due to Covid-19, we wanted to do something to raise money for the NHS," explains Harry Fryer, from the BA (Hons) Football Studies course. "So we thought we might as well go in spirit, and raise some much needed funds for a great cause.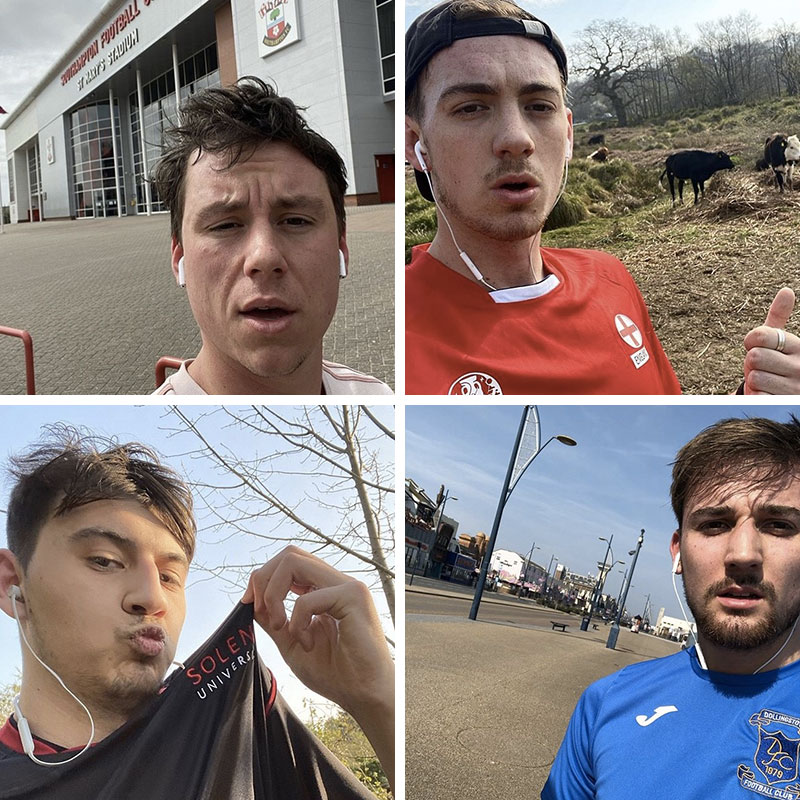 "Jack Fuller came up with the idea and we settled upon it as a collective, using our daily exercise to run the equivalent distance of travelling to Rimini, Italy, and back.  
"Our aim is to run 2,200 miles before the end of the month, and hopefully raise £10,000." 
The challenge began on Thursday 9 April and, so far, the runners have covered more than 900 miles. 
"That's 82 marathons, or 21,640 lengths of a football pitch," adds Jon Bazley, who is studying BA (Hons) Sports Journalism. "Which works out to be around 5k and a little bit each day for each person taking part." 
The group - all aged between 18 and 23 - document their progress daily on their Instagram page, @run_2_rimini, by uploading a selfie and screenshot of their mile tracker from the Strava App. 
"It's going really well," Harry continues. "We have also had contact from a few different university sports teams from across England, who saw our idea and it inspired them to raise money for the NHS in a similar way. 
"Some of the boys do get a bit creative too, for example, one has taken the opportunity to tag Mo Farah and perform the Mobot as he finishes his runs."