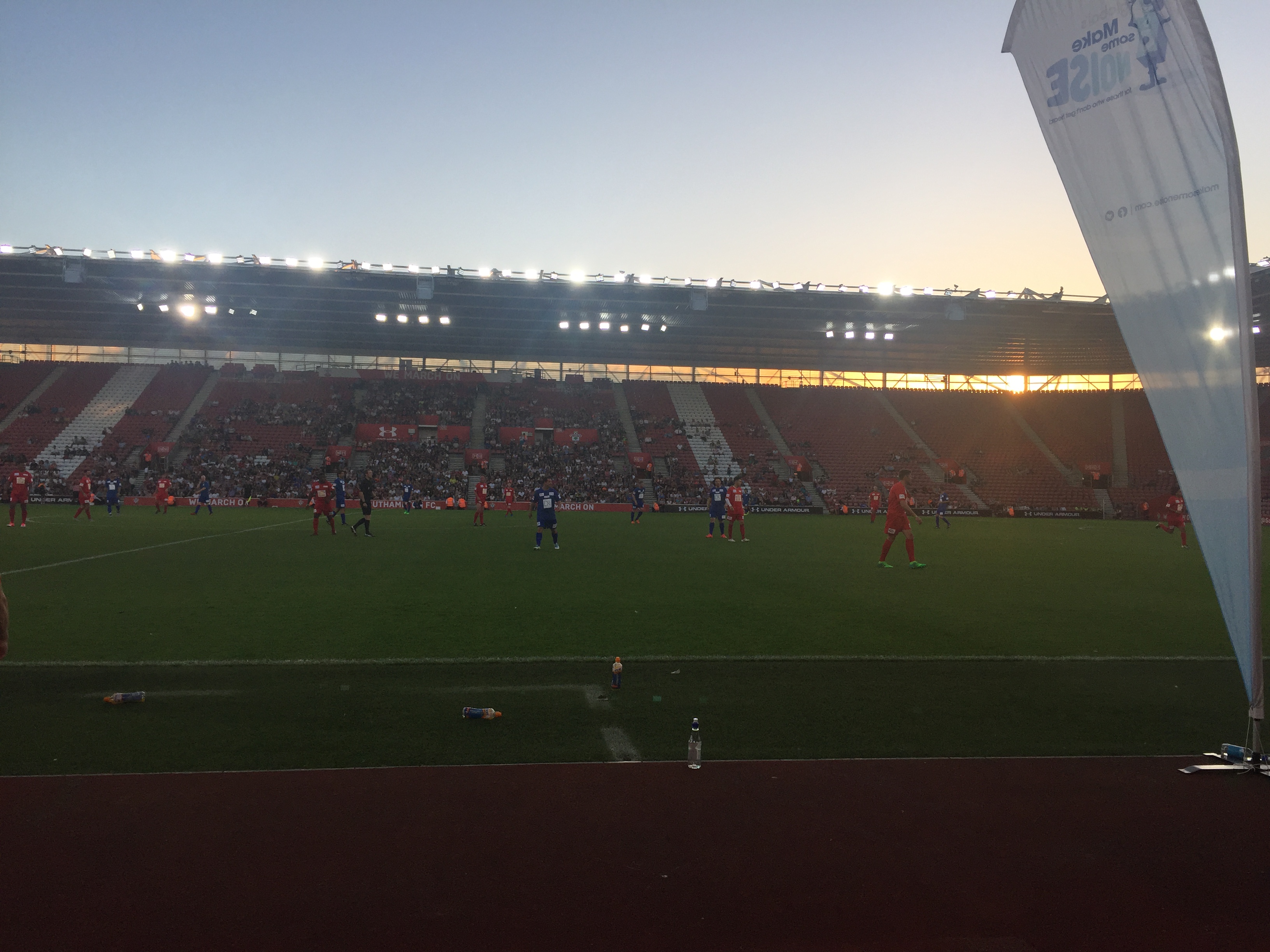 Solent Graduate Assistant attends Capital FM Celebrity Soccer event
Amy mingles with the celebs
30th June 2017
Last month, Amy Sutton, Graduate Assistant within the School of Business, Law and Communications, attended Capital FM's, 'Make some Noise' celebrity charity soccer event at St Mary's Stadium.
Amy was set with the task of promoting the event across social media and spent the evening mingling with Solent Hon Doc, Francis Benali, Lee from boyband Blue, X Factor winner Sam Bailey and footballer Wayne Bridge – to name a few!
We caught up with Amy, whose GA position will come to an end in July 2017, to find out her highlights from the night, her busy academic life and bright broadcast future…
How was it attending the Capital FM's soccer event?
It was such a brilliant experience to be involved in such a high profile event like a celebrity football match. Growing up, I'd always seen classic footage of such games, and to be working at one was a great achievement. Especially given the sponsor of Capital FM, the station I always listen to, and paired with the great initiative 'Make Some Noise'.
Did you get to meet many celebrities?
Yes! But in some cases, it was quite a throwback. Lee from Blue was lovely, MC Harvey was a character, X Factor winner Sam Bailey was such a great sport and footballer Wayne Bridge was a true gent. I even got a photograph with team captains Katie Price and Kerry Katona, who are as extrovert as their celebrity personas in real life - both brilliant entertainers, who had all the time in the world for fans!
What was your highlight from the night?
It was lovely to meet Solent Hon Doc Franny Benali again, who is always on top form! And definitely the chance of sitting pitch side, in a press box, with the ability to grab celebs for a quick word on camera as they exited the pitch.
What made you want to take part in this event?
I'm always keen to get as much work experience as possible – it seems quite a cliché, but work experience is the most valuable tool you can have in the job search, especially in such a competitive industry as the media. It's essential to have a variety of industry experience, and this certainly ticked off many boxes. Plus, who wouldn't want a job spending a warm summer night at a premiership football club reporting on celebs playing football?!
You were tasked with promoting the event via social media - why do you think social media is good for portfolio building?
I'm always keen to update and promote my own portfolio content on social media, but this was the perfect opportunity to utilise platforms like Facebook, Twitter, Snapchat and Instagram, as the event catered to audiences on each app. It's vital for getting yourself noticed, and having the ability to share the same content but alter it to suit the style of each social media site was great. Social media is also a great place to store your content, so you can broadcast what you've been up to, and you never know who might see it! Kerry Katona liked all of my content I posted on Twitter and Instagram!
How has life at Solent been for you?
My time at Solent has never disappointed. In fact, it excelled in every area possible. I've learned so much about myself as an individual, as well as my capabilities and the skills I need for the career I want. I've had the most exceptional support system, in lecturers, fellow students, my course leaders and academic staff. Having completed my Bachelor's degree with a First Class Honours in Multimedia Journalism, I applied for a GA role, and an MA in PR and Multimedia Comms at Solent. They can get rid of me just yet!
What made you want to become a Graduate Assistant?
Like many students, following my degree, I wasn't quite sure what my next step would be. Throughout my final year, I kept exclaiming to friends 'if only I had one more year'. The opportunity of the GA role allowed me to take the gradual step into full time employment. I've been able to build a professional network, understand the importance of a strong working environment and gain  as much experience as I can - , from filming corporate events, to giving tours and presentations, to volunteering on open days. And I still had time to attend brilliant conferences, placements and networking events.
You have become the face of Solent's news programme, Inside Solent…
Yes – my proudest project to date, working with the Solent press team to revamp the way in which staff, students and friends of the University receive their news!
Inside Solent is a monthly magazine style news programme, in which I can transfer all my skills from my degree, into practice. I produce and edit packages for the show, and present on the news anchor desk. Its perfect practice for my career goals, and I was blessed to work on the project surrounded by extremely motivational people, and of course in a supported environment, where it's better to learn and make than in the real world! I refer to Inside Solent as my baby, and I'm very, very proud of the project as a whole!
What is next for you?
Alongside juggling a full time job and master's degree, I've also been freelancing as a Producer at Sky News in London. This followed my internship with Sky in my final year. I usually work weekends at Sky HQ in London, and I've covered some incredible stories in recent months, from the civil war in Syria, President Trump's inauguration, the Stockholm, London and Manchester terror attacks and Grenfell Tower.
I've now been offered an official freelancing contract which I will be continuing over the summer, with the hope of perhaps taking a staff role in the future. I'm also continuing to build my portfolio working on a freelance basis with placements at ITV Tyne Tees and ITV Meridian. I hope to not only advance my work as a producer, but transition into a news reporter role, and then presenting. Who knows - you could see me on News at 10 in the future!
Anything to add?
I'd always recommend saying YES to anything that can add valuable experience, knowledge and content to your industry portfolio. Thanks to this event, my CV looks better than ever!
Find out more about our journalism courses here…