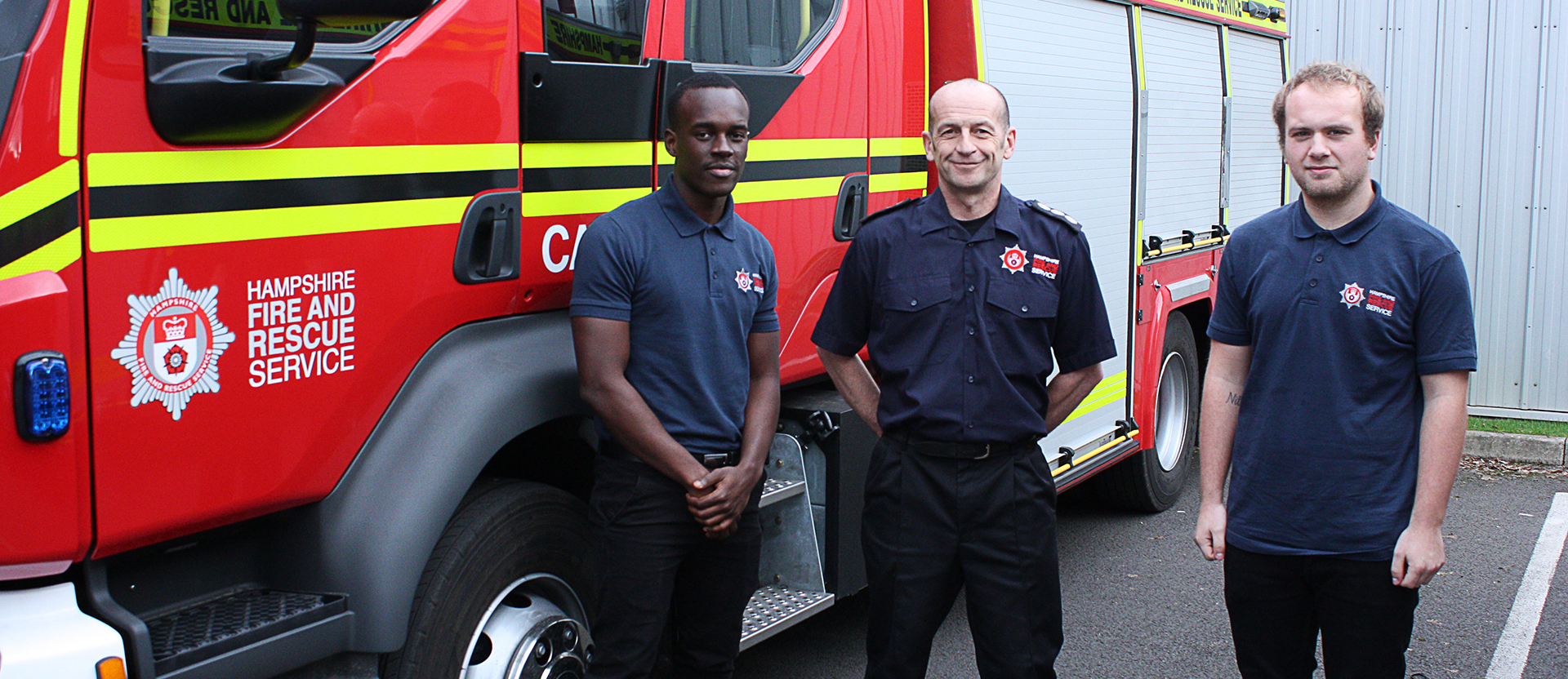 Solent graduates help spread fire safety message through animated marketing campaign
Solent University has been working with Hampshire Fire and Rescue Service (HFRS) to help prepare students for the workplace. This includes providing professional mentors, and job roles for graduates.
Both HFRS and our graduates benefit from this relationship. HFRS have access to the fresh ideas and talent that graduates bring, and the graduates themselves gain valuable real-world experience.
In January 2017, Elliot Simbi and Joseph Collis, both BA (Hons) Animation graduates, were successful in gaining a 12 week internship with HFRS as part of the Solent Graduate Scheme. During their internship, Elliot and Joe have been working on a community safety marketing campaign where they are creating 2D and 3D animations.
Here, they tell us why they applied for the internship, and give us an update on how they're getting on.
Elliot Simbi, animation assistant – 2D
Can you tell us why you applied for the graduate position?
"It was a great chance to work on my show-reel for the industry I want to get into.  It's important to have a strong portfolio in order to be taken seriously, so it was the perfect opportunity to expand my skill set."
Can you tell us what sort of projects you've been involved in at HFRS?
"We're working on a marketing campaign with the community safety department, targeted at students and young adults. It's a 2D animation, which means frame-by-frame animation. It takes a while, but we are on track."
What's the value of doing a short-term internship?
"For me, it's the experience. I'm expanding my animation skill set and I'm learning a lot of different skills. I'm also exercising my time management and learning how to conduct myself in an office environment. […] I have found the meetings with my line manager very beneficial; he gives me a few things to self-reflect on as a whole."
Would you recommend this program to other graduates and why?
"Most definitely. It's the perfect next step after graduating – you're able to gain the experience without being out there by yourself. The ability to get support from so many different sources is great. Work experience is very important nowadays!"
What skills from your degree are you using in your position now?
"The skills I'm using are mainly software based. At university we learnt a lot about Photoshop, and worked with programs such as Flash - this project allows us to use both. I'm from a 2D animation background and my graduate colleague is coming from a 3D animation angle, so we've been bouncing ideas off each other. He's teaching me new things about Flash, and I'm teaching him new things about Photoshop."
Joseph Collis, animation assistant – 3D
Why did you apply for the graduate position?
"I was in a dead-end job and wasn't working towards my career goals. I applied for this job because I thought it would be good for my development - I would be able to get my foot in the door of the industry I want to get into. The duration of the internship works well and I can then build up from it somewhere else."
What do you think are the benefits for your career through doing this?
"It's a good stepping stone into professional work. I'm learning about professional etiquette and working alongside people in an office environment, while also building my portfolio […]."
Would you recommend this program to other graduates and why?
"Yes, I definitely would! It's a great way to move into the professional work environment without jumping in at the deep end and getting paid in the same time."
What skills from your degree are you using in your position now?
"Well personally I'm from a 3D background and I've been using all the 3D programs I used whilst at university, whereas my graduate colleague has been using programs such as Flash and Photoshop and we have been crossing over our skills to complete tasks."
What kind of projects are you working on?
"We're currently working on a marketing campaign aimed at young professionals and students. We've been working on the animation side, working on the videos, which has been really fun for me because I've been able to draw lots of interesting characters such as zombies as part of the project."
We also sat down with station manager – community safety, Paul Channing, to talk about what he sees as the benefits of hiring a graduate through the Solent Graduate Scheme, and whether he would recommend the programme to other businesses and employers.
"I think the benefits to the organisation have been enormous, and for me it's been very eye opening seeing how much graduates can bring to our organisation. Having graduates like Elliot and Joseph work with us has given a real fresh perspective – they're technologically up to date and they're familiar with social media."
"I would recommend this to other businesses. I've really enjoyed having the graduates here. I'm not sure what I expected, but they've come here with such a good attitude and they've gone beyond anything I would've expected them to. The standard of their work is really high."
If you are an employer looking to work with us to provide placements or internships to our students or graduates, please contact employers@solent.ac.uk.
Students looking for graduate employment opportunities or employability advice should visit Solent Futures.